26 November 2021
The Prolific North Marketing Awards 2021: The Winners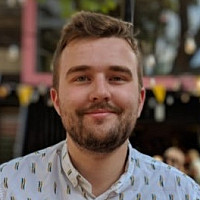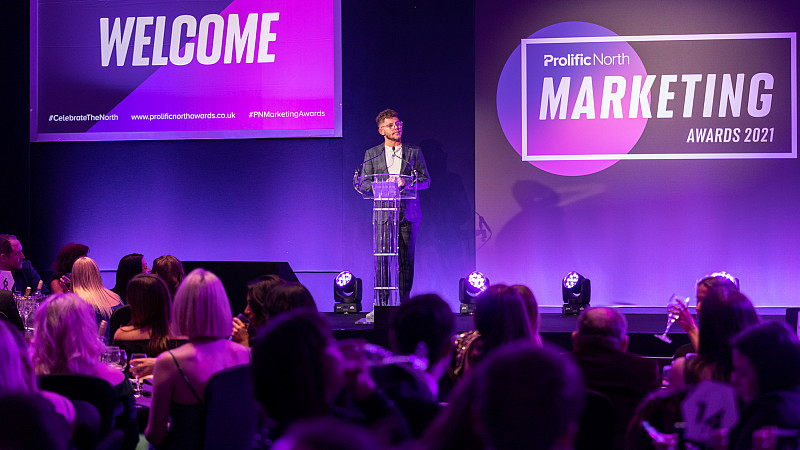 Prolific North is pleased to reveal the winners at this year's long-awaited Prolific North Marketing Awards.
Marking the ninth edition of this high-profile event, the Marketing Awards were hosted at The Queens Hotel, Leeds, bringing together the region's brightest marketing talent to celebrate their peers and socialise together.
The function was compered by BBC Radio 1 presenter Dean McCullough, who led an unforgettable awards ceremony last night. It marks the end of the awards season for 2021 for Prolific North - whose next awards ceremony will be the Digital City Awards, part of the wider festival in Manchester.
This awards ceremony couldn't have gone ahead without the support of category sponsors Twitter Business, CreativeRace, The&Partnership and McCann Leeds, as well as its judging panel of industry leaders.
Enormous congratulations to everyone nominated, and of course to the winners.
The Prolific North Marketing Awards 2021: The Winners
Best Response to Change: On the Beach - Ready when you are
Also nominated:
Best Health Campaign: Influential & Cheshire & Merseyside Health and Care Partnership - The impact of COVID-19 on Black, Asian and Minority Ethnic communities
Highly Commended: ilk Agency & Aardman Animations - What's Up With Everyone?
Also nominated:
Best Education Campaign: Waterfall & University of East Anglia - Snowflakes
Highly Commended: Drummond Central & Northumbria University - Replacing on-campus open days with an immersive digital experience
Also nominated:
Best Beauty Campaign: Campfire & The INKEY List - #AskINKEY
Also nominated: 
Best Retail Campaign: CreativeRace & Asda - Sustainable Store
Highly Commended: Mosquito Digital & Ellis Brigham - Ready for Anything
Also nominated:
Best Food & Drink Campaign: Wriggle Marketing & Epicurium - Snackfully
Also nominated:
Best Tourism and Leisure Campaign: Digital Rewards Group - Sparks (Kids Wear) x Kids Pass Campaign
Also nominated:
Best Professional and Financial Services Campaign: Jam and Vox Money - Amplifying the voice of the people
Also nominated:
Catapult PR - Wish You Could Hear
Creode & Skipton Building Society - Remove the ISA guesswork
Media Agency Group & Globalization Partners - Reaching the world
Tecmark & Patrick Cannon - Identifying the SDLT Search Market
Best Property and Construction Campaign: Route Agency & Welsh Oak Frame - Building Dreams
Also nominated:
Absolute Agency & Redrow - Why do up if you can buy new?
DS.Emotion - King Street, Manchester
Best Not-For-Profit Campaign: ilk Agency & Aardman Animations - What's Up With Everyone?
Highly Commended: C21 & Bury Council - Covid-19 Awareness
Also nominated:
Agent, Agent Academy & Anthony Walker Foundation - Speak Out! Stop Hate.
Cumbria Tourism - #theperfectplacetowork
Hitch Marketing & Cheshire and Merseyside Public Health Collaborative (Champs) - Stay Alive Suicide Prevention
National Institute for Health Research, Clinical Research Network Greater Manchester - Your NHS needs you. Help us find a vaccine for COVID-19
UK Coaching - Sudden Cardiac Arrest Digital Toolkit
Lancashire Resilience Forum - #noexcuseforabuse
Best Social Purpose Campaign: Channel 4 & The Body Shop - Unseen Kingdoms
Also nominated:
Perfect Storm Agency & Change The Race Ratio - Accelerating Racial Diversity In Business
Cornerstone - Active Tameside Charitable Status Campaign
CreativeRace & Asda - Sustainable Store
Fishtank Agency - Tubex Collection & Recycling Programme
Hitch, GMCA & GM VRU - Violence isn't me ... I am greater: violence prevention in Greater Manchester
IPOS Design & schuh - Sell your Soles campaign
Welcome to Yorkshire - Walkshire
Best Use of Twitter in a Campaign: Rugby League World Cup 2021 & Hatch - Tweeting One Year To Go
Highly Commended: Katie Lingo - Is Your Content Really Worth It?
Also nominated:
Campfire X Missguided - #MissguidedWrapParty
Hotels.com - Room 101
How Weetabix harnessed cultural relevance to break the internet
Kairos - Pizza Hut Gaming
McCann Manchester - #FreeCuthbert
WWF & One Minute Briefs - #WorldWithoutNature
Best PR Campaign: Catapult PR & Langley Castle Hotel - Fairy Tales and Hairy History
Also nominated:
BBI, Trunk & Greene King - Euros
Catapult PR - Wish You Could Hear
Cause UK & Vivo Entertainment - Yorkshire Symphony Orchestra
connective3 & Canine Cottages - Doggy Devotion
Refresh & Culture Shift - For better workplaces everywhere
Best Use of Data and Insight: m/SIX & TalkTalk - Supercharging Sales with Value using LTV
Also nominated:
Drummond Central - Beating Covid with Kindness
Hitch & Leicestershire VRN - Make A Stand Against Violence
m/SIX & TalkTalk - How TalkTalk Future Fibre beat the competition, street by street
Regital & Arla Foods - Launching Lurpak Mini Blocks with anonymised mobile data
The Beacon platform
Best Search Marketing Campaign: Evoluted & CarMats.co.uk - Ecommerce Zero to £3.2m Hero in 12 Months Via Search
Also nominated:
Aqueous Digital & ScratchSleeves - Baby Steps to Giant Leaps in SEO
Cedarwood Digital & Patient Claim Line - Adapting To Drive SEO Growth
Clicky & Toad Hall Cottages - Record Leap in Growth
Extreme & Inspired Health - From zero visibility to search dominance with only five pieces of content
First Internet & Secret Spa - Manchester and Brighton launch
Glass Digital & Denby - Revitalising a classic brand via search marketing
Glass Digital & Zoro - A precision-engineered search marketing campaign
Best Brand Building Campaign: The Anfield Wrap's Feel Closer Campaign
Also nominated:
Amica Finance - Dairy Cow Financing, with no bull
Cornerstone Rebrand for Burnley Leisure
Jam and Vox Money - Amplifying the voice of the people
Best Social Media Campaign: Skipton Building Society & MediaCom - Lead Generation Paid Facebook Campaign
Also nominated:
m/SIX & TalkTalk - Driving Brand Awareness Using a Social First Approach
Campfire & The INKEY List - #AskINKEY
Best Use of Content Marketing: Creode & Skipton Building Society - Financial fitness
Also nominated:
Cry Havoc & Studio
Mediaworks & United Utilities - CaST approach
Glass Digital & Horse & Country - Creating a go-to brand
Best Integrated Campaign: Jam and Vox Money - Amplifying the voice of the people
Highly Commended: Cumbria Tourism - Experience Cumbria '#theperfectplacetobe' Attract & Disperse Summer Campaign
Also nominated:
Drummond Central - Beating Covid with Kindness
Front and Everbuild - integrating the builders brand from product to promotion
Ground Up Digital - Children's Corner Childcare
Harrison Carloss - Polly's Field Village
Vivid & Sheffield City Council - Re-opening Sheffield's High Streets
Best B2C Campaign: Drummond Central and Premier - Greggs and PlayStation UK Launch Box
Also nominated:
Cedarwood Digital & Hayes Garden World - Growing Garden Furniture During Lockdown
CreativeRace & Asda - Sustainable Store
Evoluted & CarMats.co.uk - Ecommerce Zero to £3.2m Hero in 12 Months
Media Agency Group & Sykes Holiday Cottages
Mosquito Digital with Nizoral
On the Beach - Ready when you are
Spike Digital & Bargain Max - Brand Ranking Campaign
Best B2B Campaign: Upp B2B & DHL - We Can Help. Let's Talk
Also nominated:
Catapult PR - Wish You Could Hear
Creode & Asda - Feeding little mouths
FIG & SRL - The Smarter Choice
Glass Digital & Alliance Online - Unconventional affiliates for a hard-to-reach audience
Kalibrate - Electric Opportunity
Media Agency Group & Fiverr
Shell & Zircom - Global Trade Rewards Campaign
Best Large Budget Campaign: Serotonin & ASSOS of Switzerland
Highly Commended: On the Beach - Ready when you are
Also nominated:
Drummond Central - Beating Covid with Kindness
Glass Digital & Plastic Box Shop - Beating the post-pandemic slump
Best Small Budget Campaign: The Anfield Wrap's Feel Closer Campaign
Also nominated:
Add People & Baby Boutique
Cumbria Tourism - #theperfectplacetowork
Hitch Marketing - Derbyshire Vaccine Attitudes
Jam and University Centre Wigan & Leigh College - Start your next chapter
Jam and Vox Money - Amplifying the voice of the people
Just Internet Solutions & Artificial Grass Direct - 108% Increase In eCommerce Sales
Route Agency & Welsh Oak Frame - Building Dreams
Best In-House Team: United Utilities
Also nominated:
Learning Curve Group
St Pierre Groupe
Best Large Agency: Manifest
Also nominated:
Assembly
Evoluted
Fox Agency
Ramarketing
Best Small Agency: C21
Highly Commended: Move Marketing
Also nominated:
Brawl
Cause UK
Cravens
Marketing Optimist
Punch Creative