22 May 2020
The Prolific North Top 50 Digital Agencies 2020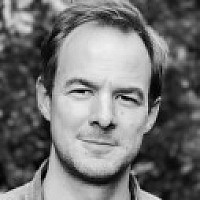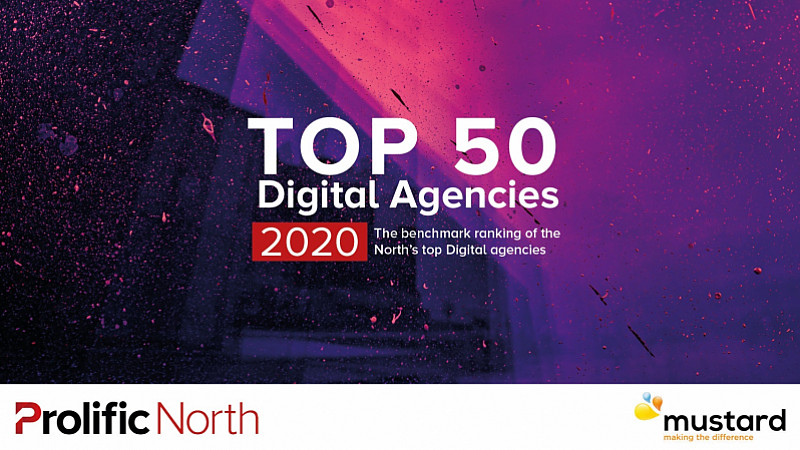 Today we are delighted to unveil the 2020 edition of the Prolific North Top 50 Digital Agencies, the benchmark guide to the North's leading digital agencies spanning SEO and PPC, web, content, mobile and e-commerce.
This year's ranking, first revealed at our special webinar yesterday afternoon, is part of our market-defining Top 50 series which also includes the Top 50 PR Agencies and the Top 50 Integrated Agencies.
For the eighth consecutive year, we're very pleased to have partnered with Mustard Research, who have ensured the ranking is thoroughly researched and entirely independent.
Methodology
Unlike some rankings which are predicated on financial subscriptions and payments to be included, our Top 50 rankings are entirely independent and underpinned by a significant degree of research undertaken by Mustard Research.
The Top 50 Digital Agencies is anchored on financials including balance sheet/shareholder funds, turnover, pre-tax profit, headcount and growth, with the information and data sourced from the agencies themselves and confirmed with the financial reporting company fame Bureau van Dijk and data at Companies House.
We do not publish or reveal any financials; these are discussed privately between the companies and Mustard as we understand that the majority of companies in the ranking publish abbreviated accounts.
Thanks once again to those agencies who have taken the time to compile information for the initiative.
Webinar
Over 60 people attended a webinar yesterday, when this year's Top 50 was exclusively revealed.
The virtual event also included an inspiring fireside chat with the CEOs of two of the top five agencies - Dean Benson, CEO of Visualsoft, and Chris Attewell, CEO of Search Laboratory.
During the discussion, they covered off a range of pertinent issues relating to the challenges and opportunities of running an agency in the time of Covid-19:
How challenging has lockdown been?
What have you learnt about the agency during this time?
Has it also been an opportunity for some clients?
Has your agency seen a particular demand for certain services?
What is your agency doing for the 'greater good'?
How much harder is it for an agency leader to lead remotely?
Has the relationship between an agency and the office changed forever?
If you were starting a digital agency from scratch now, what would it look like?
You can watch their thoughts and a replay of the countdown here:
Summary
A stellar performance from Leeds agencies in this year's ranking. A total of six agencies from the city make up the top 10, with a further two Yorkshire agencies elsewhere in the 10.
And the number one spot once again belongs to Stickyeyes, ahead of North East-based Visualsoft in second and Manchester's Dept, who climb two places to number three.
The top five is made up by Harrogate agency IDHL Group and Leeds-based Search Laboratory. 
Special mention should go to And Digital, which surges a whole 18 places to 11th, as well as Manchester's Apadmi, up 13 to 15th.
Of the new entries, Journey Further is the highest at 23rd, with nods also to Regital (25th), 9xb (31st), Ampersand (36th) and Netsells (41st).
The Prolific North Top 50 Digital Agencies 2020
Rank

Company
Location
Ownership
Services
Staff
Clients
1 (1)
Stickyeyes
Leeds
Interpublic Inc
Both
170

Etihad Airways, Lloyds Banking Group, Groupon, Hertz, Arla

2 (2)

Visualsoft

Stockton-on-Tees, Newcastle, Manchester

Independent

Both
279

Charles Clinkard, Little Mistress, Canterbury, Daniel Footwear, Moda in Pelle

3 (5)
Manchester
Independent
Both
160

Triumph Motorcycles, St James's Place, Ascot Racecourse, Jotun Group, Formula E

4 (3)

Harrogate

Independent

Both

202

Neom Organics, Grand Central, Casio, Kimberly-Clark, Hammonds

5 (4)

Search Laboratory

Leeds

Independent

SEO / PPC

128

Ann Summers, Moonpig, Viking, Riviera Travel and Plusnet

6 (8)

Edit

Leeds
Kin and Carta Plc

SEO / PPC

86

L&G, Tesco Bank, Confused.com, Pizza Hut

7 (10)
Leeds
Part of MSQ
Both
158

Arla, P&G, Mercedes Benz, Virtual College, DFDS

8 (9)
CDS
Leeds
Baird Group

Dev / Tech

88

Transport for London, Metropolitan Police, Bank of England, Social Work England

9 (7)
Epiphany
Leeds
Jaywing Plc
Both
130

Euro Car Parts, Kempinski, Carphone Warehouse, Savills, Irwin Mitchell

10 (6)
Summit Media
Brough
TCC Global

Both

133

Argos, boohoo, Durex, Pets at Home, Speedy

11 (29)
And Digital
Manchester, Leeds, Halifax

Independent

Dev / Tech
193

N Brown Group, OpenMoney, MKM Building Supplies, Covea Insurance, Co-op

12 (11)

Code Computerlove

Manchester

Mediacom

North (WPP)

Dev / Tech

96

Bentley Motors, Hillarys, BBC, Asda, Chester Zoo

13 (15)
Think
Newcastle
EPAM

Dev / Tech

69

LV, Vue, Shop Direct, Arup, Atom

14 (21)
ICS Media Group
Leeds

Spotlight

Sports Group

SEO / PPC

70

bet365, 888, Betfair, IG, Badoo

15 (28)
Apadmi

Manchester

Independent
Dev / Tech
134

NHS, SailGP, Charles Stanley, Co-op, Argos

16 (17)
Mediaworks

Newcastle

Independent

SEO / PPC
95

Dune London, Lookers, Michelin, Zalando, Linklaters

17 (16)

Manchester

Independent
Both
137

Betfred, Wigan Warriors, GGRecon.com, Payzone, wearediscounts .com

18 (14)
CTI Digital
Manchester, Lancaster
CTI Holdings
Dev / Tech
85

Merlin Entertainments, Mcgraw Hill Education, Little Greene, MMU, De Vere Hotels

19 (18)

Fusion Unlimited

Leeds

Principles

Communications

SEO / PPC
35

Halfords, Lloyds Pharmacy Group, Natwest, Valeo Foods, McCain

20 (20)

Fat Media

Lancaster
Independent
Dev / Tech
69

Hallmark hotels, Lakeland, Typhoo, The Christie, Pork Farms

21 (19)
Degree 53
Manchester
Independent

Dev / Tech

150

Betfred, Health Assured, GB Group, CoopBank, LiveScore

22 (22)
Delete

Leeds

Independent
Both
48

McCarthy & Stone, Biffa, Pro14 Rugby, Leeds Beckett University, Southampton FC

23 (-)
Journey Further

Leeds, Manchester

Independent
SEO / PPC
57

Evans Cycles, Sky, Villa Plus, PrettyLittleThing, Vita Coco

24 (12)
Click Consult
Cheshire
Ceuta Group

SEO / PPC

70

Kwik Fit, Lloyds Pharmacy, Chill Insurance, Sanofi, ABTA 

25 (-)
Regital

Manchester

Independent

Dev / Tech

30

Gymshark, Hoover, Macdonald Hotels, Subway, Yale

26 (26)
Hedgehog Lab
Newcastle
Independent

Dev / Tech

88

deliveroo, Santander, AkzoNobel, e:on, Honcho

27 (25)
Mando
Liverpool
Independent

Dev / Tech

54

Confused.com, United Utilities, TalkTalk, TFL

28 (23)
Leighton
Durham
Independent

Dev / Tech

57
Tourism Australia, BA.com
29 (24)
Cantarus

Manchester

Independent

Dev / Tech

39

Sports Direct, Institute of Directors, INTO University Partnerships, Royal Pharmaceutical Society

30 (27)
Engage Interactive
Leeds
Independent
Dev / Tech
33

Whitbread, Jet2, Heineken, TTI Europe, Bettys and Taylors, Yorkshire Tea

31 (-)
9xb
Harrogate, Leeds
Independent
Dev / Tech
45

Euro Car Parts, Homebase, Best Western, Jigsaw24, Watco

32 (33)
Mosquito Digital

Manchester

Independent
Both
53

Thornton and Ross, Turtle Wax, Aimia Foods, Freudenberg, Stada

33 (30)
Enjoy Digital
Leeds
Independent
Both
52

Valspar, Ronseal, Bank of Ireland, Marsh, Costcutter

34 (37)
Sigma Consulting Solutions
Macclesfield
Sigma IT Consulting Group

Dev / Tech

29

AstraZeneca, Mind, Sport England, NICE, NCC Group

35 (32)
Enigma
Newcastle
Independent
Dev / Tech
36

Barbour, NHS, Superdrug, Solopress, Western Power Distribution

36 (-)
Ampersand
Manchester
Independent
Dev / Tech
34

Bensons for Beds, Harveys Furniture, Seraphine, Secret Sales, Swoon Editions

37 (34)
Clicky Media
Chester

Independent

Both
46

Raleigh, Little Mistress, Northumbrian Water Group, Elegant Resorts, Manchester City Council

38 (41)
Bring Digital
Bolton
Independent

SEO / PPC

30

Formula 1, DW Fitness First, Cotton Traders, Swinton Insurance, Slater Menswear

39 (49)
Kagool
Manchester
Independent
Both
25

Barratt Homes, Welsh Water, NTT, DWF and Together

40 (36)
Parallax
Leeds

Independent

Dev / Tech
32

Lucy Zodion, Unilever, TCS PLC, Cauldron Foods, True Student

41 (-)
York

Independent

Web / Tech
47

Hiscox, Warburtons, YourParkingSpace, Hikvision

42 (38)
The SEO Works
Sheffield

Independent

SEO / PPC
36

Rab, NHS, Mondaine, OS Maps, Peter Werth

43 (48)
Space 48
Remote-first

Independent

Dev / Tech

26

Bostitch, Amari, Winstanley Bikes

44 (40)
Shout Digital
Newcastle

Independent

Dev / Tech
21

Hitachi, Sage, Newcastle Airport, NUFC, Gov.UK

45 (-)
Bolser
Leeds

Independent

Dev / Tech

30

Microsoft, Xbox, Battersea Power Station, Discovery TV, American Insurance Group (AIG)

46 (44)
PushON
Manchester

Independent

Dev / Tech
35

Involvement Packaging, Liverpool ONE, Hedges Direct, Medline, HardSoft

47 (-)
Tangent
Newcastle

Independent

Dev / Tech

26

Regus (IWG), Taylor Wessing, SAP, UKPN, Labour

48 (31)
Return
Manchester

Independent

SEO / PPC
27

Tehnics, Chancellors, San Carlo, Linzi

49 (-)

Blueclaw

Leeds

Independent

SEO / PPC
27

iomart, AMT, Leisure Pass Group, Betway, Travel Chapter

50 (45)
SQ Digital
Lancaster

Independent

SEO / PPC
31

ROCCIA, European Springs, Bath House, Clark Door and Smart Storage
2019 ranking in brackets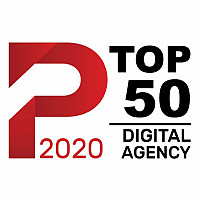 Download a Top Digital Agency 2020 logo
If your agency is one of the top 50, download this special logo to use on your website or other collateral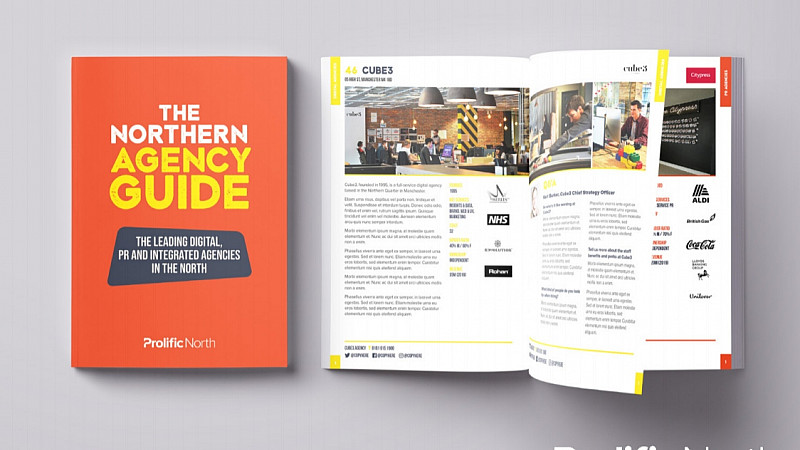 Whether your digital agency is on the list or not, you can still be part of our first ever print title, the Northern Agency Guide, which will be published this autumn.