08 January 2020
The Prolific North Top 50 Integrated Agencies 2020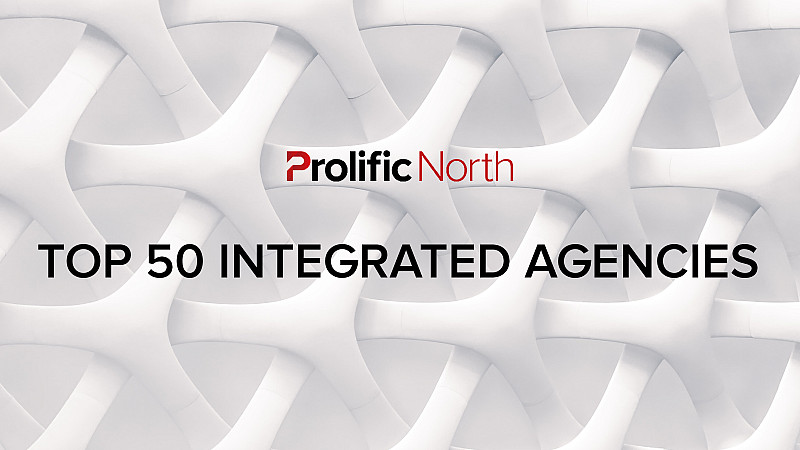 Welcome to the Prolific North Top 50 Integrated Agencies for 2020, the benchmark ranking for the North's multi-faceted creative agencies. 
The list was compiled by independent research agency Mustard, creating a ranking that represents the definitive ranking of the North's leading integrated agencies - spanning a range of advertising, marketing and creative businesses. 
A huge congratulations go out to every agency included in the list. It's a great achievement, and the list goes to show the vast amount of creative talent we have across the North of England.
Whilst this list isn't associated with a dinner event this year, influential industry leaders from two of the Top 10 agencies, Intermarketing and BJL, will be speaking at the first dinner event of the year, the Independent Agencies Dinner. Click here to buy tickets.
The ranking is predicated on a formula which examines a variety of factors including shareholder funds and/or balance sheets, turnover, pre-tax profits and headcount. As only around a third of the agencies file full accounts (over £6.5m turnover), part of our agreement with companies providing confidential information is that we will not itemise or publicise their individual financials. Agencies were not offered the option to be included or not.
Key findings
The podium of this year's list remains identical to that of last year's, with Manchester's McCann and Havas Lynx in first and second, and Adelphi Group, who entered the rankings for the first time last year, in third. Intermarketing also held onto their fourth-place position.
The Creative Engagement Group is a new entry and breaks straight into the top 10, placing 7th, with Nicky Unsworth's BJL also moving up two notches to take the 10th spot. Other new members of the top 50 club include Accord Marketing (28th), Alchemy Media (38th), One Agency (39th), Blue Chip (43rd), HGA Creative (44th), Aire Design (48th), and Access (50th).
Big movers
Manchester and Cheshire-based Big Brand Ideas jumped from 39th up to the top half of the table at 22nd.
Heckford Advertising in Preston climbed 15 places to take the 30th spot in the rankings.
After dropping from 17th to 23rd in last year's rankings, TBWA\Manchester has bounced back to better than they were in 2017, taking spot number 16.
Leeds-based Gecko, who has worked with the likes of Volkswagon and Grosvenor Casinos, will be pleased to jump from 16th last year into the top 10, placing 9th.
The Prolific North Top 50 Integrated Agencies 2020
Previous year ranking in brackets
| Ranking | Company | Private / Group | Location | Employee count | Key clients |
| --- | --- | --- | --- | --- | --- |
| 1 (1) | McCann Manchester | Interpublic | Manchester | 383 | Matalan, Aldi, CrossCountry Trains, Magnet Kitchens, Peugeot/Vauxhall  |
| 2 (2) | Havas Lynx | Havas Network | Manchester | 408 | Astra Zeneca, Johnson & Johnson, Novartis, Roche, Sanofi Genzyme |
| 3 (3) | Adelphi Group | Omnicom Group Inc | Bollington | 360 | Top Pharma companies |
| 4 (4) | Intermarketing | Advantage Smollan Group | Leeds | 213 | Adidas, Moda, KIND, Maoam |
| 5 (6) | Home | Independent | Leeds | 198 | Jet2.com & Jet2holidays, Jaguar Land Rover, Royal Canin, Chicago Town, Dr Oetker |
| 6 (5) | Jaywing | Public (AIM) | Sheffield | 256 | First Direct, Castrol, Virgin Money, Pandora, Insurance2go |
| 7  | The Creative Engagement Group | Huntsworth PLC | Manchester | 150 | AstraZeneca, Roche, Google, BBC, HSBC |
| 8 (8) | MB Advertising & Marketing Ltd | MB Group (UK) Ltd | Sheffield | 69 | Drive Motor Group, JCT600, Marshall Motor Group, Motus, Robins & Day |
| 9 (16) | Gecko | Private | Leeds | 62 | Volkswagen, Grosvenor Casinos, EuroCamp, Peninsula, Mecca Bingo |
| 10 (12) | BJL | Dentsu Aegis Network | Manchester | 72 | Florette, The Co-operative Bank, Craghoppers, BASF, Ronseal  |
| 11 (10) | Drummond Central | Private | Newcastle | 55 | bet365, Tor Coatings, Greggs, Stoke City Football Club, Tracerco  |
| 12 (13) | Momentum Instore | Private | Handforth | 120 | Tesco, Sainsbury's, BP, Google, Harry's |
| 13 (15) | Love Creative | Private | Manchester | 58 | BrewDog, Botanic Lab, Häagen-Dazs |
| 14 (9) | Media Agency Group  | Private | Manchester | 35 | ISAWITFIRST.COM, Never Fully Dressed, Greene King, Malaysia and Sykes |
| 15 (14) | Elmwood | Private | Leeds | 112 | Carlsberg, Alpro, Joii, LW Theatres |
| 16 (23) | TBWA\ Manchester | Private | Manchester | 61 | Jacamo, Alton Towers, Remington, Papyrus, Pizza Hut, Warwick Castle |
| 17 (7) | Fresh | Private | Cheadle | 78 | Co-op, Santander, M&S, BMW, Clarks, DFS |
| 18 (22) | Uniform | Private | Liverpool | 64 | Ideal Standard, Unilever, Innocent, Liverpool FC & Primark |
| 19 (18) | Propaganda | Private | Leeds | 50 | Clipper Logistics Plc, Roberts Bakery, Gym King, The Car People  |
| 20 (20) | Refinery | Private | Manchester | 61 | Manchester Arndale, Clearpay, EGO, Siemens, Varta, AkzoNobel |
| 21 (17) | SteinIAS | Private | Bollington | 67 | ABB, HSBC, Ingredion, Oracle, Republic Services |
| 22 (39) | Big Brand Ideas | Private | Macclesfield | 56 | Shell, Tyres On The Drive, Hoover, Nextbase, Willerby |
| 23 (39) | Workhouse Marketing | Private | Preston | 42 | Stax Trade Centres, Crown Paints, Hempel, Shell, Topps Tiles |
| 24 (25) | A&P | Private | Preston | 41 | DAF Trucks, Redrow Homes, Furness Building Society, Princes, VEKA |
| 25 (11) | CreativeRace | Private | Leeds | 96 | Asda, Icelolly.com, Radley, Help-Link, Evans Cycles |
| 26 (30) | Principles | Private | Leeds | 34 | Arla, Barratt, Butterkist, Astonish |
| 27 (27) | Shoot the moon | Private | Manchester | 48 | TUI, Lakeland, Pets at Home, Stoves, Synexus |
| 28 (new) | Accord Marketing | Private | Manchester | 6 | Handicare UK, Anchor Hanover, Titanic Spa, Just Travel Cover, Claire House |
| 29 | MC2 | Private | Manchester | 40 | Krispy Kreme, NPIF, Mondelez International, Crawford Healthcare |
| 30 (45) | Heckford Advertising | Private | Preston | 32 | Priestley College, Wainhomes, Sandcastle, Vimto, Tomy |
| 31 (28) | Delineo | Private | Manchester | 34 | Co-op Insurance, Penguin, East Lancashire Hospice, Aldermore Bank, WST Travel |
| 32 (43) | Cravens | Private | Newcastle | 18 | Ladbrokes Coral, London City Airport, Gala Interactive, First Bus, Sail GP |
| 33 (36) | Creative Marketing Services | Private | Leeds | 20 | Mobility Plus, Premier Bathrooms, Bathing Solutions, Adjustamatic, Network Rail |
| 34 (35) | Cirrus | Private | Wilmslow | 44 | BT, Allianz, EE, Bupa, Sainsbury's Argos |
| 35 (24) | FPP | Private | Newcastle, Leeds | 58 | Rowntrees, Ferrero Rocher, Anchor, Quorn |
| 36 (46) | Parker Design | Private | Northwich | 31 | AstraZeneca, Ineos Group, Thomson Reuters, Sage UK, United Utilities |
| 37 (33) | Live & Breathe | Private | Leeds | 65 | Kraft Heinz, Dixons Carphone, Peroni, The Happy Egg Company |
| 38 (new) | Alchemy Media | Private | Harrogate | 12 | Boost Drinks, Harrison Spinks, Methodist Homes, Primula, Hisense |
| 39 (new) | One Agency | Private | Manchester | 30 | Footasylum, The Couture Club, Hype, Tinsdills, BJ's Bingo, Charlotte Tilbury |
| 40 (34) | Ponderosa | Private | Leeds | 45 | Russell Hobbs, Puerto De Indias, Ski Club of Great Britain, Hisense, George Foreman |
| 41 (31) | driven | Private | Wilmslow | 28 | Dr Wolf, 1:1 Diet, Go Outdoors, Subway, Vanquis Bank |
| 42 (29) | Bluestorm | Private | Hull | 34 | Greenport Hull, Ullyotts, Hollands Pies, Lincat |
| 43 (new) | Blue Chip | Private | Manchester | 28 | Cushelle, Rustlers, Kellogg's, O2 |
| 44 (new) | HGA Creative | Private | Manchester | 21 | Nationwide, Travelodge, Brakes, Manchester United FC, BASF |
| 45 (32) | Seventy7 | Private | Manchester | 80 | Creative England, Carrier, PartyLite, Ego Shoes |
| 46 (37) | Oakbase | Private | Wilmslow | 30 | Avalon Funeral Care, Joe Wicks, TJ Hughes |
| 47 | Clear Marketing | Private | Manchester | 19 | Thomas Cook, Cala Homes, Hoover, Cala Homes, Brother |
| 48 (new) | Aire Design | Private | Leeds, Manchester | 75 | Kellogg's, Unilever, AB InBev, Mondelez, Quorn |
| 49 | Everything Different | Private | Newcastle | 37 | BBC, P&G, Carpetright, Skym AutoTrader |
| 50 (new) | Access | Private | Manchester | 31 | WaterAid, Stagecoach Bus, Edrington, Greater Manchester Moving, National Grid |