03 February 2021
The Prolific North Top 50 Integrated Agencies 2021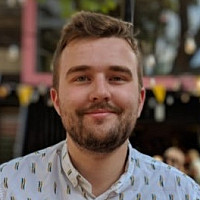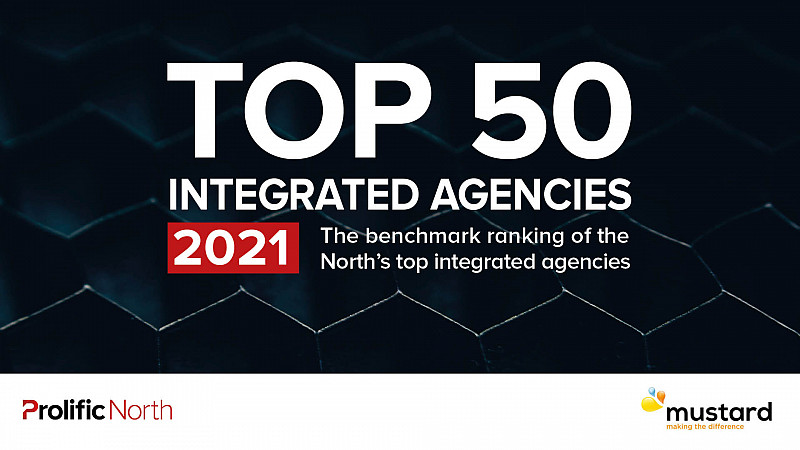 Welcome to this year's edition of the Top 50 Integrated Agencies, the benchmark list of the highest-performing agencies working across specialisms in the region.
Once again, the Top 50 list has been compiled by research leader Mustard, the independent agency. This list sits alongside our influential rankings for PR Agencies and Digital Agencies - the latter of which will launch soon with a call for information from those hoping to get into the Top 50.
The final ranking is based on a range of factors, including balance sheets, turnover, headcount and pre-tax profit. Data is confirmed both with financial reporting company Bureau van Dijk and directly with many of the agencies themselves. As part of this, we do not itemise the financial details discussed. 
Agencies were not given the opportunity to choose whether they're included or not.
The 2021 list is once again a vital resource providing a barometer of the health of the sector this year. As an independent ranking, it is widely relied upon across the North, so well done to all those who made it onto the list.
It will form part of the 2021 Northern Agency Guide, Prolific North's print product introduced to show off the most influential and successful agencies in the region. Find out more information and order the 2020 edition here - information about the 2021 guide will be coming very soon.
Key findings
For another year, McCann Manchester has hit the top spot, making it eight years the agency has been in pole position - while Havas Lynx is yet again at number two. But there is a change at number three, with APS Group spectacularly jumping onto the list straight into the third position.
And it's agencies based in or working in Manchester who dominate the list in general, as well as the Top 10 - with 20 from the final 50 having an office in the city, and seven out of the leading 10 in Greater Manchester.
A range of new entries and returning names have made it into the ranking in 2021 and deserve congratulations - among them Boutique (33rd), Fox Agency (34th), C21 (40th), Ilk (42nd), Social (43rd), 10 Associates (46th), Manifest (47th) and Zut (48th).
High climbers
Climbing a stunning 33 places is Leeds-based Aire Global, who reached 16th having made it onto the list in 2020.
Another huge performance came from Seventy7, the well-established collective which has been in business for more than 40 years. They climb 23 places to reach 23rd place.
Ponderosa and Cirrus deserve recognition, climbing 16 places and 14 places respectively to hit 25th and 21st.
After dropping 10 places in 2020 to number 17, The Fresh Group has regained ground, jumping to number 12 in 2021.
Manchester's Love Creative continues its successful run, reaching number 10 having climbed two places to 13th in 2020.
The Prolific North Top 50 Integrated Agencies 2021
Previous year's ranking in brackets
| Ranking | Company | Private / Group | Location | Employee count | Key clients |
| --- | --- | --- | --- | --- | --- |
| 1 (1) | | Interpublic | Manchester | 353 | Aldi UK and Ireland, HSL, Smyths Toys, Magnet, CrossCountry Trains  |
| 2 (2) | Havas Lynx Group | Havas Network (France) | Manchester | 403 | Sanofi, Novartis, AstraZeneca, Johnson & Johnson, Roche |
| 3 (-) | | Private | Cheadle Heath | 500 | Ford, Superdrug, Aegon, Department for Health, RSPCA |
| 4 (4) | | Advantage Smollan Group | Leeds, Manchester | 219 | adidas, Moda Living, Chester Zoo, Reebok, MAOAM |
| 5 (5) | | Private | Leeds | 169 | Jet2.com, Jaguar Land Rover, Royal Canin, Chicago Town, Dr. Oetker |
| 6 (8) | MB Advertising & Marketing | Private | Sheffield | 67 | Drive, JCT 600, Marshall Motor Group, Motus, Robins & Day |
| 7 (7) | | Huntsworth PLC | Manchester | 180 | AstraZeneca, Roche, Google, BBC, HSBC |
| 8 (10) | | Dentsu Aegis Network | Manchester | 67 | Ronseal, Skipton Building Society, Florette, Craghoppers, Music Magpie |
| 9 (11) | Drummond Central | Private | Newcastle | 39 | bet356, Greggs, People's Postcode Lottery, Flooring Superstore, Northumberland County Council |
| 10 (13) | Love Creative | Private | Manchester | 61 | BrewDog, Botanic Lab, Häagen-Dazs |
| 11 (12) | Momentum Instore | Private | Handforth | 89 | Tesco, Sainsbury's, BP, Google, Harry's |
| 12 (17) | The Fresh Group | Private | Cheadle | 72 | Dixons Carphone, The Co-operative, Samsung, Sunbelt, Bentley |
| 13 (19) | Propaganda | Private | Leeds | 50 | Clipper Logistics, Roberts Bakery, Love Hemp, O2 Canada |
| 14 (6) | Jaywing | Public (AIM) | Sheffield, Leeds | 290 | First Direct, Castrol, Domino's, Yorkshire Water, Pepsi Max |
| 15 (9) | Gecko | Private | Leeds | 63 | Volkswagen, Grosvenor Casinos, EuroCamp, Peninsula, Mecca Bingo |
| 16 (49) | Aire Global | Private | Leeds, Manchester | 59 | Kelloggs, Unilever, AB InBev, Mondelez, Quorn |
| 17 (21) | SteinIAS | MSQ Partners | Bollington | 66 | ABB, HSBC, Ingredion, Oracle, Republic Services |
| 18 (18) | Uniform | Private | Liverpool | 64 | Ideal Standard, Unilever, Innocent, Liverpool FC, Primark |
| 19 (15) | Elmwood | Private | Leeds | 116 | Carlsberg, Alpro, Joii, Macallan, Amstel |
| 20 (22) | Big Brand Ideas | Private | Macclesfield, Manchester | 65 | Hollister and Dansac, Hoover, Halfords, Heineken, Greene King |
| 21 (35) | Cirrus | Private | Wilmslow | 57 | BT, Allianz, EE, Bupa, Sainsbury's Argos |
| 22 (16) | TBWA\MCR | Private | Manchester | 61 | Jacamo, Alton Towers, Remington, Pizza Hut, Warwick Castle, Beaverbrooks |
| 23 (46) | Seventy7 | Private | Mancheter | 49 | Carrier, PartyLite, Ego Shoes, Tom Ford |
| 24 (27) | Shoot The Moon | Private | Manchester | 50 | Dnata, Synexus, Lakeland, Morrisons, Pets at Home |
| 25 (41) | Ponderosa | Private | Leeds | 45 | Russell Hobbs, ABI, Hisense, George Foreman, PDI |
| 26 (25) | CreativeRace | Private | Leeds | 58 | Asda, Icelolly.com, Radley, Evans Cycles, The Deal Depot, Greggs |
| 27 (20) | Refinery | Private | Manchester | 61 | Manchester Arndale, Clearpay, EGO, Siemens, Varta, AkzoNobel |
| 28 (42) | driven | Private | Wilmslow | 20 | Go Outdoors, Dr Wolff, Carshop, Subway, Crown Paints |
| 29 (26) | Principles | Private | Leeds | 30 | Sherwin Williams, Seabrooks, Arla, Astonish Cleaning, Freaks of Nature |
| 30 (31) | Heckford Advertising | Private | Preston | 35 | Priestley College, Wainhomes, Sandcastle, Vimto, Tomy |
| 31 (14) | | Private | Manchester | 35 | I saw it first, Bermuda Tourism, Greene King, Malaysia Tourism, Sykes Cottages |
| 32 (24)  | A&P | Private | Preston | 42 | DAF Trucks, Redrow Homes, Furness Building Society, Princes, VEKA |
| 33 (-) | Boutique | Private | Leeds | 23 | Costcutter, Ryobi Power Tools, Limitless Digital, Craghoppers, Graham & Brown |
| 34 (-) | Fox Agency | Private | Leeds | 25 | Alcatel-Lucent Enterprise, Total, Brother Europe, BOBST, BearingPoint  |
| 35 (32) | Delineo | Private | Manchester | 28 | Tech Data, Certas Energy, Cumberland Building Society, Next Generation Travel, Penguin Random House |
| 36 (30) | MC2 | Private | Manchester | 34 | NPIF, Mondelez International, Crawford Healthcare, Livingbridge |
| 37 (40) | One Agency | Private | Manchester | 30 | Footasylum, Couture Club, Hype, Tinsdills, BJ's Bingo, Charlotte Tilbury |
| 38 (39) | Alchemy Media | Private | Harrogate | 11 | Boost Drinks, Harrison Spinks, Methodist Homes, Primula, Hisense |
| 39 (23) | Workhouse Marketing | Private | Preston | 39 | Stax Trade Centres, Crown Paints, Hempel, Shell, Topps Tiles |
| 40 (-) | C21 | Private | Altrincham | 15 | Medtronic, Essity, ForHousing, Icon LifeSaver, GMHSCP, NHS |
| 41 (37) | Parker Design | Private | Northwich | 31 | AstraZeneca, Ineos Group, Thomson Reuters, Sage UK, United Utilities |
| 42 (-) | Ilk | Private | Leeds | 24 | Brewdog, Asda, CityFibre, Couture Living, Portakabin |
| 43 (-) | Social | Private | Manchester | 34 | GC Business Growth Hub, NP11, UK Sport, Laurus Extra MSA |
| 44 (33) | Cravens | Private | Newcastle | 18 | Ladbrokes Coral, London City Airport, Gala Interactive, First Bus, Sail GP |
| 45  | Jellyfish | Fimalac (France) | Warrington, Manchester | 53 | Aviva, rackspace, DECKERS, PUIG |
| 46 (-) | 10 Associates | Private | Huddersfield | 12 | Company Shop Group, Graham and Brown, ISN, Halfords, ao.com |
| 47 (-)  | Manifest | Private | Manchester | 8 | Chivas Brothers, Gousto, Hotels.com, Manchester International Festival, Gousto, Tommee Tippee |
| 48 (-) | Zut | Private | Liverpool, Manchester | 18 | Betfred, Liverpool FC, Chester Racecourse, The Jockey Club, EFL |
| 49 (38) | Live & Breathe | Private | Leeds | 67 | Kraft Heinz, Dixons Carphone, Peroni, The Happy Egg Company |
| 50 (43) | Bluestorm | Private | Hull | 30 | Greenport Hull, Hollands Pies, Lincat, Purity, Wiltshire College |