01 February 2019
Northern Digital Awards 2019 - The Winners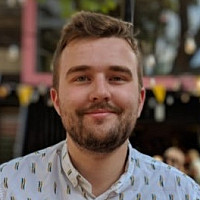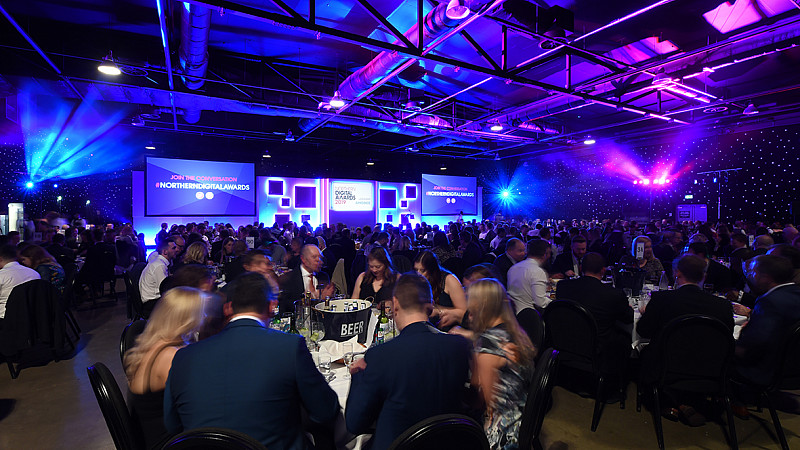 At Leeds' spectacular Royal Armouries Museum, in the surroundings of New Dock Hall on the banks of the river Aire, digital leaders came together to celebrate in style at 2019's Northern Digital Awards.
Hosted by BBC 5 Live's Will Perry, the 2019 event was attended by more than 450 people from all corners of the region.
This year's Northern Digital Awards were supported by headline sponsor Amobee, while thanks also go to Force24, category and photo booth sponsor, along with category sponsors CDS, Circle Loop, Digital Lancashire and Visualsoft.
Entries and judging
Entries were submitted by the region's most innovative and forward-thinking digital specialists in multiple industries - so thank you to everyone who made an entry. The shortlist only goes to show the immense talent and imagination at play in Northern businesses.
We'd also like to thank the industry experts who made up our panel of judges:
Dawn Anderson, Founder of Move It Marketing and international SEO consultant; Tom Armenante, eCommerce Manager at Wolsey, Nicole Farhi and BLK DNM; Liliana Ashton, Digital Business Management Consultant; Tom Cheesewright, Book of the Future founder; Richard Dawson, Digital Marketing Expert at The Cheshire Digital Marketing Agency; Mike Deyes, Deputy Director of Marketing (Digital) at the University of Liverpool; Arianne Donoghue, Paid Media Development Manager at Epiphany; Liam Dyson, Head of Digital at Plusnet; David Edmundson-Bird, Principal Lecturer in Digital Marketing at Manchester Metropolitan University; Marcus Hadfield, Apadmi Chief Strategy Officer; Brendan Keegan, Digital Marketing Senior Lecturer at Manchester Metropolitan University; Stephen Kenwright, Director of Search at Edit; Herb Kim, Thinking Digital Conference Founder; Mark Kuhillow, Founder of R.O.EYE; Neil McKay, Endless Gain CEO; Katrina Michel, Marketing Cheshire CEO; Paul Morris, Head of Marketing Planning & Performance at Tesco Bank; Jack Norrell, Digital Marketing Consultant at Forward3D; Erin Portsmouth, NHS Head of Communications and Engagement; Duke Tanson, Head of Digital Marketing at Boohoo; Jonathan Wall, Chief Digital Officer at Missguided; Anna Wilson, Head of Digital at Tangerine; and Peter Young, Managing Partner and Head of Wavemaker Content.
Northern Digital Awards 2019: The Winners
Best Digital Marketing Campaign - Retail: Kenyons & St Johns Shopping Centre
Also nominated were:
Amobee & Epiphany - Stokke's 'Designed to be Closer' Campaign
Bring Digital For Ann Summers - The 30 Day Sex Position Challenge
Evolved Search - Helping Mattress Online To Bounce Back
Media Agency Group & ClickTap Media - Liverpool One Summer Campaign
Media Agency Group, ClickTap Media & Liverpool One - Student Retail Campaign
Mosquito & Zoflora - VIP at Crufts
Shop Direct & Threefold – Santa's Toy Team
Best Digital Marketing Campaign - Finance: CandidSky & Buddy Loans - demonstrating true value
Also nominated were:
Click Consult & Chill Insurance - 'Insuring Ireland's Future'
Evolved Search - Putting Select Car Leasing in the driving seat
Evolved Search - SEO with Interest for Money Guru
Fat Media for H&H Insurance Brokers Brand Campaign 2018
Latitude & Gladstone Brookes - Navigating the Deadline with Paid Search
Best Digital Marketing Campaign - Travel and Leisure - sponsored by Force24: Edit & SpaSeekers.com - Global Relaxation
Also nominated were:
Click Consult & Kwik Fit - 'Know before you go'
Digitaloft & Globehunters - Europea's Most Instagrammed Beaches
icelolly.com
twentysix & DFDS - "Sailing the waves of Google algorithms"
Best Digital Marketing Campaign - Entertainment and Sports: Mosquito & Basketball England #TogetherWeAreBasketbALL
Also nominated were:
Bumbl & 7 Of The Best - Driving Website & App Conversions in a Noisy Arena
Orange Bus - Fan Engagement
Pixelbuilders & Harrogate Town AFC - Introducing The New Brand
Welcome to Yorkshire - Tour de Yorkshire
Best Digital Marketing Campaign - Third Sector: Zero Suicide Alliance – Talk2Me Campaign
Also nominated was:
Best Digital Marketing Campaign - Public Sector: Republic of Media - Keeping Young Men Safe on Scotland's Country Roads
Also nominated were:
Culture Liverpool & Liverpool City Council - Giant Spectacular Liverpool's Dream
Diva Creative & Darlington Borough Council - Young Discounts Campaign
Diva Creative & Leicester City Council, as part of Sport England's Swim Local Initiative
Best Digital Marketing Campaign - Health & Beauty: Venture Stream & Morrison Shenfine - Applying Best-Practice to Dental Patient Lead Generation 
Also nominated were: 
Bray Leino - Covonia Feel the Power Campaign
twentysix with Currentbody.com - 'Campaign migration and global acceleration'
Best Digital Marketing Campaign - FMCG: Wavemaker Manchester & Dr Oetker - Home Baking Rising to The Social Challenge
Also nominated were:
Mindshare & Warburtons - Gluten Free Rebrand Criteo Launch
twentysix - Fortnum & Mason - Drive forecasted growth with a multi-channel strategy
Best Digital Marketing Campaign - B2B - sponsored by Force24: R.O.EYE Using Social Media to Drive Performance B2B Traffic
Also nominated were:
Don't be Shy & Promethean
Halston Marketing - Hark Systems Marketing Launch
Peak - You & AI
Reckless & LABC - Building Authority By Challenging Foundations
Shoot the Moon, GDHA & The Stoves - Range Cooker Launch
Stein IAS & Ingredion - You Are How You Eat
Venture Stream - Delivering Leads for AlphaGraphics UK
Best Digital Marketing Campaign - B2C: Republic of Media - Keeping Young Men Safe on Scotland's Country Roads
Also nominated were:
Banana Kick For Plusnet - The Yorkshire Citizenship Test
Bray Leino - Covonia Feel The Power Campaign
Bring Digital For Ann Summers - The 30 Day Sex Position Challenge
Digitaloft & Forward2me - Instagrammable Sneakers
Mabo - Lifestyle Fitness Fighting Fit Through Google Ads
Mabo - New Cakes - Have Their Cake And Eat It
Media Agency Group & ClickTap Media - Liverpool One Student Campaign
Best Affiliate Campaign: twentysix and Currentbody.com
Best Low Budget Campaign: Digitaloft & forward2me - Instagrammable Sneakers
Also nominated were:
Culture Liverpool - Liverpool City Council - Giant Spectacular Liverpool's Dream
Jam gets festive with Transport for Greater Manchester
Journey Further & Airtasker - Yorkshire Pudding Tester
Mosquito & Basketball England - #TogetherWeAreBasketbALL
Mosquito & Vileda - My Life My Vileda
Office Friendly - Pioneering Powerful Performances
Visualsoft & Miltons Diamonds - The Watches of James Bond
Best Integrated Campaign - sponsored by Force24: Media Agency Group & ClickTap Media – Liverpool One Summer Campaign (Integrated)
Also nominated were:
Amobee & Epiphany - Stokke's 'Designed to be Closer' Campaign
Co-op's #TheCoopWay storytelling
Diva Creative & Leicester City Council, as part of Sport England's Swim Local Initiative
Journey Further & Christy - Creating a shop window across paid media
Stein IAS & Ingredion - You Are How You Eat
Wavemaker & GWR Adventures start here
Best PPC Campaign: The SEO Works – Howzat! The SEO Works Bowl a Corking 2586% Return For All Rounder Cricket
Also nominated were: 
Extreme Creations - Park Leisure Holiday Home Ownership Campaign
Mabo - New Cakes - Have Their Cake And Eat It
Mabo & Boomf  - Boomf There It Is!
Marketing Signals & LED Hut - Lighting up the SERP's efficiently!
Salience & Crisis - A Christmas Campaign With An ROI Of 32
Venn Digital & We Buy Any House - Strategic thinking across multichannel paid campaign
We Influence & VaVaVoom - Huge ROAS increases with TrueView for Action
Best SEO Campaign: Blueclaw, Myracing.com & The Queen's Winnings
Also nominated were:
Auto Trader UK - Embracing the new world of JavaScript to grow SEO
Digitaloft & forward2me - Instagrammable Sneakers
Edit & SpaSeekers.com - Global Relaxation
Epiphany & Irwin Mitchell - Leading the marketing through user-focused SEO
Fast Web Media & Blu - When Number 1 isn't enough
Venture Stream - Shop by Diet for Planet Organic
Wavemaker & Swinton Insurance - Social Media an invitation for burglary?
Best Use Of Social Media: Pole Star Digital & Patient Claim Line
Also nominated were:
Co-op's Cheers #TheCoopWay
Co-op's TheCoopWay storytelling
Edit & Wren Kitchens - Food Tube
Jam & Transport for Greater Manchester - Stamping out annoying behaviour on Metrolink
Jam gets festive with Transport for Greater Manchester
Mustard Media & AMP Lost & Found Festival 2018 - Festival marketing campaign
Sky Bet - Driving 1 million incremental bets through Facebook
Best Use Of Video: Stein IAS & Merck Animal Health – Caninsulin Sugar and Spike – The Diabetic Duo
Also nominated were:
Co-Op's #TheCoopWay Storytelling
Communicator Corp - Communicator - Launch Of Smartsend Via Video
Editors Keys  - Creators Tutorials
Extreme Creations - Pioneering The First Facebook Live For Nisa Local
Stein IAS - Post-Modern Marketing Video Series
Influencer / Blogger Outreach Campaign: Christy's Digital Re-Brand Using Bloggers and Influencers
Also nominated were:
Access Creative College - Access X Helen Anderz
Co-op's Cheers #TheCoopWay
Diva Creative & Rail Delivery Group - #PlusBikeDayOut
Mosquito & Vileda - My Life My Vileda
Mosquito & Zoflora - VIP at Crufts
Pole Star Digital & WeBuyAnyCar - What Will People Do In Driverless Cars?
SEEN Connects - The Very Network
Best Website: icelolly.com
Also nominated were:
Clicky Media & Halton Housing - Digital Transformation in the Housing Sector
Fishtank Agency for BHP Corporate Finance Website
Perfect Fit Media Interactive Website
Pixelbuilders & Harrogate Town AFC - Launching The New Brand
Search Consultancy - search.co.uk - candidate-centric website
Strawberry for Aunt Bessie's New Website
Welcome to Yorkshire - Christmas in Yorkshire
Well Pharmacy - Eddie
Best eCommerce Website: IGOO – Utility Redesign and Redevelopment
Also nominated were:
Digitl & Pixel Kicks - LED Controls
Extreme & BishopSound - Turning Up The Volume On Premium Audio Sales
Limely - Lingerie Outlet Store
Pinpoint Designs & Beer Hawk - Ale in a day's work
Pixelbuilders - Direct Blinds - Website Optimisation
Strawberry for Roland Mouret's New Website
Venture Stream - Master Debonair Website Launch
Best App: MadeByPi, M&C Saatchi World Services & The International HIV and AIDS Alliance
Also nominated were: 
Cantarus - Sports Direct App
GoFantastic app by Fantastic Services 
Nutracheck Calorie Counter App
Sauce & Ideal Boilers - Ideal Touch Connect
The CircleLoop App
The Worrinots
Well Pharmacy App
Best MarTech: Latitude Digital Marketing & The Ticker
Also nominated were:
Force24 - The next generation of marketing automation
PPC Protect - Click Fraud Prevention
R.O.EYE - Delivering incrementality through transparency
Ruler Analytics - www.ruleranalytics.com
Stein IAS & Ingredion - You Are How You Eat
Best Digital Tool or Software: R.O.EYE - Delivering incrementality through transparency
Also nominated were:
Allstar Media Services – PayBurst
CircleLoop
eviFile
Fusion Unlimited - Natural Edge
PPC Protect - Click Fraud Protection
Quba - www.symphonyem.co.uk
RapidSpike - Digital Experience Monitoring
Digital Marketing In-House Team Of The Year: Welcome to Yorkshire Digital Team
Also nominated were:
Co-op's Digital Engagement team
hedgehog lab
Irwin Mitchell Digital Marketing Team
Ribble Cycles
Visualsoft's In-House Email Marketing Team
Search Agency Of The Year: Journey Further
Also nominated were: 
Blueclaw
Click Consult - 'A year to remember'
Digitaloft
Epiphany
Evolved Search
Fusion Unlimited
Mabo
Social Media Agency Of The Year: MountDigital
CRO Agency of the Year: Endless Gain
Also nominated was:
Small Digital Agency Of The Year - sponsored by Visualsoft: Pole Star Digital
Also nominated were:
Digitaloft
Don't be Shy
Marketing Signals
MountDigital
Orientation Marketing
Pace Communications
Large Digital Agency of the Year - sponsored by CircleLoop: Venn
Also nominated were:
Bring Digital
CDS
Dept
e3creative
Young Digital Marketer of the Year - sponsored by CDS: Olivia Smith from Digitaloft
Also nominated were:
Andie Barry, Editors Keys 
Carrie Rose Balloch, Senior Campaign Strategist, Edit
Laura Dobbin, Accord North         
Laura Williams, Senior Paid Search Analyst, Visualsoft Ltd   
Matthew Soakell, Mabo     
Rebecca Downey, Digital Marketing & eCommerce Assistant, Christy UK LTD    
Tom Holgate, Pace Communications