22 September 2021
The Prolific North Top 50 PR Agencies 2021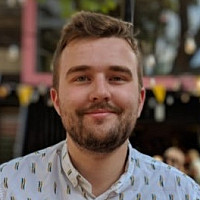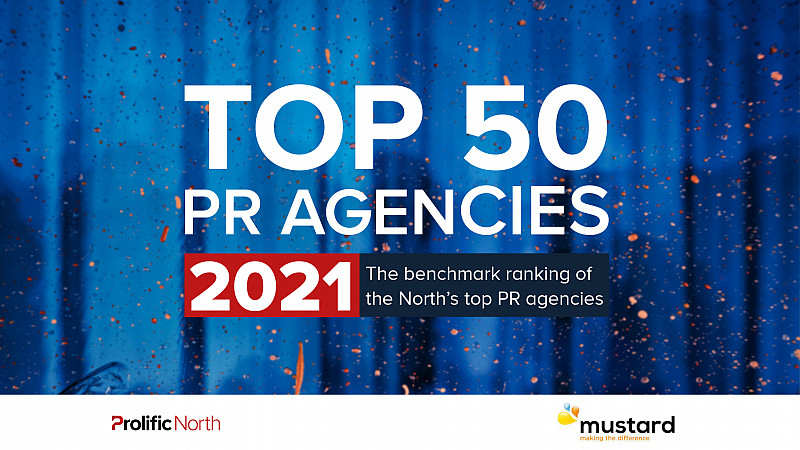 The full Top 50 PR Agencies ranking for the North of England has been published today - the benchmark for the industry.
Conducted once again in partnership with independent research agency Mustard, the Top 50 PR Agencies list is a go-to for industry figures across the sector, giving a unique insight into the North's PR industry.
The ranking is based upon data sourced from the agencies themselves, alongside publicly available data at Companies House. It is anchored on financials along with information on headcount, clients, private background information and more, confidentially shared with our research partners.
As always, congratulations to everyone who made it onto the list, after yet another very challenging period for both agencies and their clients.
The top four spots remain stable between 2020 and 2021 after a trading of places between BDB and Weber Shandwick last year. Citypress's reign at the top continues - marking seven years in pole position.
Ramarketing, the Newcastle agency which slipped a couple of places in 2020, has made a fantastic jump into the top 10 to take fifth spot. Well done too to Social, which continues its steady climb to reach sixth in 2021.
Iseepr and Red Havas have also done particularly well over the past year, making it into the top 10 at seventh and tenth respectively.
Of the 10 leading agencies, once again seven are based in Greater Manchester, with Leeds being the next-best represented location. Across the whole ranking this year, 30 are located in the North West while 18 are Yorkshire-based.
This year's biggest climber is Altrincham-based Alpharmaxim Healthcare Communications, which having been at 41st in 2020, jumps 29 places to 12th. Others making big steps include Faith PR jumping into the Top 50, Bonner & Hindley who are up 13 spots, plus HRM, Fig Creative and No Brainer, climbing more than 10 places apiece.
Finally, well done to new entry The Big Bamboo Agency from Harrogate, which after healthy growth, has entered the ranking for the first time at number 36.
Join in the conversation on social media using the hashtag #PNTop50.
The Prolific North Top 50 PR Agencies 2021
2020 ranking in brackets
| Rank | Company | Location | Ownership | Staff | Clients |
| --- | --- | --- | --- | --- | --- |
| 1 (1) | Citypress | Manchester | Private | 90 | Lloyds Banking Group, Aldi, British Land, Coca-Cola Europacific Partners, Molson Coors Beverage Company |
| 2 (2) | BDB | Altrincham | Private | 56 | Wolfmet, Intratone, Elsevier, Tama, Sensient |
| 3 (3) | Weber Shandwick | Manchester | Interpublic Group of Companies | 41 | Iceland, Nespresso, Abbott, Princes, Fauna and Flora International |
| 4 (4) | Tangerine Communications | Manchester | Private | 76 | Dunelm, Ideal Standard, Jewson, Pizza Hut, Specsavers |
| 5 (13) | Ramarketing | Newcastle upon Tyne | Private | 48 | Sharp Packaging, Recipharm, Metrics Contract Services, Vibalogics |
| 6 (12) | Social | Manchester | Private | 40 | Barratt Homes, City of Bradford, National Lottery, Bristol City Council, UK Sport |
| 7 (11) | iseepr | Leeds | Private | 25 | Visa International, EMVCo, GlobalPlatform, Trusted Connectivity Alliance, GLEIF |
| 8 (6) | Hatch | Leeds | Private | 32 | Spectrum Brands, Boost, Villa Maria Wines, Diageo & Rugby League World Cup |
| 9 (8) | Carousel PR | Manchester | Private | 28 | Selfridges, MODA, MGA Entertainment, Cotton Traders, The Entertainer |
| 10 (15) | Red Havas | Manchester | Havas Group | 25 | Kellogg's, studio.co.uk, Auto Trader, United Utilities, Collection Cosmetics |
| 11 (5) | Finn Communications | Leeds | Private | 37 | Clipper Tea, Cadbury Ice Cream, V.I.Pee, John West |
| 12 (41) | Alpharmaxim Healthcare Communications | Altrincham | Private | 33 |   |
| 13 (9) | Democracy | Manchester | Private | 34 | Dulux, Dulux Decorator Centre, AkzoNobel International Paint, Fray Bentos, heycar, Tequila Rose |
| 14 (16) | Prohibition PR | Leeds | Private | 22 | Yorkshire Water, Interflora, ENGIE, Northumbria University, Fentimans |
| 15 (17) | Counter Context | Sheffield | Private | 21 | Bradford Council, Far East Consortium, Ørsted, Sheffield City Council, Canal & River Trust |
| 16 (18) | Lucre | Leeds | Private | 22 | ScS, Bosch, Tomy, Mira, Kodak |
| 17 (7) | Brazen PR | Manchester | Private | 23 | Wilko, Magnet, Silentnight, Chicago Town, Dr Beckmann |
| 18 (10) | Influential | Liverpool | Private | 20 | Morgan Sindall, Grant Thornton UK, Merlin Entertainments, Camelot, U and I Group Plc (Mayfield Developments) |
| 19 (21) | PR Agency One | Manchester | Private | 22 | Gift Voucher Shop Ltd, Decathlon UK Limited, M Three Corporate Consulting Limited, SerenataFlowers.com, Barings Core Fund Ltd |
| 20 (19) | Corporate Culture | Liverpool | Private | 18 | Southern Water, Biffa, Ricoh, Royal Mail, RICS |
| 21 (25) | Sky Parlour | Manchester | Private | 16 | EPA, PXP Financial, ingenico group, GRIN, Chargebacks 911 |
| 22 (23) | DTW | Guisborough | Private | 15 | The Law Society of England and Wales, EMOVIS, Solicitors Regulation Authority, F40, British Association of Counselling and Psychotherapists. |
| 23 (14) | Intelligent Conversation | Manchester | Private | 12 | Materialise NV, Synectics plc, Norican Group, United Utilities, EMIS Group plc |
| 24 (24) | Harris Associates | Leeds | Private | 16 | Crown Trade, Encon Group, CDUK, Sandtex |
| 25 (30) | Umpf | Leeds | Private | 13 | Cafédirect, Harrison Spinks, Keepmoat Homes, Landsec, Morphy Richards |
| 26 (36) | No Brainer | Cheshire | Private | 12 | HomeServe, Appreciate Group, Cash Converters, MBNA, Capify |
| 27 (39) | Fig Creative | Glossop | Private | 16 | Northwood Hygiene Products; SRL Traffic Systems; Armacell; Temperature Electronics Ltd; BCN3D |
| 28 (29) | Kenyons | Liverpool | Private | 15 | YUSS, Everton FC, Hounslow council, British Council, Liverpool Health Partners |
| 29 (38) | Scriba PR | Huddersfield | Private | 13 | Agilité Solutions, CDS, Tiger, UNTHA, Vapour |
| 30 (32) | Context Public Relations | Macclesfield | Private | 11 | Check Point Software Technologies, Keysight Technologies, Wellbeing Software, Ingram Micro Cloud, Algosec |
| 31 (42) | HRM | Sheffield | Private | 18 | NHS, Drive Motor Retail, B Braun, BHP, Zimmer Biomet |
| 32 (28) | Definition | Leeds | Private | 18 | Xero, Benenden Health, DHL, ABB, Walker Morris, Astrid & Miyu |
| 33 (34) | Truth PR | Manchester | Private | 11 | Furness Building Society, FI Real Estate Management, Countryside, University Academy 92, Rosewood Pet Products |
| 34 (31) | Active Profile | Manchester | Private | 15 | Peak, Sensor City, Muse, wranx, SYSGROUP plc |
| 35 (27) | MCG PR | Leeds | Private | 12 | Northern Trains, Nexus, University of Leeds, Damart, Portakabin, Pink Lady and Tenderstem |
| 36 (new entry) | The Big Bamboo Agency | Harrogate | Private | 15 | Greif Inc, Pandrol, HE Simm Group, Mumbler, Escapism Bar Group |
| 37 (40) | Mason Williams | Manchester | Private | 10 | Moser, Weber, Loctite, Australasia, Molang |
| 38 (33) | Smoking Gun | Manchester | Private | 14 | Interflora, Munchkin, NHS, Sporting House, Bravura Food |
| 39 (20) | Roland Dransfield | Manchester | Private | 13 | ask, Crowne Plaza, Schroders, D&D London, L&G |
| 40 (53) | Bonner & Hindley Communications | Leeds | Private | 12 | Bowland Forest Vintners, Eat Leeds, Museums Sheffield, Doncaster Sheffield Airport |
| 41 (50) | Allott & Associates | Knaresborough | Private | 10 | SmartFreight, OxAir, GEA, Force24 and Onward Holdings |
| 42 (44) | Skout | Macclesfield | Private | 9 | Miele, Eurotech, Stone Group, Gazprom Energy, Medius |
| 43 (37) | Brand8 PR | Leeds | Private | 10 | Sewtec Automation, Adare SEC, Paragon, Avant Homes |
| 44 (26) | RMS | Altrincham | Private | 14 | DUERR'S, Swizzels, Kellogg's, SAS Daniels, Warburtons |
| 45 (51) | Triangle PR | Manchester | Private | 4 | 5Zeros, Accoutre, arc4, CDL, AMX |
| 46 (54) | MTJ PR | Leyland | Private | 7 | Quorn, A.G. Barr, Rustlers, Florette, Burton's Biscuit Co. |
| 47 (59) | Faith PR | Huddersfield | Private | 9 | World Kinect Energy Services, Mid Yorkshire Chamber of Commerce, Calderdale Council, A-SAFE, Twisted Automotive |
| 48 (49) | Refresh PR | Manchester | Private | 9 | Metro Rod, Skinny Booze, BBF, Eurocell, Ello Media |
| 49 (35) | Scott Partnership | Holmes Chapel | Private | 8 | N4 Pharma, Promega, SGD Pharma, Linkam |
| 50 (60) | Harvey and Hugo | Darlington | Private | 10 | Everflow, Ideal Bathrooms, PD Ports, Nudl, AlphaGraphics |