24 May 2018
Prolific North Awards 2018: Winners, Pictures and Review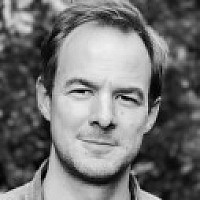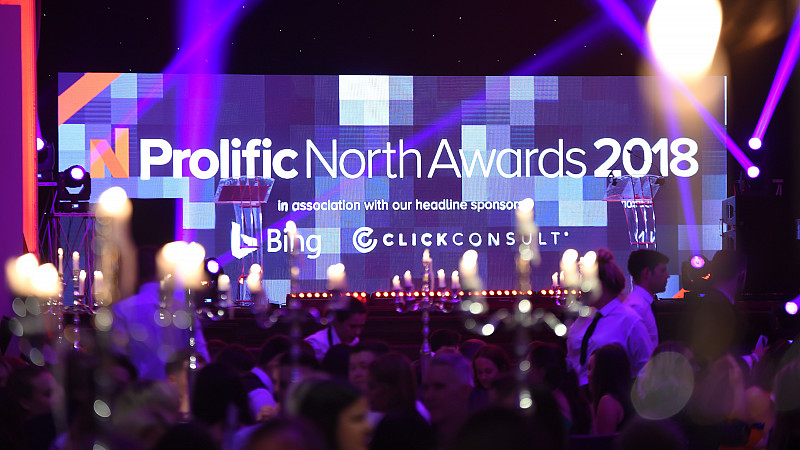 A capacity crowd of 700 people came together last night to celebrate the region's creative sector at the Prolific North Awards 2018.
Amid the Edwardian splendour of the Principal Hotel in Manchester city centre, a total of 23 prestigious 'big Ns' were handed out to some thoroughly deserving winners at what is now established as the largest creative industries awards evening outside London.
Our thanks first of all must go to our headline sponsors on the night, Bing and Click Consult.
Thanks also to our category sponsors 72Point, CDI, Dock10, Group IMD & Honeycomb, Hiscox, Knight Corporate Finance and Stackhouse Poland, as well as event organisers Don't Panic.
And our appreciation once again to our esteemed judging panel for giving up their time to determine the shortlist and the eventual winners.
The night was hosted in traditionally uncompromising fashion by Justin Moorhouse, who kept the crowd entertained long after the candelabras had burned themselves out.
And as the below list of winners demonstrates, success could be found in every corner of the region, a testament to the depth and breadth of talent around us.
The Prolific North Awards 2018: The Winners
Animation / Graphics Company: Flipbook Studio 
The judges said: Flipbook Studio has had a cracking year, expanding into larger premises, obtaining new equipment for their studio and 3 new hires to the business, this is reflected in the turnover successfully increasing by 40%.
Also nominated
Carbon Digital
Fuzzy Duck
Periscope Studios
Rabble
Digital Agency (10 and Under Employees): Don't be Shy
Also nominated:
Applied Digital Marketing
Clean Digital
Content OD
EY3 Media
Impression
Maxweb
Noir Agency
Digital Agency (11-25 Employees): Evoluted
The judges said: In the past year Evoluted have acquired fellow Sheffield agency Reflow Studio, taking their total staff numbers up to 25. Their use of statistics is first class, with turnover up by 44% and profit up by 52%. 
Also nominated:
CandidSky
Connect
Mabo Media
Parallax
Platform81
Venture Stream
Digital Agency - 26+ Employees (Sponsored by Bing): Bring Digital
The judges said: In the past year, Bring Digital launched their graduate scheme, taking on four graduates and also brought on new recruits from Shop Direct and AO.com, taking staff numbers up to 35. They managed major new projects from clients including Ann Summers and DW Fitness, increasing turnover growth by 35% year on year and maintaining profit margin at 25%. 
Also nominated:
Apadmi
e3creative
Fat Media
Social Chain
Independent Production Company: Blakeway North
The judges said: Blakeway North recently celebrated their 10th Anniversary and have successfully taken their staff numbers up to 10. They delivered four series and a number of single documentaries, including Panorama and Stacey Dooley Investigates.
Also nominated:
Anattic Limited
Endemol Shine North
Lizardfish TV
True North Productions
VTR North
WhiteNoise Media
Zut
B2C Marketing / Integrated Communications Campaign - Less than £50k (Sponsored by CDi Yorkshire): Domu Brands – VonShefMadeItGood
The judges said: Domu Brands and their Make it Good campaign for VonShef successfully met objectives and generated 12,000 new customers for the brand, with an average spending of £25, exceeding sales targets by 40%.
Also nominated:
APS Group MMP Global & Merseyside Mounted Police Section Stand Tall Branding & Marketing Campaign
Digitaloft & Missy Empire – You vs The Kardashians
Markettiers Manchester & United Utilities - Reservoir Safety Stay Safe Stay Out
Mosquito & Basketball England – TogetherWeAreBasketball
PHD Manchester & Leith - It's Not Christmas without IRN-BRU
Truth Creative & University Academy 92 - Brand Identity and Multi-Channel Launch Campaign
Wavemaker – Cleaning up in the supermarkets
B2C Marketing / Integrated Communications Campaign - Over £50k: Everton Football Club 2017/18 Season Ticket Campaign – One For All All For One
The judges said: "Everton Football Club's campaign had the objective of increasing retention of season ticket holders. The campaign focussed on email, telemarketing and live events and successfully achieved a record retention rate of 94.3% on season ticket renewals."
Also nominated: 
Channel 4 & Thomas Cook – The Secret Life of 4 Year Olds on Holiday
Diva Creative & Greater Manchester Health and Social Care Partnership – Stay Well This Winter Greater Manchester
IF Agency & Knowsley Safari - Summer 2017 campaign
Time Inc. & Thatchers Haze x NME Emerging Artists Project
Vivid & Visit Guernsey – Guernsey Memories
Wavemaker – Mid-week mission!
We Influence Delivers Best Ever Trading Season For Christmas Tree World
News & Magazine (Printed or Online): Untold Agency and Best Western UK Postcard Magazine
Also nominated:
AuKids magazine
BusinessCloud - news & magazine
Warrington Guardian
Media Sales: More Media Sales
The judges said: Media Sales have successfully increased revenue up to 33% and staff numbers are up from 7 to 12 in the past year. The number of clients acquired in 2017 have doubled and they have obtained partners including Time Out and AdMaxim.
Also nominated:
Channel 4
Immediate Media
Time Inc
Media Agency: Wavemaker
The judges said: Wavemaker have had a year of distribution to the market, the agency rebranded and were ranked in the Sunday Times 100 best places to work list. Their media billings were up by 14%, increased revenue per head in the business and obtained new client assignments including Mornflake, Hoover and Disneyland Paris. 
Also nominated:
Periscope Studios
Republic of Media
PR Agency of the Year - Under 10 Employees: Chapman Poole
Also nominated:
Catapult PR
Faith Public Relations
No Brainer
Rule 5
Scriba PR
TheRetailRoom
PR Agency of the Year - Over 10 Employees: Brazen
Highly Commended: Acceleris
Active Profile Ltd
Havas PR
Prohibition
Roland Dransfield
SEO & PPC Agency: The SEO Works
The judges said: SEO Works opened a new office in Leeds in the past year and made a small acquisition. They retained 50% of their clients, increased staff numbers from 22 to 35 and made a 28% growth in annual turnover.
Also nominated:
CandidSky
Mabo Media
Nothing But Epic Ltd
Content Team: Shoot The Moon
The judges said: Shoot The Moon's social division is now up to 15 team members, taking total staff figures up to 34 employees and sales are up over 25%.
Also nominated:
BT
Periscope Studios
Swinton Insurance
Trunk
Wavemaker Content
Digital / Social Media Campaign of the Year: Christy – NotJustATowel
Big Brand Ideas – Nextbase 'Bad Drivers'
Citypress – A World Without Labels
Click Consult & Kwik Fit – Know before you go
Mosquito & Basketball England – TogetherWeAreBasketball
One – Maxtop Tea-Break Tosser game
Wavemaker – Cleaning up in the supermarkets
Wavemaker – Rising to the social challenge
B2B Marketing / Integrated Communications Campaign (Sponsored by Hiscox): Stein IAS and Ingredion – You Are How You Eat
The judges said: Stein IAS and Ingredion's You Are How You Eat fully integrated campaign targeted both PR coverage and the sales pipeline and they successfully delivered both with ROI of 20:1.
Also nominated:
Freshfield – GrowingLancashire
Havas PR UK – Armitage Shanks celebrate200
Markettiers Manchester & Mercedes-Benz Vans – Giving The Van Driver A Voice
Plinkfizz Ltd – Crystal Careers Recruitment Campaign
Skout PR & Wax Digital - the four 'Ps' of procurement
Splitpixel Creative Ltd – Sodexo Engage Launch Campaign
twentysix & Hitachi Capital Invoice Finance – SME spotlight campaign
Broadcasting Programme – Commercial / Advertising (Sponsored by Group IMD): Equinox Film and TV Productions & VictoriaPlum.com – FamilyMoments
Also nominated:
ABF Pictures & soak.com - Elephant in the room
Equinox Film and TV Productions & Oak Furniture Land – 'Welcome Real Hardwood'
Glued Films & Garden Creative – Know for Sure: Patient Claim Line 2018 Adverts
Zut & Betfred – Nostalgia campaign
Website of the Year (Sponsored by Knight Corporate Finance): Modern English Digital & Sony Music Entertainment - Foo Fighters Mixtape Generator
The judges said: Modern English Digital created a website for their client Sony, who described this as the "best piece of work we've put out in years". The website got global publication in magazines such as Billboard and NME and generated an increase of four million streams.
Also nominated:
Born + Raised – Keep Britain Tidy Website
Don't be Shy – Putting people at the heart of business IT
Kagool & Inchcape – New Inchcape website
Music – Joe Coleman Website
NetConstruct with Milwaukee Tools
Outpost – Bear Grylls Website
Pinpoint Designs with Custom Plugs
App of the Year: Mapway & Bus Times London
Also nominated:
Argos & Apadmi – Argos Card App
Blue Chip Marketing & O2 - The Source App
Mediaworks & The Royal Mint – The Great British Coin Hunt
Now Healthcare Group – Now Patient
Our Studio 360 App for Herbal House on behalf of Allied London working with Design Agency 90Degrees
The musicMagpie App
Vita Student & Apposing – Student Companion & Intercom App
Integrated Agency - Up to 29 Employees (Sponsored by Lucas Fettes): Born + Raised
The judges said: Born + Raised went through a rebrand and was repositioned to diversify away from over-reliance of a handful of clients and secured new clients including HSBC, Royal Mint and Keep Britain Tidy over the past year. Staff numbers are up to 25, turnover up by 18% and profits increased by 38%.
Also nominated:
AKA North
Bugler Smith Ltd
Pace Communications
Peppermint Soda
Venture Stream
Integrated Agency - 30+ Employees (Sponsored by Dock10): Jaywing
The judges said: Jaywing have had a great year, being awarded Investors in People for the 19th year and securing new clients including Wonga and The Car People. They are based in a refurbished building in Sheffield, with impressive staff numbers of 450, and their profit is up by 13% in the past year.  
Also nominated:
Intermarketing Agency
MC2
Media Agency Group
Savvy Marketing
We are Vista
Video of the Year (Sponsored by 72Point): Space Digital – 'Slaughterbots'
Also nominated:
Bauer Media for Key 103 – One Love Manchester Mash Up
BBC North West Tonight – Up 'Ere by Tony Walsh
Born + Raised – HSBC Global Markets
Cuckoo & Brickhouse Productions – Alliance
Flipbook Studio – Relationship between Type 2 Diabetes and Cardiovascular Disease Animations
Social Chain – Through The Eyes Of The Fans
Trunk – Using the 'C Word' to save lives
Broadcasting Programme – News and Factual: True North Productions – The Yorkshire Dales and The Lakes
Highly Commended: Blakeway North – Kicked Out From Care To Chaos (BBC Three)
Blakeway North – My Life Born To Vlog
Endemol Shine North – Inside Bentley A Great British Motor Car
Nine Lives Media – I'm Coming Out, Ross's Story
Nine Lives Media – My Life: Hike to Happiness
Radio City Talk – Mental Health Monday
True North Productions – A New Life In The Sun
More photos from the Prolific North Awards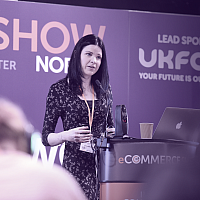 Next event: The eCommerce Show North 2018
The region's biggest eCommerce expo returns on November 6th and 7th 2018