07 October 2020
The Prolific North Top 50 PR Agencies 2020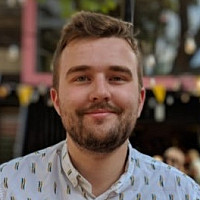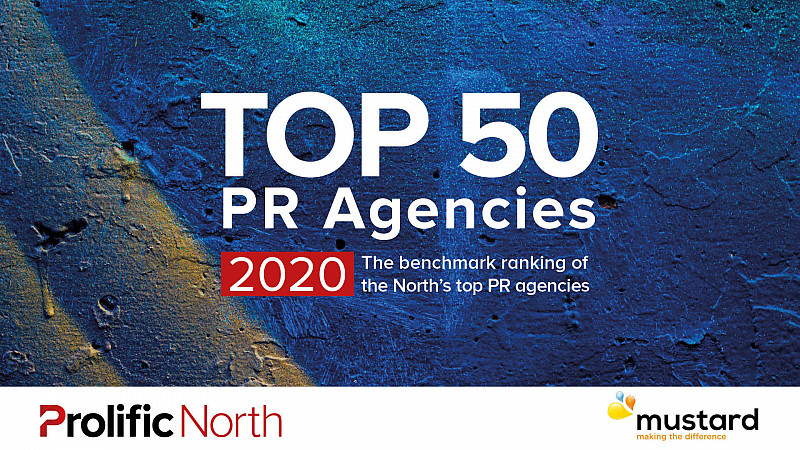 Back for 2020, the Prolific North Top 50 PR Agencies is the highly-anticipated independent ranking of all the region's leading lights in the world of public relations.
Leading research company Mustard has once again conducted the research, compiling the final list using publicly available data and that sourced from the agencies themselves. The ranking of companies is based upon financial information sourced from Companies House, as well as financial reporting company Bureau van Dijk.
The details which the agencies shared privately with the researchers included additional financials, headcount, client information and any relevant private background information - to ensure the most accurate final Top 50 could be created.
This year has not been easy for agencies around the country, so reaching the Top 50 is a massive achievement for any organisation in the region. Congratulations to those who've made it onto the list in 2020.
Citypress take the top spot in the Top 50 list once again - making it a remarkable sixth year that the agency has been named the region's number-one PR agency. However there has been a shuffle in second and third place, with Barrett Dixon Bell trading third place for second with Weber Shandwick.
It has been a year of changing positions, although many of the top 10 have stayed stable. Tangerine, Finn, Brazen and Democracy hold onto their positions from 2019, with Carousel and Influential remaining in the top 10 despite slipping a couple of spots.
Special mention first of all should go to Leeds' Hatch - jumping six places into the top 10, having dropped two to 12th in 2019. Well done in particular to new entrant Counter Context - the Sheffield-based agency who are not just in the Top 50 for the first time but have shot to number 17 in the list.
Two more agencies deserve recognition for their success this year. In 2019, Scriba PR entered the Top 50 for the first time - and this year, they've climbed a further 10 places to make it to number 38. But even more impressive is the 28-place climb from We Are Indigo, who reach number 43 in 2020.
Integrated or digital agencies with significant PR operations are not included in our list because its is dictated by the agencies' prime offering being PR and communications. Well done once again to everyone who made it - and thanks to all the agencies who have supplied us with information and data where requested.
The Prolific North Top 50 PR Agencies 2020
2019 ranking in brackets
| Rank | Company | Location | Ownership | Staff | Clients |
| --- | --- | --- | --- | --- | --- |
| 1 (1) | Citypress | Manchester | Private | 82 | Aldi, British Gas, Lloyds Bank, Coca Cola European Partners, Molson Coors |
| 2 (3) | Barrett Dixon Bell | Altrincham | Private | 45 | DSM, IMCD, Grace, ADM, Roquette |
| 3 (2) | Weber Shandwick | Manchester | Interpublic Group of Companies | 41 | Iceland, Nespresso, Abbott, On The Beach |
| 4 (4) | Tangerine | Manchester | Private | 57 | Pizza Hut, Specsavers, Johnstone's Paint, Ideal Standard, Jewson |
| 5 (5) | Finn Communications | Leeds | Private | 39 | Essity UK, Froneri, GHD, IPN, Taylors of Harrogate |
| 6 (12) | Hatch Communications | Leeds | Private | 27 | Boost Drinks, Russell Hobbs, Remington, Villa Maria Wines, The 2021 Rugby League World Cup  |
| 7 (7) | Brazen | Manchester | Private | 26 | Wilko, Dr Oetker, Showcase Cinemas, Magnet Kitchens, Optical Express |
| 8 (6) | Carousel | Manchester | Private | 28 | Selfridges, MGA Entertainment, Accurist, Cotton Traders, Moda |
| 9 (9) | Democracy | Manchester | Private | 27 | Dulux, Heycar, Cartridge Save, Love Energy Savings, Baxters Food Group |
| 10 (8) | Influential | Liverpool | Private | 30 | Morgan Sindall, Grant Thornton, Merlin Entertainments, Camelot, U+I |
| 11 (14) | iseepr | Leeds | Private | 21 | EMVCo, GlobalPlatform, Trusted Connectivity Alliance, GLEIF |
| 12 (19) | Social | Manchester | Private | 34 | Extra MSA, Business Growth Hub, NP11, Caddick Developments, Stephensons Solicitors |
| 13 (11) | Ramarketing | Newcastle-upon-Tyne | Private | 27 | Sharp, Xellia Pharmaceuticals, Recipharm AB, Tracelink |
| 14  (18) | Intelligent Conversation | Manchester | Private | 14 | Brother International Europe, EMIS Group, Materialise NV, Norican Group, United Utilities |
| 15 (10) | Red Havas | Manchester | Havas Group | 20 | Greggs, Kellogg's, Studio.co.uk, HM Government, United Utilities |
| 16 (15) | Prohibition PR | Leeds | Private | 16 | Yorkshire Water, Watches of Switzerland Group, CEWE, ENGIE, Interflora |
| 17 | Counter Context | Sheffield |   | 20 | Ørsted, National Grid, Far East Consortium, British Land, Sheffield City Council |
| 18 (13) | Lucre | Leeds | Private | 22 | Jet2.com, Stonegate, Holiday Extras, Pizza Express, Meadowhall |
| 19 (16) | Corporate Culture | Liverpool | Private | 20 | Southern Water, Riverside Group, Scottish Hydro Electric, Redrow Homes, NHS England |
| 20 (21) | Roland Dransfield | Manchester | Private | 14 | Ask, D&D, Legal & General, St Modwen |
| 21 (17) | PR Agency One | Manchester | Private | 20 | Decathlon, Auto Trader, Serenata Flowers, Allied London, Slater Heelis |
| 22 (24) | Peppermint Soda | Manchester | Private | 22 | Admiral, Bolton Council, Home Bargains, muse |
| 23 (26) | DTW | Guisborough | Private | 15 | The Law Society, Merseyflow, Solicitors Regulation Authority, Road Safety GB |
| 24 (37) | Harris Associates | Leeds | Private | 13 | Senior Architectural Systems, CD Ltd, Crown, Arbor Forest Products, Washroom Washroom |
| 25 (22) | SkyParlour | Manchester | Private | 17 | Ingenico ePayments, Pitney Bowes, Interactive Media Retail Group, Modulr |
| 26 (25) | RMS | Altrincham | Private | 19 | Warburtons, Swizzels, Arvia, Manchester Drinks, Duerr's |
| 27 (33) | MCG | Leeds | Private | 12 | Northern, Pink Lady and Tenderstem, Costcutter Supermarkets Group, Nexus (University of Leeds) |
| 28 (27) | Definition | Leeds | Acceleris acquired Limelight PR in January 2018 | 20 | Utilita, Benenden Health, Nautilus International, JF Hillebrand, FibreNation |
| 29 (42) | Kenyons | Liverpool | Private | 17 | LIPA, Everton, British Council, USS, Peel |
| 30 (32) | Umpf | Leeds | Private | 11 | ENGIE, Glen Dimplex Home Appliances, Harrison Spinks, Landsec, NHS |
| 31 (28) | Active Profile | Manchester | Private | 12 | Muse Developments, Avison Young, igloo Regeneration, UK Energy Innovation Centre, LivingLens |
| 32 (31) | Context Public Relations | Macclesfield | Private | 10 | Check Point Software Technologies, Wellbeing Software, Algosec, Keysight Technologies, NowComm |
| 33 (23) | Smoking Gun | Manchester | Private | 11 | Silentnight Beds, Willerby Holiday Homes, Interflora, Support Adoption for Pets, Testcard |
| 34 (30) | Truth Creative | Manchester | Private | 10 | Countryside, Ego Pharmaceuticals, FI Real Estate Management, Furness Building Society, Rosewood Pet Products |
| 35 (20) | Scott Partnership | Holmes Chapel | Private | 9 | Roche Sequencing, Paradigm4, Aigenpulse, Promega, SGD Pharma |
| 36 (35) | No Brainer | Cheshire | Private | 9 | Appreciate Group, Cash Converters, HomeServe, Optionis Group, Sale Sharks |
| 37 (36) | Brand8 PR | Leeds | Private | 9 | Avant Homes, Chancerygate, Sewtec Automation, TOMRA, Gordons |
| 38 (48) | Scriba PR | Huddersfield | Private | 10 | UNTHA shredding technology, Solutionize Global, Vapour Cloud, Tidy Planet, Smith Brothers Contracting |
| 39 (29) | Fig Creative | Glossop | Private | 14 | Northwood Hygiene Products, SRL Traffic Systems, Armacell, Ace Centre, TEL |
| 40 (41) | Mason Williams | Manchester | Private | 14 | Weber, Harrods, Loctite, Compass Group |
| 41 (58) | AlphaRmaxim Healthcare Communications | Altrincham |   | 9 |   |
| 42 (46) | HRM | Sheffield | Private | 17 | BHP, Braun, STEL, NHS |
| 43 (71) | We Are Indigo | Manchester |   | 9 | Mercedes-Benz, Kimpton & Dakota Hotels, Escape To Freight Island, The Warehouse Project |
| 44 (38) | Skout PR | Macclesfield | Private | 10 | Miele, Wax Digital, GazProm Energy, 100%, SANA |
| 45 (39) | MANC FRANK | Manchester | Enero Group | 8 | Vype, Vorwerk, Kiwi.com, Staysure, Tomatin |
| 46 (61) | de Winter | Chester |   | 11 | mbna, EA Technology, Royal Crown, Grosvenor Shopping Centre |
| 47 (40) | The Partners Group | York | Private | 8 | Morley Glass & Glazing, JM Glendinning, ROCOL, Silvery Tweed Cereals, EPH UK |
| 48 (44) | Fourth Day | Manchester | Fourth Day Group | 8 | Autocab, ResponseTap, Lytx, APS Group, Mobica |
| 49 (49) | Refresh PR | Manchester | Private | 9 | Glass and Glazing Federation, BBF, Culture Shift, The Dining Club Group, Glow-worm |
| 50 (45) | Allott & Associates | Knaresborough | Private | 9 | SmartFreight, OxAir, GEA, Force24, Onward Holdings |