11 March 2022
Digital City Awards 2022: The Winners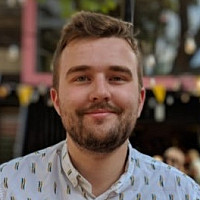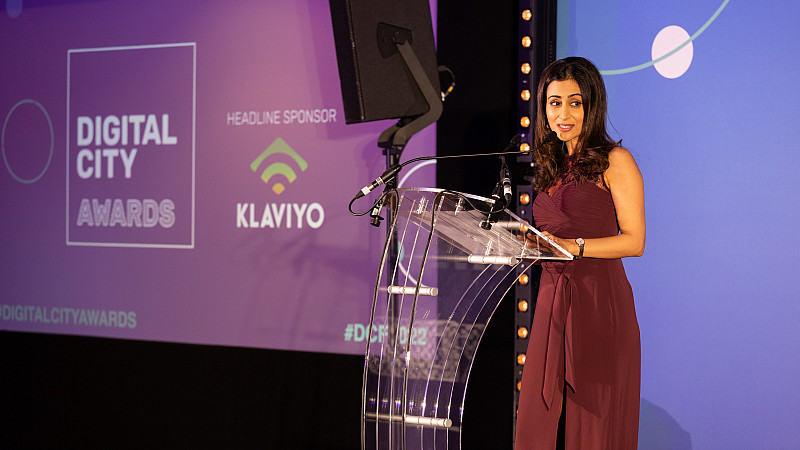 Leaders from the digital ecosystem gathered last night at the Etihad Stadium in Manchester for the chance to celebrate all the winners at this year's Digital City Awards.
Sponsored by Klaviyo, the awards rounded off the second day of the successful Digital City Expo, all part of the wider Digital City Festival taking place across Manchester this week. Today (March 11th) marks the festival's final day of celebrations.
Local, national and international companies came together at the event to recognise the success of their peers and socialise in style at the high-profile venue.
Compering last night's ceremony was Sheila Gordhan, the musician, public speaker and DistroTV presenter. She led the proceedings throughout the night, as the winners were revealed one by one.
Congratulations to all the finalists and of course the winners, who went above and beyond to make a difference through digital innovation. Let's see who won.
Digital City Awards 2022: The Winners
Digital Transformation Award: Digital Urban Place - Wirral Geospatial Planning
Also nominated:
AND Digital/Lookers - Click and Drive
Ardent Atlas Database
City of Georgetown, USA - LaserficheLloyds Banking Group - Diary Manager
Digital Marketing Campaign of the Year: connective3 & Canine Cottages - Doggy Devotion
Highly Commended: Spike Digital & Bargain Max - Brand Ranking Campaign
Also nominated:
Checkd Group - The Group Chat
The Think Tank & Asendia - Asendia Vertical Industries Campaign
Tech for Good Award: Silverchip - Donate A Laptop and School Meal Finder
ilumoni
Prodo and Housing Solutions - AI Assist
Slalom - OnSide
Best Use of Technology - Not-for-profit: Armchair Adventures
Highly Commended: I4YPC - 'RapYourTown' and 'SnapYourTown'
Blue Sapphire Media & St Columba Rugby
Few and Far & St. George's Crypt - "Then & Now..."
Prodo and Housing Solutions - AI Assist
The University of Manchester - AI targeting 'zombie' batteries
RNCM & The University of Manchester - 'Unsupervised'
GM Cyber Foundry
Best Use of Technology: Silverchip - Suits Me
Highly Commended: The Creative Media Team at The Manchester College - Virtual Work Experience
Also nominated:
Fantom Factory - SkySpark Engineer eLearning
Flex Legal - SQE Journal
ilumoni
Latus Health - Yodha
Malinko
Outcider - Stakeholder Mapping
WebDev Project of the Year: Intersoft
Also nominated:
Connect Internet Solutions - North West Air Ambulance Charity website
Fantom Factory
Revize Government Websites - City of Olympia, WA
Velstar & Avon - avon.uk.com using Shopify Plus
App of the Year: Silverchip - Suits Me
Also nominated:
Best Ecommerce Agency: Supercharged Commerce
Also nominated:
Best SaaS Company: Intersoft
Also nominated:
Commonplace Digital
Total Processing
Best Workplace: TalkTalk
Highly Commended: Nimble Approach
Also nominated:
Best Start-up: PixelMax
Also nominated:
Best Small Digital Company: XR Games
Highly Commended: Gazooky Studios
Also nominated:
Circus PPC
Cloud Galacticos
Digiryte
Fantom Factory
Best Medium Digital Company: Silverchip
Highly Commended: Access
Also nominated:
Checkd Group
Door4
Indiespring
ProdoSmart Media Group
Best Large Digital Company: connective3
Also nominated:
Best Use of Emerging Technology: iomart
Also nominated:
Segmentify & Ebuyer - Omni-Channel AI Personalisation
Innovation of the Year: Beacon - The Beacon click fraud protection platform
Also nominated:
AND Digital/NBrown - Progressive replatforming for retail
Atlas - The Headless WordPress Platform
Autocab & Uber - Local Cab partnership with Uber
Fantom Factory - Clever Cloud
Fast - Headless Checkout
ROAR Digital Marketing - The SEO Bomb®
The Moscow Department of Information Technologies - The "Snow" Project
Digital Leader of the Year: Phil Swan, Digital Director, Greater Manchester Combined Authority 
Highly Commended: Rosa Mitchell, Head of Digital PR, connective3
Also nominated:
Ben Taylor, Founder, 3D Online
Jamie Hinton, Co-founder and CEO, Razor
Kate White, Senior Development Manager, Kaplan Financial
Lauren Millward, Communication and Engagement Lead, Greater Manchester Combined Authority
Martin Vares, Founder & CEO, Fractory
Simon Mabey, Founder and Director, Digital Urban Place
Highlights from the 2022 Digital City Awards