18 August 2021
BBC snags top spots in YouGov's latest brand sentiment research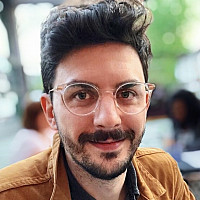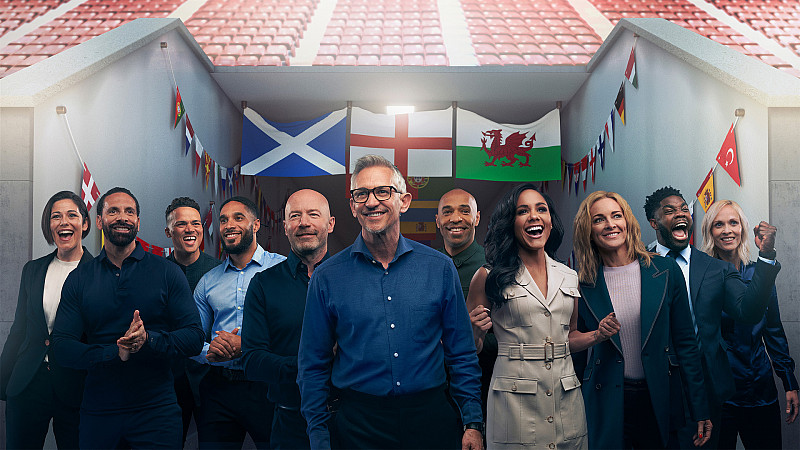 Two separate BBC divisions have taken the top spots in YouGov's latest brand sentiment research.
BBC Sports and BBC Sounds placed top and second respectively in YouGov's 'Biggest Brand Movers' research through June to July 2021.
Released monthly, the final scores are calculated with YouGov's 'BrandIndex' metrics, which aim to represent consumer's brand awareness, brand sentiment, and intent to consume the brand's products.
While last month's top spots were taken by two brands closely associated with summer, this month's winners were a result of major sporting events.
Taking the top spot, YouGov reports that MediaCity-based BBC Sport showed improvements in 11 out of the 13 BrandIndex metrics taken into consideration.
It reports improvements in every 'Brand Health' metric, which includes data on brand awareness,brand quality, and whether a consumer has a positive or negative impression of the brand.
It also reports improvements in BBC Sport's 'Purchase Funnel' metrics, which includes data on whether a consumer would consider a brand the next time they are in the market for a product, how likely they are to purchase a specific product, and if a consumer has purchased a given product or not within in a specified period of time.
The boost to consumer sentiment comes as BBC Sport concluded its broadcast coverage of major sporting events including the Tokyo Olympics and the UEFA Men's European Championship across July and August.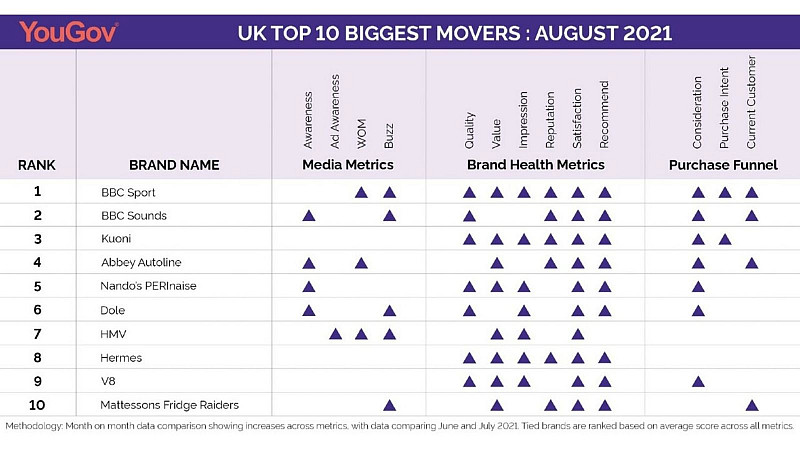 Complementary to the BBC Sport output was streaming media service BBC Sounds, which included broadcast of the Olympics and Euros within its app.
Taking the second spot in YouGov's Biggest Brand Movers list, the app made improvements in eight of YouGov's 'BrandIndex' metrics, and, unlike BBC Sport, also showed an increase in consumer awareness via ads.T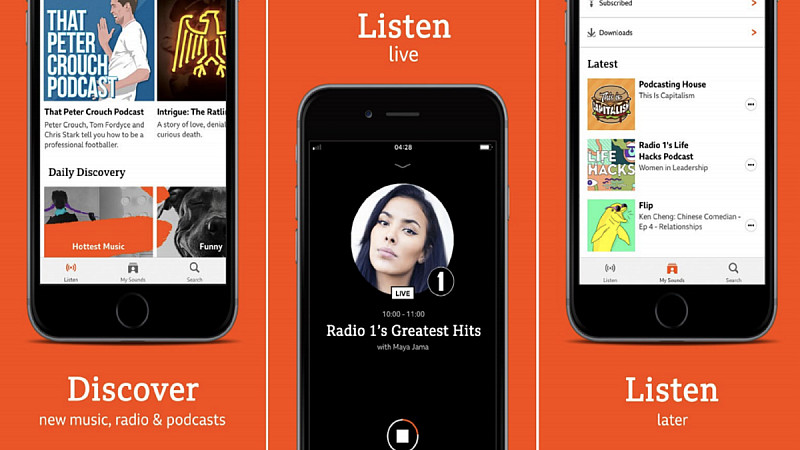 aking the third spot is Switzerland-headquartered travel services brand Kuoni. YouGov reports upticks in eight of data points according to UK consumers, including all of its brand awareness metrics.
Claiming to be Northern Ireland's biggest insurance broker, Abbey Autoline, formerly Abbey Insurance Brokers, also made gains in eight metrics. The brand, which has 18 branches across Northern Ireland, showed improvements across a diverse set of metrics.
FMCG brands close out the list
Food brands Nando's PERInaise and Dole have both battled for increased consumer awareness. The two brands both saw improvements in BrandIndex categories 'Awareness', 'Impression', 'Satisfaction', 'Recommend', 'Quality' and 'Consideration', but Nando's PERInaise also registered growth in 'Value' scores, seeing it placed fifth, while Dole gained in 'Buzz' scores, and placed sixth.
Also in the FMCG category are drinks brand V8 and meat snack product Mattesson's Fridge Raiders, which placed 9th and 10th respectively.
Delivery services brand Hermes registered upticks in every 'Brand Health' metric to come eighth overall, which YouGov said could be a result of news that the brand is exploring self-driving delivery vehicles in conjunction with Ford.
YouGov's monthly Biggest Brand Movers feature highlights the ten brands that have registered statistically significant improvements across the most brand metrics.
Discover how the nation feels about your brand. Sign up for a free brand health check from YouGov.