26 July 2021
YouGov data shows how British consumers have celebrated better weather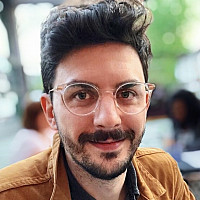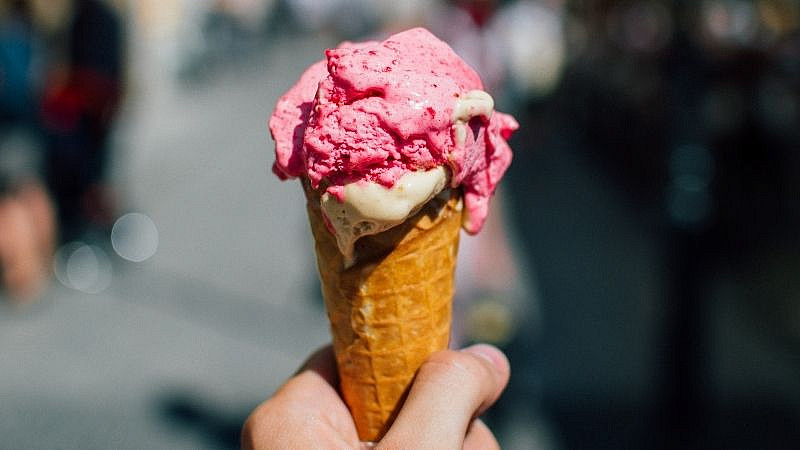 The brands which have made the most positive impact in the minds of UK consumers have been revealed this month by YouGov as part of an ongoing series.
Biggest Movers recognises the brands which have seen improvements across the most metrics with British consumers each month. The latest figures form July's edition of YouGov's monthly BrandIndex Biggest Brand Movers list.
Last month, consumer attention was set on the big screen as cinemas reopened.
This month sees a top ten focussed on those responding to, or chasing after, hot weather.
YouGov's Biggest Brand Movers: July 2021
1 Pimm's
2 Wall's Ice Cream
3 American Airlines
4 Southern Railway
5 Minecraft
6 Lenovo
7 Mazda
8 Halo
9 Qatar Airways
10 On the Beach
How the data is calculated
Data for the biggest brand movers in July compared statistically significant score increases across a range of metrics between May and June 2021. Brands are ranked based on a variety of metrics which include factors such as whether a consumer would consider a brand, ad awareness, and whether they had heard anything about the brand in the past two weeks.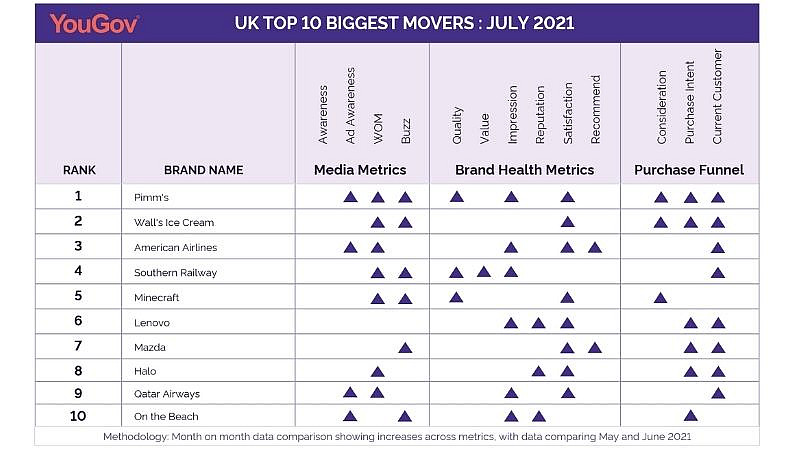 Travel dominates
Where pubs have dominated the top spots in previous months, the latest data shows a strong trend towards travel. Among this month's top ten are two airline brands, one travel brand and one transport brand.
American Airlines takes the top spot among the travel sector in third place, followed by Southern Railway in fourth. Lower down the list, Qatar Airways and On the Beach take the ninth and tenth place respectively.
Where brands have an equal number of improvements, they've been ranked on their overall Buzz score, which measure whether consumers have heard something positive about the brand in the past two weeks).
Tied in second position are American Airlines and Southern Trains. The brands both registered gains in three metrics, Word of Mouth Exposure, Impression and Current Customer.
Summer favourites
But beating all of these brands is summertime favourite Pimm's. The brand improved in nine of YouGov's BrandIndex metrics to take the top spot.
YouGov pointed to the launch of a new flavour in mid-May, 'Sundowner', designed for those outside during the evening hours.
YouGov reports that Pimm's made particularly sharp gains in its Word of Mouth and Exposure metrics, and has a history of gains in consumer attention in the summer months.
Also continuing to benefit from the celebration of better weather is Wall's Ice Cream. The UK's largest ice cream makers took a podium position in second place, having secured a particularly sharp spike in YouGov's 'Satisfaction' metric.
Video games still prosper
Despite the weather, two major video game franchises have managed to hold a place in the top 10. Minecraft and Halo, both of which made gains in Word of Mouth, Exposure and Safisfaction metrics.
To discover how the nation feels about your brand, request a free brand health check from YouGov.