21 February 2019
Where We Work: Cube3, Manchester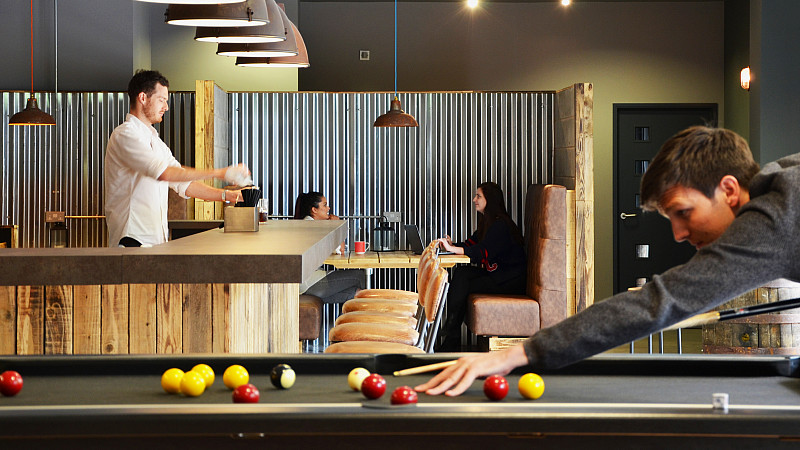 This week's Where We Work takes a closer look at the Cube3 Agency office in the Northern Quarter, Manchester.
We spoke to Cube3's Managing Director Mark Bailey about the workspace. He told us why the office was such an enjoyable place to work...
"I like the way the space is really multi-use. Open plan offices can be good for collaboration but aren't great for concentration. So we've got booths that we can use if we need to work quietly on our own or in small groups.
"Of course, the bar is great, but the best bit is that we've got an area we can use for all sorts of stuff - we've had film nights and live gigs in here, as well as our own 18th birthday party."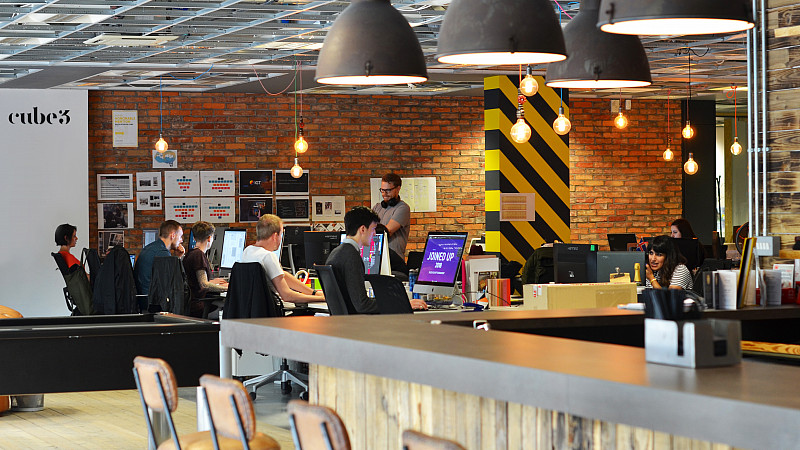 Where is it?
Market Square Building, 85 High Street, Manchester M4 1BD
How big is it?
This isn't any ordinary office. Think industrial influences, with exposed brickwork and retro filament lightbulbs. An ode to our home the Northern Quarter is our striking Haçienda Club-style mural and vibrant street art adorning the walls. The result? A fun, creative space that inspires our people. There's a buzz when you walk through the door, an energy you can feel - and at least some of that comes from a seriously cool space.
We're Mancunian and proud. So we wanted to create an environment in keeping with the rich industrial heritage of the North, plus the effortless style of the NQ - with a few nods to iconic landmarks like The Haçienda, and cultural influences from house music and street art.
The office is open-plan to facilitate our collaborative way of working. Really, we're three agencies in one, but it's by working together we produce our best work. There are lots of breakout spaces, meeting rooms and areas for creative workshops, as well as quiet corners to tuck yourself away in when you need to get in the zone. And there's a pool table, standard.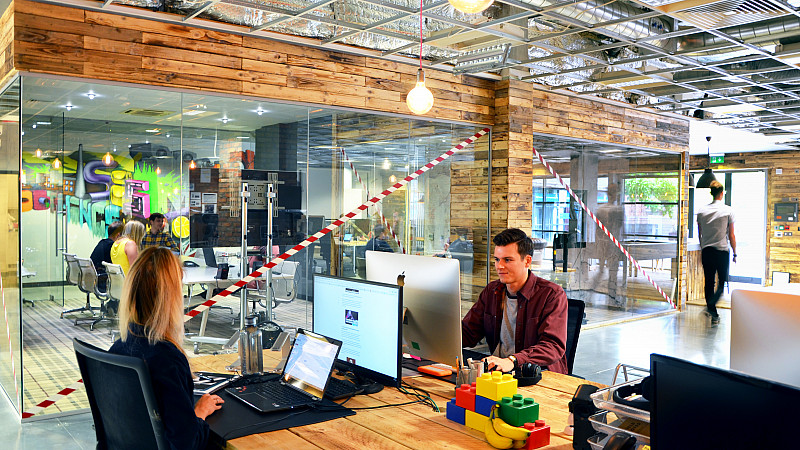 What happens there?
We bring brands and people together to create meaningful experiences. And we're industry experts, but there are no shortcuts to success, just hard graft, grit and learning.
We love what we do and it shows. We've created award-winning work for clients such as Merlin Entertainments, Revolution Bars Group, Gusto Restaurants, American Express and Rohan, to name just a few. We're really proud of the work we produce, but we're never complacent; always looking for ways to improve and develop - whether that's smashing new goals or leading change.
Of course, we've got the bar and stage area too! Here, we host internal events, but also support local businesses and artists with public events such as independent film screenings and 'secret gigs'. Because, we like to keep the creativity flowing, day and night.
Who works there?
Our Manchester studio houses 32 full-time staff. Cube3 is powered by three specialist teams in one: brand, web and digital marketing. We're a team of creatives, copywriters, web developers, paid media specialists - an eclectic bunch of people who provide collective expertise through individual skillsets.
The Inspired Spaces North initiative
The Inspired Spaces North initiative is the annual search for the region's most inspiring workspaces, held in association with Active Profile and Prolific North.
A lengthy judging session considered numerous high quality entries from Manchester, Leeds, Liverpool, Knutsford, Newcastle, Blackburn, Wetherby, Salford and Wirral.
After the 22-long shortlist was drawn up, the competition was opened up to a public vote. You can see which workplaces ranked in the top 10 in the 2018 competition here.