23 January 2019
Where We Work: Citypress HQ, Manchester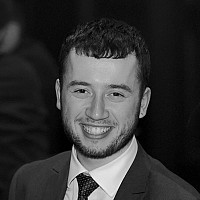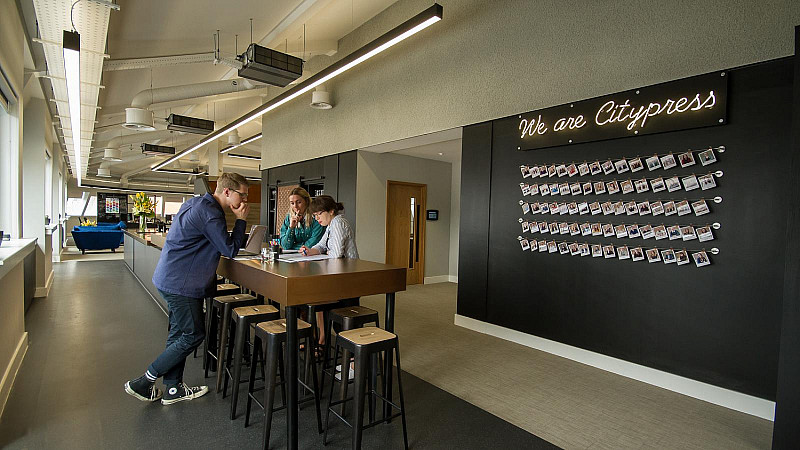 Each Thursday on Where We Work, we'll be taking a closer look at some of the best workspaces from across the North. This week, it's Citypress HQ in Manchester.
The only UK PR agency named as a Best Small Company to Work For by The Sunday Times, Citypress had Space Invader Design help them create their multi-functional open-plan workspace.
The office is part of the Bruntwood Works portfolio.
We spoke to Vanessa Fox, Operations Director at Citypress, who told us why the workspace is so special...
"The views from floor to ceiling windows and loft-style high ceilings have created an airy but homely feel. Everyone who visits comments on the WOW factor of our reception area.
"The modern industrial structure of the space offers flexibility for our expanding team and lots of creative area for our colleagues and clients to work from, including an auditorium with bleacher style seating."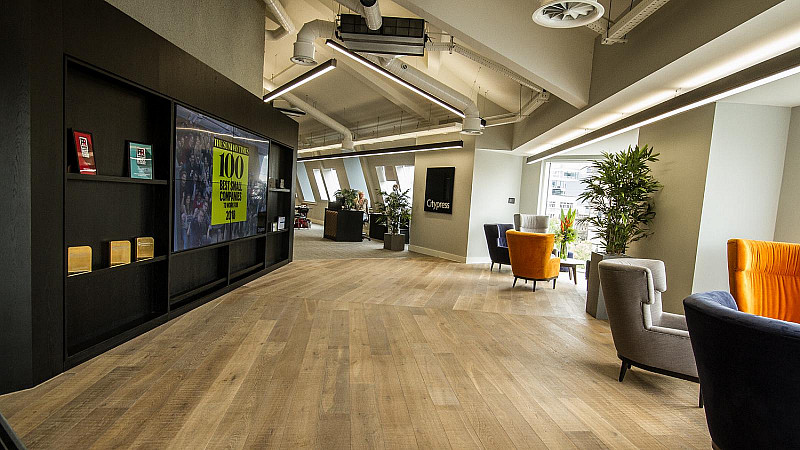 Where is it?
Union 2-10 Albert Square, Manchester M2 6LW
How big is it?
It's a 10,000 sq ft space with a 20ft vaulted ceiling, a 15-metre bar, open-plan theatre and lots of flexible working areas. Citypress also invested in a new IT infrastructure at the time of the move; equipping all staff with new laptops, headsets and peripherals to allow them to roam-work from anywhere in or out of the office.
They work collaboratively in different spaces throughout the office, including at the bar, in snugs, meeting rooms and hot-desking stations. "People are no-longer desk-bound," Vanessa said.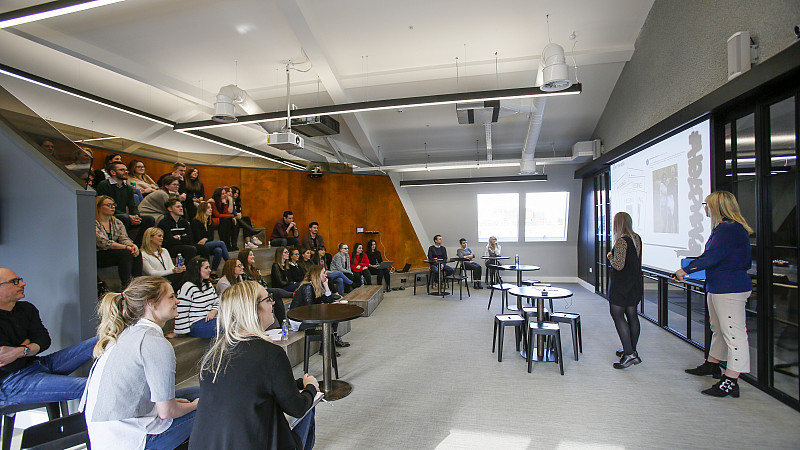 What happens there?
The space is the HQ for PR agency Citypress. It's where they work with clients, host meetings, and put together creative content amongst other things. The theatre has cameras that allow the company to broadcast meetings to colleagues across the UK. Meeting rooms have touch-screen Microsoft Surface hubs, replacing old-fashioned presentation screens, which have integrated video-conferencing and interactive whiteboards.
Who works there?
Citypress employees. Vanessa said: "From the bar to the boardroom, we have designed an environment that makes collaborative working effortless.
"We see people using different places to work every day. This might be at a traditional desk, where they can dock their laptop, making use of twin screens or on a high winged chair in the sunshine overlooking the bustle of Albert Square. Or if they prefer more solitude to get that tricky report written, they can choose the library, a comfy booth or one of our five industrial style glazed meeting rooms."
The Inspired Spaces North initiative
The Inspired Spaces North initiative is the annual search for the region's most inspiring workspaces, held in association with Active Profile and Prolific North.
A lengthy judging session considered numerous high quality entries from Manchester, Leeds, Liverpool, Knutsford, Newcastle, Blackburn, Wetherby, Salford and Wirral.
After the 22-long shortlist was drawn up, the competition was opened up to a public vote. You can see which workplaces ranked in the top 10 in the 2018 competition here.