23 May 2014
Thinking Digital 2014 - a riot of ideas in the north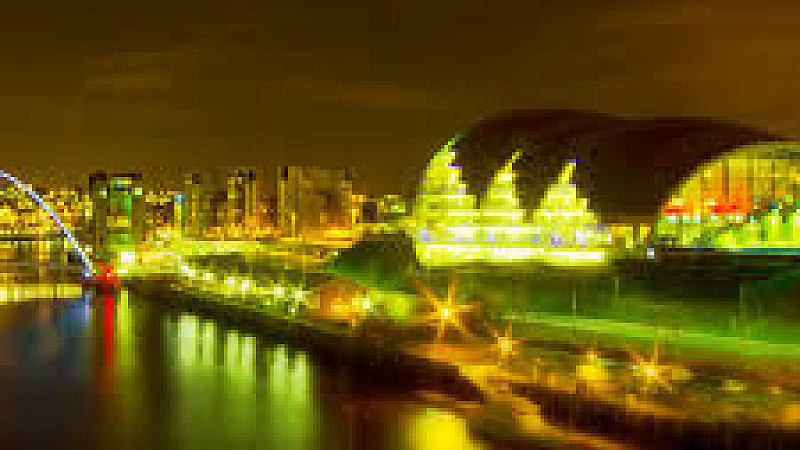 It's hard to define Thinking Digital. At one level it could be described as a conference - but then again, most conferences have a very rigid focus. As founder Herb Kim noted in his characteristic self-effacing way during the introduction to this year's event, there's plenty of such events for every aspect of digital business, design, SEO, content marketing et al. Nothing wrong, or unusual, in that.
But where else could you discover more about brain scanning; what the human genome sounds like; a look back at the making of the Xbox; how to build a lunar base station; a campaign for peace in the Congo or how Google, Facebook, Twitter and co are using your personal data to make multi zillions? And then get to sit back and listen to a classical piano recital?
In part, it's this eclectic mix of content that means this two and a half day annual event, now in it's 7th year, feels more like a festival of ideas than a tech conference.
And as you can see from the mention above of just some of this year's offerings, this week's event was typically diverse and not just restricted to those who made it to The Sage in Gateshead with lifestreams held at Cornerhouse in Manchester and venues on Teesside.
With so much to choose from, it was a tough choice but I've picked out two personal highlights from this year, both of which happened to take place on the first full conference day:
- In his session, Falling Whistles, Sean Carasso held the audience spellbound telling the story that gave this talk its title. Taking the simple image of the whistle issued to the child soldiers of the Congo, the story of how he unintentionally got involved in that country's war and started a campaign which has been working for the past six years to bring peace, was inspirational.
- Taking a concern of our time to its max, speaker Aral Balkan used his platform to launch an impassioned campaign to reclaim our privacy from the big tech companies. His well-informed analysis of the 'free' business model so loved in Silicon Valley, presented in a way that really brought it home.
The videos of those talks, as well as many others, will be available at some stage in the next couple of weeks via the Thinking Digital website.
I curated a Storify of tweets from users on day one which you can see here.
The final day had a strong focus on science with bioengineer Susan Mulcahy performing biology as well as a fascinating look at local biotech company QuantuMDx's work in developing a diagnostic tool for use by doctors in the field which will speed up test results from several weeks to minutes. Their technology, started in a garage by Jonathan O'Halloran, holds out the hope that epidemics can not just be stopped in their tracks (as they did with swine flu in 2009) but halted before it even takes hold.
Showcasing local talent like this alongside speakers from around the world is possibly the final shake of secret sauce that gives regular Thinking Digital attendees a reason to keep returning.
And it's not out of some sense of regional pride or loyalty even though that would be a perfectly reasonable response given the brickbats the north east is accustomed to receiving via the mainstream media where coverage of its economy is more likely to concentrate on what is past rather than what is starting up.
As one of those regulars, you could fairly accuse me of bias in finding this event not just interesting, but often inspiring. So, don't take my word for it, here's what some others said of the event.
Fantastic conference! Thanks to all the thinking digital team #TDC14

— Milly Shaw (@millyshaw) May 22, 2014
Getting people's opinions at the end of #TDC14 "lots of interesting talks" is the consensus! Thanks to @ThinkingDigital @herbkim #sageone

— Phoenix (@PhoenixDK) May 22, 2014
Thanks to @herbkim and the @ThinkingDigital team for making my first #tdc14 an event to remember #hatsoff #greatjob

— Frank Steiner (@fstoner) May 22, 2014
I curated a Storify of tweets from users on day two which you can see here.
And if you're just a little intrigued about what human DNA sounds like if visualised into a musical score and then played on an electric cello.
Take a listen here.