29 October 2014
York lights up and links up as illumination festival starts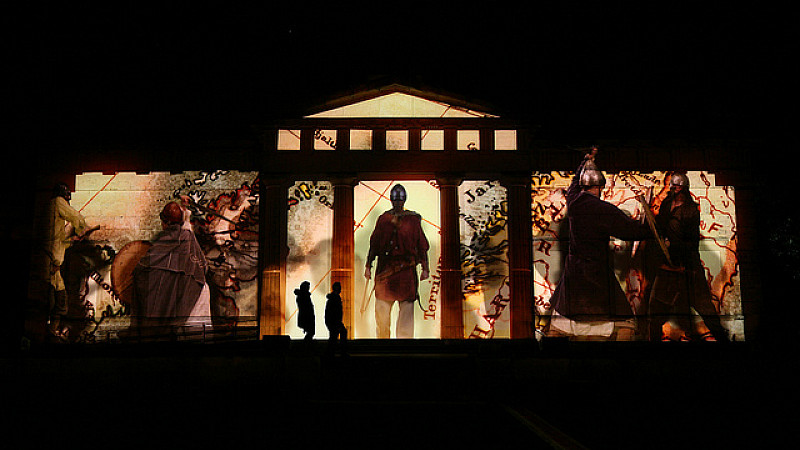 York will be lighting up the city for a double celebration today - not only is it the start of the annual illumination festival marking its 10th anniversary, but the city has also just joined the prestigious media arts network Connecting Cities.
Connecting Cities, a global network of digital facades and artists who use media arts to explore urban issues, links York to partners in other leading creative cities such as Berlin, Sao Paulo, Linz, Istanbul, Brussels, Madrid, Vienna, Montreal, Melbourne, Helsinki and Liverpool
In joining, York is plugged into a connected network of digital facades, urban screens and projection sites regularly transformed into a festival of community platforms and cultural projects, leading to intercultural dialogue and exchange with other cities.
York councillor Sonja Crisp, who is a cabinet member for leisure, culture and tourism, said:"The vision of our UNESCO City of Media Arts bid is for York to be an exciting meeting point for the ideas and creativity of the world. In being accepted into the Connecting Cities network we have taken a big step towards this endeavour as it enriches our media arts experiences with a new dimension provided by our new international partners.
"We hope this will be to the delight of Illuminating York's audiences, whilst also providing a new and exciting international platform on which the innovation and creativity of our cultural institutions and practitioners can shine."
Hidden Worlds - Illuminating York 2014 - TEASER from Typeone on Vimeo.
The theme for this year's festival is Leading Lights, uncovering the rich history and future of innovation and discovery in the city of York. The main festival piece is 'Hidden Worlds' by Seeper on The Crown Court building.
It is expected that the festival will draw more than 50,000 people to the city to experience York in a new light.
Media artists are being encouraged to submit ideas for next year's cultural projects around the curatorial theme of InVISIBLE and VISIBLE Cities. The deadline for applications is 31 October. More information is available at: http://www.connectingcities.net.