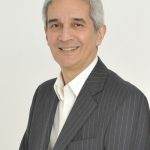 Ray Hanks
Ray Hanks has been named as the first head of marketing for The Monastery Manchester.
He's the former managing director of Europe's largest direct marketing agency Wunderwman Worldwide and has previously worked as head of creative and digital industries at the NWDA – helping to secure the creation of MediaCityUK.
"I have been involved with The Monastery for many years so it's great to be able to give the marketing function my full attention," he explained.
"It will be a challenge to work across the two aspects of the organisation as it continues to build on its award-winning reputation as one of the UK's most iconic venues as well as establish itself as one of the North West's top visitor attractions. These two sides of The Monastery must work together in absolute synergy."
Hanks will remain on the Board of the Monastery of St Francis & Gorton Trust, having become a Trustee in 2010.
"Ray just loves the Monastery and is probably the most creative person we know. We're so excited that he will be leading us through this most important phase of the project as we re-launch the Monastery venue with all of the new build facilities at the same time as consolidating all of our arts, health, education and charitable work in the local community," added Elaine Griffiths, chief executive of The Monastery Manchester.