14 November 2018
The Northern Marketing Awards 2018: The Winners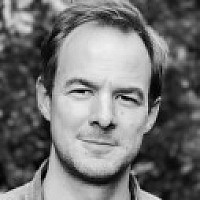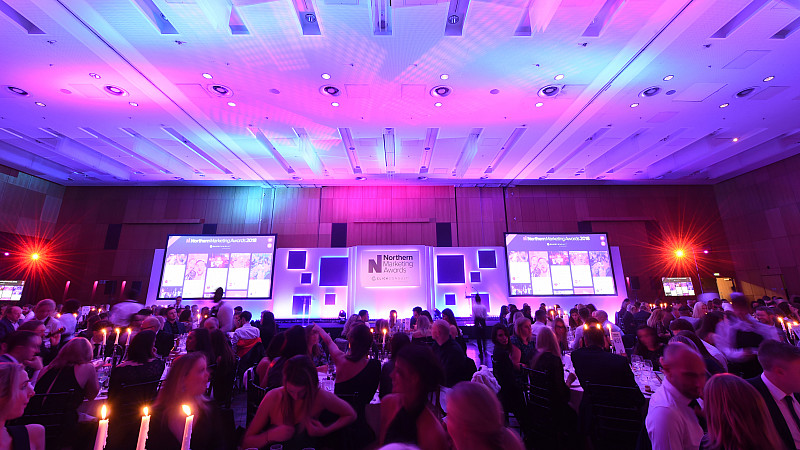 The region's finest marketing talent came together for a triumphant Northern Marketing Awards at a sell-out Hilton Deansgate in Manchester last night.
The sixth running of the event saw a capacity crowd of over 450 at an event hosted by BBC Radio 5 live presenters Chris Warburton and Sam Walker.
A total of 22 categories were awarded in what was the sixth running of the awards, once again supported by Click Consult as headline sponsor with our thanks too to category sponsors Vision One, Reach Solutions, One and the DMA.
Entries
Entries were submitted by a wide variety of companies, organisations and institutions from across the North and a glance through the shortlist illustrates the enormous wealth and range of creative talent that is thriving across the region.
We'd like to thank the industry experts who made up our panel of judges:
Andy Barke, Head of Northern Agencies, Google; Matt Bullas, CEO, Click Consult; Julian Carter, Regional Director North, Exterion; Stuart Clarke, Co-founder and Festival Director, Leeds Digital Festival; Alex Craven, Managing Director, Jaywing Intelligence; Andrew Diggle, Head of Content, Manchester United; Ewan Douglas, Agency Principal, Channel 4; Jacqui Gay, Head of Communications, Hull City Council; Richard Gregory, Director, Tech North; Kristal Ireland, Head of Ecommerce and Retail, London North Eastern Railway; Gary Jenkins, Co-owner and Director, No Brainer; John Kehoe, CEO, Media Agency Group; Richard Kenyon, Director of Marketing and Communications, Everton FC; Robert McClements, Chief Executive, CDi Print Yorkshire; Neil McKay, CEO, Endless Gain; Howard Parker, Sales Director North, Reach PLC; Professor Anthony Patterson, Professor of Marketing, University of Liverpool; Dan Riley, Founder and CEO, Spearhead Interactive; Steve Seddon, Marketing Director, Specialist Leisure Group; Will Stone, Founder, Stone & Co; Mick Style, Managing Director, MEC Manchester; Karen Webber, Creative Freelancer. 
The Northern Marketing Awards 2018: The Winners
Best B2B Campaign: Stein IAS and Ingredion - You Are How You Eat
Also nominated:
Access & Sentinel Performance Solutions - Think Dirty Campaign
Intermarketing Agency & Bupa Global – Better Campaign
Manchester Airport -  Manchester Airport is changing... 
My Social Agency & Robert Half - KnowYourValue 2018
ResponseTap & Red C
Triangle PR & CDL InsurTechX Campaign
Upp B2B - Thanks for choosing CHEP' integrated b2b campaign
Best B2C Campaign: driven & Feel Good Drinks - Liberation Feels Good
Also nominated:
Bring Digital - Couples Appreciation Month Campaign for Ann Summers
Click Consult & HomeLet - Moving to the top of the market
Home Instead Senior Care & Calvin Marketing - #YouCanCare campaign
MediaCom & Bose - From Google to Amazon - Bose 360 Degree E-commerce Search Strategy
Smoking Gun & Childs Farm The Miracle Cream
Ultimate & Chester Zoo - Lanterns 2017 Campaign
Wash Studio Hyundai UK - N by Hyundai Brand launch campaign 'Turning Petrol Heads' 
Best Food & Drink Campaign: driven & Feel Good Drinks Liberation Feels Good
Also nominated:
A&P and Princes - So Good So Simple
BIG Partnership Alston Bar & Beef Steak and Gin - Manchester's hottest new pairing! 
Grindsmith Campaign brought by Loaded Hype - No Excuse for Single Use
Savvy Marketing - Robinsons KFC Serving Aces
Stein IAS and Ingredion - You Are How You Eat
Wavemaker - Dr Oetker - Midweek Mission
Wavemaker & Channel 4 - Dr Oetker Sponsor 'The Great British Bake Off'
Best Not-For-Profit Campaign: Tyred by Agent Marketing
Also nominated:
Aberfield Communications & Umpf – MindMate
Catapult PR - Amazing Grace Northumberland Day 2018
Click Consult & Oxfam - Dressed by the kids 2017 (2440% impressions YoY)
feedfirst - #GetTrachReady National Tracheostomy Safety Project
Liquid Agency & Southport Flower Show - Curious Garden
Planet Amazing - Petty Pool College 'The Petty Pool Project'
Triangle PR - Belong Heritage Gallery 'Maxims Memories'
Best Professional & Financial Services Campaign: Wavemaker & Swinton Insurance – "Social Media: An invitation for burglary?"
Also nominated:
A&P and Furness Building Society - Savings Sorted
A&P and Furness Building Society - Trust Your Broker
Entyce Creative & Zodeq - Brand launch and beyond
Salience for Sunny - A Content Marketing Campaign With Good Vibes
Jaywing & first direct - Christmas. Untangled.
RMS & Myerson Solicitors - Don't Stop Believin' 
Storycatchers & first direct 365 days of adventure
Best Property & Construction Campaign: Blaze Marketing & The Jigsaw Group - Summers Quay Campaign
Also nominated:
Galley Properties - A brand refresh that speaks to local people
OLIVER Manchester & Avant 'No Compromise' Campaign
One & Taylor Wimpey - 'How We Build Your Home' children's book
OTB & Reeds Rains - Celebrating 150 years
Wienerberger and ilk Agency - "Slip into any style"
Best Retail (On and Offline) Campaign - Sponsored by Reach Solutions: Click Consult & Julian Charles – The fabric of success
Also nominated:
Evolved Search - Helping Mattress Online to bounce back 
ICG for LandsecFreeport Braintree - Freeport Braintree Brand Campaign 2018 
Latitude & Yours Clothing - Using PPC as a launching tool for international expansion
Manchester Arndale - Christmas advertising campaign 
MediaCom & Bose - From Google to Amazon - Bose 360 Degree E-commerce Search Strategy
Best Sport Campaign: Everton Football Club - Jack's Virtual Mascot
Also nominated:
Huddersfield Town Football Club - Merci Arsene – Wenger's last game at Huddersfield Town
Mosquito & Basketball England TogetherWeAreBasketbALL
Orange Bus & Racing Point Force India F1 Team
Roland Dransfield & UCFB - Walking Football Association (WFA) and Tommy Charlton's Three Lions Dream
Savvy Marketing - adidas DFY
The SEO Works & All Rounder Cricket - All Rounder Cricket Score A£371k At A Strike Rate Of 2886%
Thousands of Journeys. One Destination. – Wigan Athletic FC Season Cards
Best Tourism and Leisure Campaign: Jaywing & Hull City of Culture 2017 - Get absolutely cultured
Also nominated:
Marketing Liverpool Culture Liverpool - Liverpool 2018
Marketing Manchester – #WorkerBeeWeekender
Media Agency Group and Bermuda Tourism - Pink Campaign
National Museums Liverpool – China's First Emperor and the Terracotta Warriors
Sykes Holiday Cottages - Give a Dog a Break Campaign
theEword - Driving the Digital Footprint for ASPRO
Vivid & Visit Isle of Man - The Extraordinary IOMstory 
Best CSR Campaign: Shoppertainment Management - The UK's First Shopping Centre Micropark
Also nominated:
Catapult PR - Amazing Grace Northumberland Day 2018
I-COM with Lanes for Drains - Fatberg Fighters
Best Low Budget Campaign - Under £50k: Mosquito & Zoflora Zoflora VIP Social at Crufts
Also nominated:
BIG Partnership Alston Bar & Beef Steak and Gin - Manchester's hottest new pairing! 
DOMU Brands - VonShef Make It Good
feedfirst  - #GetTrachReady National Tracheostomy Safety Project
Home Instead Senior Care & Calvin Marketing - #YouCanCare campaign
Jam & Transport for Greater Manchester - Jam gets festive with Transport for Greater Manchester 
Plinkfizz - Crystal Careers Recruitment Campaign
Smoking Gun & Childs Farm The Miracle Cream
Best TV Commercial Campaign: Wash Studio Hyundai UK - N by Hyundai Brand launch campaign 'Turning Petrol Heads' 
Also nominated:
Zut and Beftred - Football Nostalgia
Best Direct Mail Campaign: Access - The Thinkery
Also nominated:
Best Outdoor Advertising Campaign: RMS & Myerson Solicitors - Don't Stop Believin'
Also nominated:
O2 Grand Visual & Ocean - More for you 2018 Campaign 
Best Social Media Campaign: Wavemaker - Dr Oetker - Rising to the social challenge
Also nominated:
Diva Creative & Rail Delivery Group - PlusBike Day Out
Havas Media Manchester & BBC One - The Apprentice
Jam & Transport for Greater Manchester - Jam gets festive with Transport for Greater Manchester
Jam & Transport for Greater Manchester - Stamping out annoying behaviour on Metrolink
Mosquito & Zoflora Zoflora VIP Social at Crufts
Stein Ias And Getty Images
The Daffodil Hotel & Spa - Luxury Rollover Campaign
Best Sustainable/Green Campaign: Conker Communications - The Glass is Greener Campaign
Best Use of Research or Insight Campaign - Sponsored by Vision One: R.O.EYE & Steinhoff - Using knowledge to drive strategy
Also nominated:
Democracy and Carwow PR a real driving force
driven & Feel Good Drinks Liberation Feels Good
Plinkfizz - Crystal Careers Recruitment Campaign
Savvy Marketing - Pernod Ricard Dark Nights
Stein IAS and Ingredion - You are What You Eat
Wienerberger Ltd & XSEM - Your Event with an Edge
Best Digital Marketing Campaign - sponsored by One: e3creative & CentreSoft - PlayStation Gear Black Friday Campaign
Also nominated:
Democracy - A Day In The Life
e3creative - Ascot Website Relaunch
Best Search Marketing Campaign: Media Agency GroupClick Tap Media - Click Tap Media and I Saw it First 
Also nominated:
MediaCom & Bose - From Google to Amazon - Bose 360 Degree E-commerce Search Strategy
novi.digital - TeamworkIQ.com - BetaLaunch Campaign
Best In-House Team: The Daffodil Hotel & Spa Marketing Team
Also nominated:
BMC Recruitment Group 
Manchester Airport Marketing Team 
Swinton Insurance Digital Team
Best Small Agency (Up to 30 employees): ICG
Highly Commended: Holdens
Alchemy Media
Bring Digital
Fishtank Agency
IPOS
Zut 
Best Large Agency (31 or more employees) - Sponsored by the DMA: Intermarketing Agency