Enigma Interactive is a specialist digital development agency based in Newcastle.
In 2009, after outgrowing several rented office spaces, the agency's founder and managing director Steve Grainger led a £1m re-development of the Grade II Listed Mansion House Chambers.
Transforming it from a disused building into a modern, flexible office space, Enigma moved into its new headquarters on Newcastle's quayside in 2010.
On the ground floor, there's a cocktail bar called Tiger Hornsby, and the HQ is filled with large open-plan spaces, breakout areas, a reception area and large meeting rooms with stunning views overlooking the River Tyne.
We find out what happens behind the scenes at Enigma Interactive's 6,000 sq ft studio.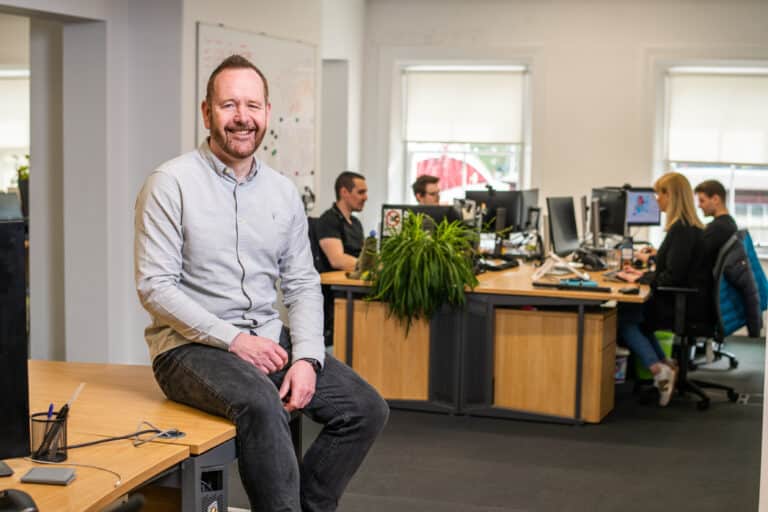 Steve Grainger, founder and managing director of Enigma Interactive, says:
"As a studio-based creative digital agency, the space we call home is really important to us. Our aim when designing each area was to create environments that inspire collaboration and innovative thinking – from our meeting rooms with sweeping views of Newcastle's iconic bridges to breakout rooms where our teams can get stuck into the latest projects and have meaningful conversations, a lot of thought has been put into how the building can best serve the needs of our talented staff and the business."
Where is it?
Enigma Interactive, Quayside Studios, 8-10 Close, Newcastle upon Tyne NE1 3RE.
How big is it?
Enigma's studio currently uses around 6,000 sq ft of the building and there's more space to grow into should we need it. After walking through an understated door in a Grade II listed building near Newcastle's iconic Swing Bridge, visitors to Enigma Interactive are welcomed by a modern, vibrant office which stretches over four floors and acts as a complete contrast to the Victorian Mansion House building that the business calls home.
A departure from the Mansion House's genteel past of fine dining rooms and suites for entertaining nobility, the building now boasts specially designed flexible workspaces, including innovation suites, break-out zones, spacious meeting rooms for collaboration and open-plan offices on each floor.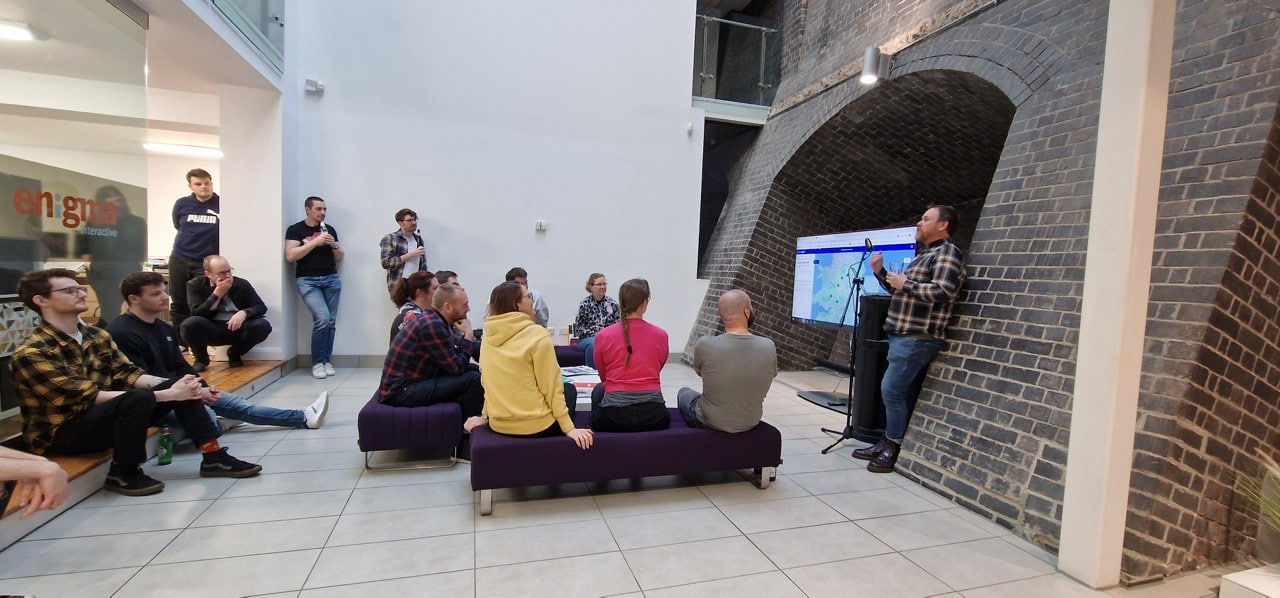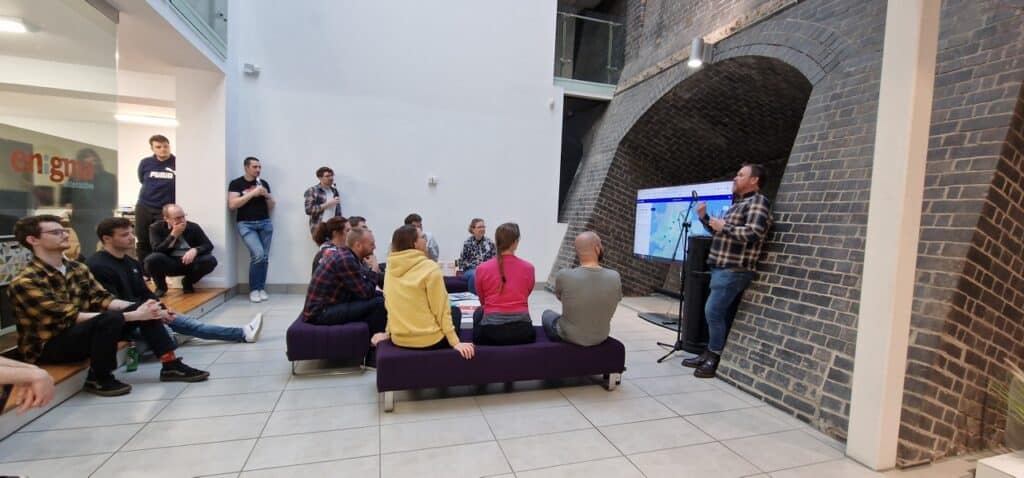 The impressive four storey entrance and reception exposes the original 50ft retaining wall where the building has been built into the steep north bank of the Tyne. This was
historically a stables area but is now used to meet and greet clients and is a great space for company events, tech talks, monthly briefings and socials.
This is topped with a purpose-designed 'glass box' which floods the area with light and was the conservation architects' innovative solution to allow what was previously the external facing wall of the building, to be opened up as a balcony area overlooking the atrium.
Walls and doors are adorned with inspirational stories about pioneers from the North East and the history of tech, including Stephenson's Rocket, created a stone's throw
from Enigma's headquarters, and the story of mathematician and mother of modern computer programming, Ada Lovelace.
The building itself is based in the heart of the Newcastle Quayside, making it an easy commute on public transport, or via the network of cycle routes that run along the river's edge and connect the city to the coastal towns and suburbs that a lot of the team call home. Flanked by restaurants, cafes and quirky breakfast spots, there are
plenty of food options for the team to explore over lunch or during one of the monthly team socials that take place at Enigma.
What happens there?
Enigma is one of the UK's leading specialist digital development agencies. Headquartered in Newcastle, we combine innovative ideas, creative design, and the very best software development to deliver exceptional web, mobile and bespoke applications for our national client base.
Our in-house team comprises 40 developers, designers, software architects, producers and other digital specialists. As digital development specialists we work strategically with clients to identify and deliver digital solutions that help them achieve their goals.
We love digital and use our passion and extensive experience to craft work that has a genuine impact.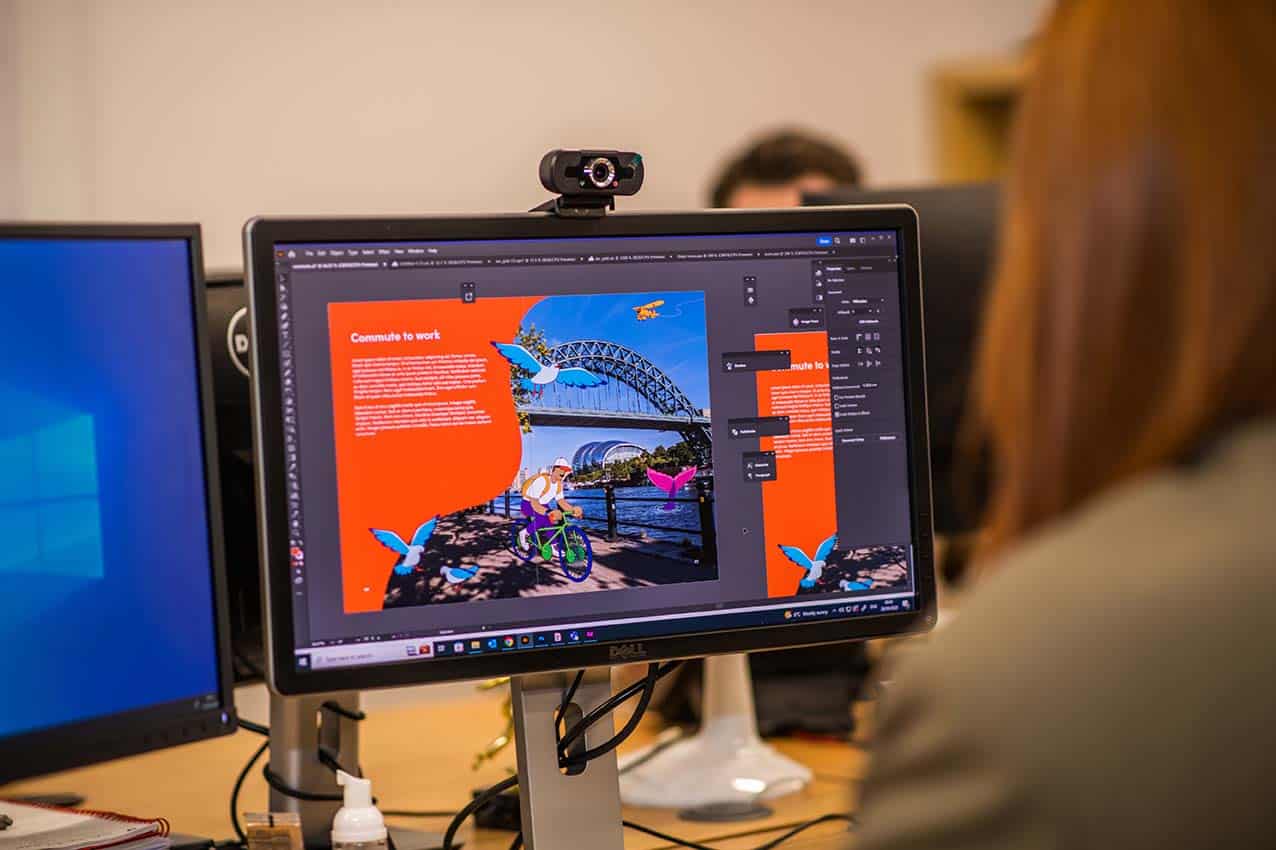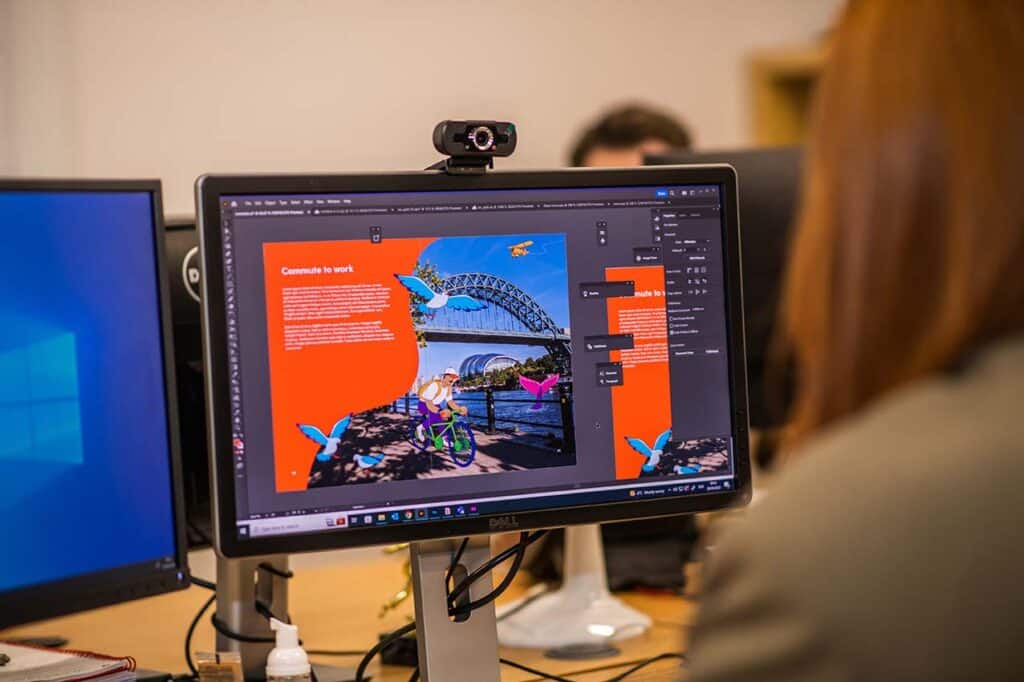 What sort of work goes on?
The studio houses a dynamic and inclusive group of professionals, encompassing an array of roles such as strategists, producers, software developers, designers, UX and other specialists.
The innovative nature of work is highly creative and collaborative, and the studio is designed to facilitate that with open-plan working and break-out zones. Enigma is organised into multi-skilled production teams, a design / UX team, a content design team, a DevOps and a core technology team. The physical space within the studio promotes collaboration within and between all these teams.
Meeting rooms are designed with client needs in mind. First and foremost these must also be creative spaces, allowing workshops and ideas exchanges to flow smoothly and naturally. Face-to-face facilities are supplemented with the latest cameras and speakers allowing remote meetings to be conducted.
Why is the workplace appropriate?
Innovation thrives in environments that are designed around their people. Collaboration and frictionless idea exchanges are key to finding great solutions, and finding great solutions is at the heart of everything that Enigma does.
We're proud to be studio-based agency and returned to that model of working as soon as we could after the pandemic. We strongly believe that bringing our great people together in a creative environment, where they can enjoy being around other like-minded colleagues, is the way to deliver the best work for our clients.
Who works there?
Enigma's team comprises 40+ developers, designers, software architects, producers and other digital specialists. We deliver £3-4m of digital development work per year to a national client base and are proud to be headquartered in Newcastle, one of the UK's truly great cities.