How do you tell your story?
Whatever the profession, we all have to present, connect and communicate with others in some way. Your business success relies on your ability to communicate with others, whether it be pitching, interviewing, networking, speaking on panels, at conferences, video content or podcasting.
Your story matters more than it ever has - but how do you tell it? Join us for a one-day masterclass where we will explore the art of presenting, connecting with your audience and keeping their attention. It's about time you set yourself up to be a great speaker!
Packed with heaps of tips and tools to improve your next presentation, the format of the course allows you to put everything into practice at the end of the day through quick-fire talks to the group.  
How will I benefit?
Get an understanding of how to really engage your audience
Learn key techniques like storytelling and how to "perform"
Give structure to your talks  so that you make an impact
Create a presentation that is captivating
Learn how to delight your audience authentically while "being yourself"
Get more comfortable speaking in front of people - beat those nerves!
Content outline
The fundamentals of speaking in public
What makes a great talk?
Establishing your identity and message
Why we get nervous
Storytelling: How to tell a great story from nothing
The process of putting together a great talk
What body language and vocal tone you should use
Types of rehearsal
Ways to rehearse and why they work
Using dynamics visuals
Memorising your talk - or using good notes
Beating the nerves
The opportunity to speak in front of an audience
Bespoke performance review with 1-2-1 feedback after the course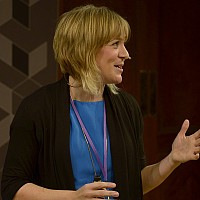 Kate Cocker
Kate helps people in business become great communicators. She set up The Presenter Coach to focus on the growing need in organisations to deliver compelling messages whether on stage, screen, audio, social media or face to face.
Whether you are looking to create your TED talk, your signature talk, or your pitch to get that perfect client - Kate has developed frameworks to enable each person to engage authentically with the audience they are speaking to.
Kate is an award-winning radio producer, an established favourite speaker at media events, personal coach to business leaders and rising stars in the media world. At the BBC and in the commercial radio sector, she built her reputation by developing presenters' creativity, personality and authenticity to effectively captivate their audience.
Testimonials:
"Kate's one to one coaching has helped me to prepare for key speeches and presentations. She strikes a wonderful balance between pushing me out of my comfort zone, whilst understanding my personal style and character. She never takes me outside of what feels authentically 'me'. I have worked with Kate to prepare for some specific key speeches, but the lessons I've learnt along the way, help me in everything I do"
Hayley Lever, CEO, Greater Sport and Greater Manchester Moving
"I really enjoy working with Kate. She is my go-to person for any personal impact or presentation skills training. Feedback from the lawyers is always excellent" Clare Collins, Head of Learning and Development, Squire Patton Boggs
Kate is a great coach, I have learnt some really tangible skills about how I to improve my media appearances and engagement. She has helped me to understand my style as a presenter, how to improve my delivery and message. I have put her knowledge into practice and noticed how I am attracting substantially more work. I can honestly say that I feel as though my performances have improved in every way since I have work with Kate. Everything from content, delivery, style, performance…. She covers it all.
Dr Amna Khan, Senior Lecturer, Consumer Behaviour and Retailing, MMU Business School