Your clients want to get to know you and hear about what you do.
Podcasting is on the rise with more than 1 in 10 adults in the UK reporting they listen to podcasts every single week.
The question is no longer ​Do you listen to podcasts? ​But rather ​What podcasts can you recommend?
So why not consider adding podcasting to your marketing mix? Join us on this one day course and learn how to make a podcast, source the equipment you will need and how to make podcasting work for your business objectives.
"Podcasting is a huge emerging opportunity for brands to own conversations in this digital space." - Social Chain   65% of monthly podcast listeners have been listening to podcasts for less than 3 years. Podcasting as a whole has been growing rapidly, and as a media format, it now spans over 100 different languages across the world. When it comes to engagement, 80% of podcast listeners listen to an entire podcast episode or at least most of it. This is one of the best engagement rates, if not the best, among any consumption medium.

 
How will I benefit?
Get up to speed with the podcasting landscape & how are others using it successfully
Tools & tried and tested techniques to understand what sort of podcast will most likely resonate with your client base
Lots of inspiration around creating meaningful content from your business for your audience, including how do you start from scratch?
Tips and tricks on how to get your podcast heard, ranked, clicked on & shared
An overview of what equipment and research is needed to support your podcasting efforts as well as learning how to record & edit audio professionally
What's covered?
Benefits to your business
Overview of types of podcasts that exist
Process of getting audio from recording to your listener's phone
How to make a podcast that stands out
Equipment
Recording
Editing
Design an episode including scripting ideas
Tools & templates
How to market your podcast
Understanding audience growth
The right platforms for you
Logo design
Show notes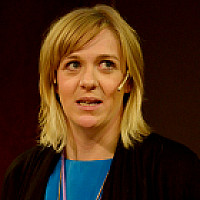 Kate Cocker
Kate Cocker is the voice behind one of Amazon's Top 10 Rated Flash Briefings: "Everyday Positivity". With 20 years experience in the radio and audio industry, she founded "The Presenter Coach" to help people be confident, comfortable and creative when they speak in public - whether that be on stage, on screen or indeed, on a podcast.
In her previous roles at the BBC and in Commercial Radio Kate became an expert in creating engaging audio delivered authentically through gripping storytelling, intricate sound design, and coaching the presenters to be the best "them" they could be.
Kate now coaches broadcasters and business leaders alike to be authentic and impactful communicators and is one of the production brains behind podcasts like The Eggchasers Rugby Podcast, Humans Of Business with Charlotte Pearce and Badass Women's Hour.