19 May 2021
Consumer attention caught by food and drinks brands in May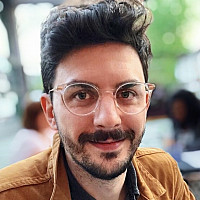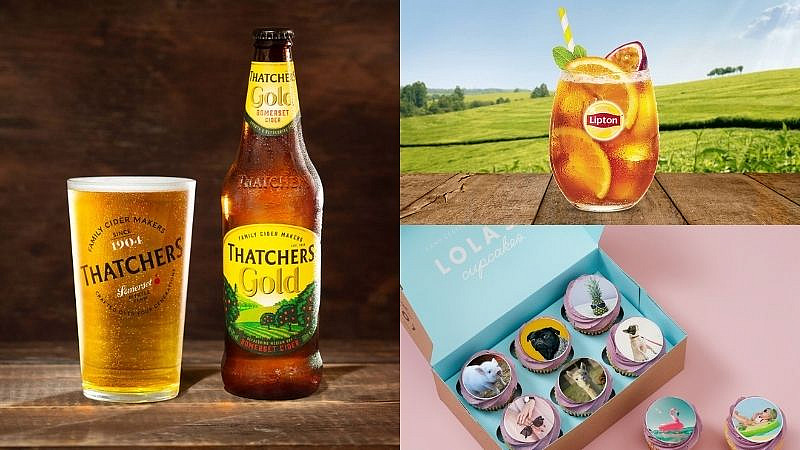 A selection of food and drinks brands have won the attention of consumers, according to the latest figures from the third edition of YouGov's monthly BrandIndex Biggest Brand Movers list.
The list details the brands which have made the most positive impact in the minds of UK consumers, revealed this month by YouGov as part of an ongoing series.
Last month, attention was firmly set on pub and restaurant brands as consumers set their sights on returning to hospitality, a trend which continues this month.
But the podium spots were taken by food and drinks brands Lipton Ice Tea, Lola's Cupcakes and Thatchers Gold.
YouGov's Biggest Brand Movers: April 2021
1 Lipton Ice Tea
2 Lola's Cupcakes
3 Thatchers Gold
4 Walkabout
5 Harry Ramsden's
6 Tesco Clubcard
7 Costa Coffee
8 E.On
9 easyJet holidays
10 Leisure Cookers
To calculate the Top 10 Brand Movers list, YouGov compared statistically significant score increases across a range of metrics which include factors such as ad awareness, conversation about the brand, and if a consumer had heard any news about the brand in the last two weeks.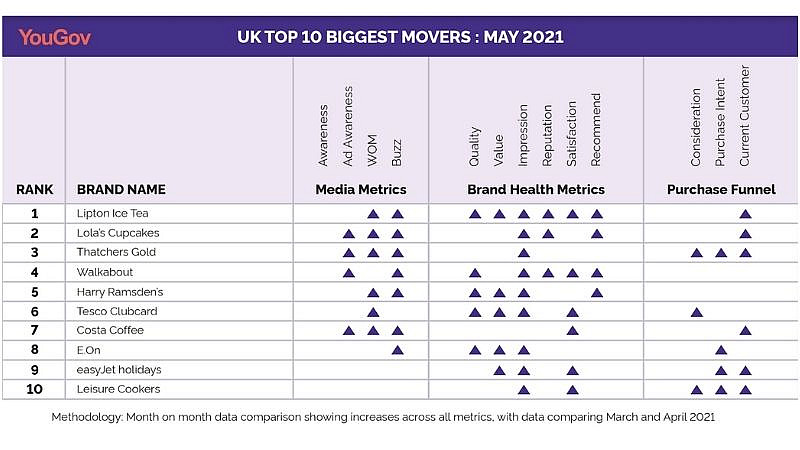 YouGov reports that Lipton Ice Tea witnessed spikes in a range of media metrics including word of mouth), Brand Health metrics including satisfaction, and the 'Current Customer' metric, which measures whether a consumer has purchased a given product or not within a specified period of time.
While the brand has recently added two new caffeine-free products to its line-up, YouGov said some of these recent spikes may be cyclical, as the brand registered an uplift across some metrics in Spring of last year.
In second place is Lola's Cupcakes, which recently launched a special range of products to mark Eid festivities to accompany its usual Easter offerings.
YouGov metrics suggest the brand has seen significant gains in consumer's awareness of the brand via ads, more purchases, and more discussions via word of mouth, among other metrics.
Cider brand Thatchers Gold comes in third, and YouGov points to a recent ad campaign in the UK, as well as the re-opening of pubs as an explanation for its success.
It saw a rise in the Ad Awareness metric, an increase in word of mouth, and the 'Buzz' metric which shows whether a consumer has a positive or negative impression of the brand.
Thatchers Gold also witnessed an uptick in its Impression scores in April, which measures whether a consumer has had a positive or negative impression of the brand.
Following the brand leaders was a strong representation in the restaurant category.
Last month saw Beefeater take the Brand Movers top spot, followed by Toby Carvery, and Slug and Lettuce.
As regulations around Covid-19 loosened this week, brands Walkabout, Harry Ramsden's and Costa Coffee claimed the fourth, fifth and seventh spots respectively. Each saw a significant uptick in 'Buzz' metric.
To discover how the nation feels about your brand, request a free brand health check from YouGov.