11 October 2019
AD Merchandise plans 20% expansion ahead of office move
Trafford-based AD Merchandise has announced plans to grow its headcount by 20% over the next 6 months.
The firm, which specialises in promotional products, celebrates 10 years in business this month and will be moving to larger premises, near MediaCityUK, in February.
"The company's decade of success is thanks to our hard-working team, all of whom have a big role to play in the future. We've worked together to build a new company vision in line with our growth plans – we have, and will always remain, a people-focused brand. Our people are the reason we've come this far and will be the foundation upon which we continue to grow sustainably for years to come," said Managing Director, Amo Singh.
"Lots of big changes are happening, but I want us to remember who we are. This is joyful industry to be in – the products we produce put smiles on people's faces. We should never lose sight of that."
Singh founded the company in 2009 with David Moodie and now has a turnover of £4.3m. He added that one of the key plans for the short term was to reduce its carbon emissions and single-use plastic waste:
"It's our responsibility as a supplier to make more sustainable merchandise available to customers, as well as improving our own processes as a business. We've increased our eco-friendly product range by 50 per cent over the last 12 months and hope to build on this further in 2020."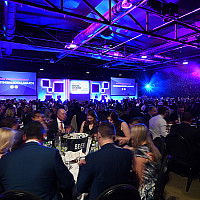 Entries for the Northern Digital Awards are now open
The event returns to Leeds on Thursday 30th January