22 June 2021
Website accessibility should be more than a 'tick box' exercise say agency founders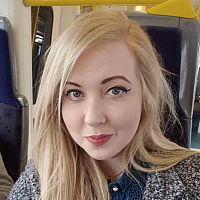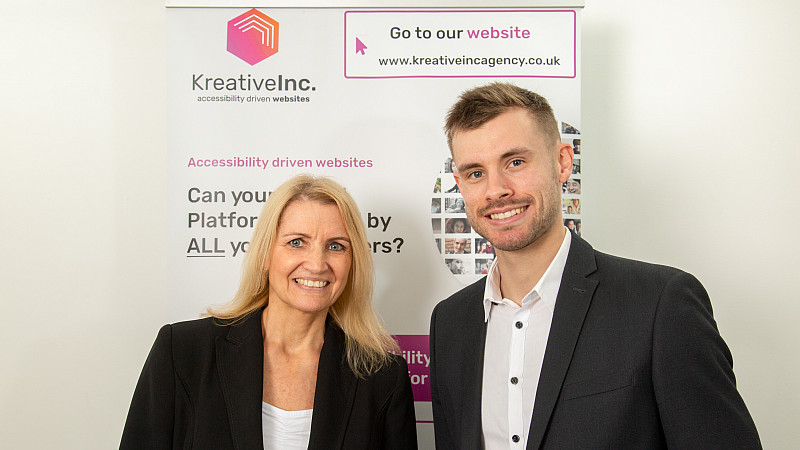 The less accessible a website is to disabled or impaired people, the worse the UX is for every user. That's the view of Caren Launus-Gamble, one half of KreativeInc Agency. 
"Making a website accessible, which includes disabled and impaired people, actually makes it easier to use the website for everybody because user friendliness is top of the tree and businesses need to understand that," she told Prolific North. 
Founded in 2019 by Caren and son Callum, the inspiration for the Leeds-based web accessibility agency came after Callum lost a graduate job due to a lack of understanding about his autism.
The 24-year-old was excited to start his first graduate role at a web agency but three weeks later he was left feeling "humiliated" after feeling his manager was unwilling to make adjustments with his autism. 
"I would have just been another statistic," Gamble told Prolific North, on having to leave his dream job. 
This did not deter him and instead, with the help of his mum, decided to turn the upsetting experience into something positive. The pair set up their own agency to showcase neurodiversity. 
As a result, Callum won the Young Digital Leader of the Year award at the Digital City Awards, hosted earlier this year.
"I decided to start my own agency to give other autistic people and others with disabilities and impairments a chance to properly access websites," he said.
Caren's copywriting experience and Callum's web development skills were originally combined to develop Wordpress websites on behalf of brands.
Now the family company is working on projects to boost website accessibility alongside various companies, including a recent neurodiverse museum research project with Sporting Heritage CIC and Northern Powerhouse Consulting.
When the Coronavirus pandemic forced businesses to shut down in March 2020, Caren said business took a "nosedive" as people cancelled their projects leaving them without income for two months. 
"It was really hard," she said, but added that the moment inspired a shift in their focus as an agency focussed on digital inclusion and website accessibility. 
Importance of website accessibility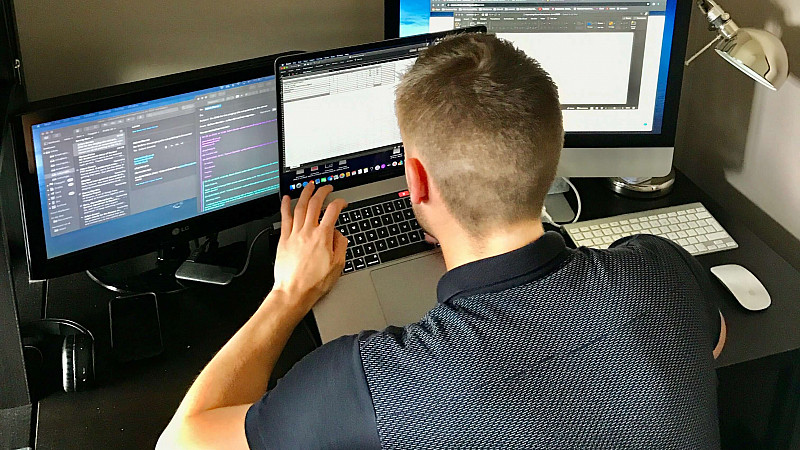 The pandemic exposed the importance of website accessibility for digital agencies "especially in the situation with Covid-19, there were so many people working from home and so many people were isolated," Caren explained.
"User friendliness of websites became really paramount, but the statistics were going against that as 70% of websites are still not accessible," she added.
Website accessibility means that websites are designed and developed with all users in mind, not only those with disabilities and impairments but those who may struggle to access or use the internet with ease.
The agency offers a range of services to assist businesses in creating accessible websites, including audit reports, certification, training, and website development and design.  
To assess website accessibility, Callum initially uses artificial intelligence software to scan the code of a website to check for Web Content Accessibility Guidelines (WCAG) requirements and produces a report with any errors. 
There are toolbars that can be added to a website where users with certain access needs can adjust the appearance and functionality of a website to suit them.
"The main issue for me when trying to access a website, is processing the text on the page. I can only read long paragraphs of text for a certain period of time before I get visual stress. It becomes more of an effort to read the text as it becomes distorted to me after a while. 
"This means that having grid layouts and images to break up the text is crucial for me to interpret the content properly," explained Callum on the barriers he personally faces when trying to navigate a website with accessibility issues.
Website accessibility should not be "a tick box exercise" and ignoring its importance could mean businesses lose potential revenue by allowing users to click away from their website because of a bad user experience, he said.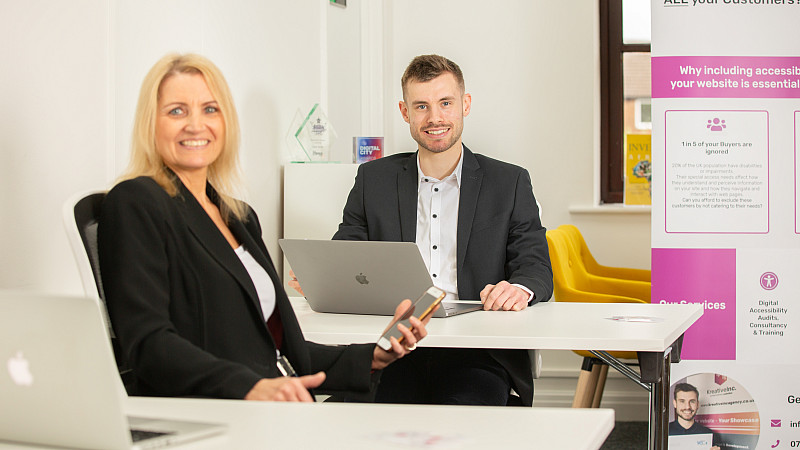 Disability equality charity Scope estimates that there are 14.1 million disabled people living in the UK.
"You are excluding 1 in 5 of your customers or 20% of the UK population, who are registered as disabled. There are a lot more people who are not registered as disabled, people with hidden disabilities like autism and dyslexia, who are affected," warned Caren.
Some businesses are opting to use solutions like website overlays, explained Caren, which can interfere with assistive technology tools those with disabilities or impairments use to navigate a website.
It is important for businesses to consider this when trying to improve accessibility issues, as it is a gradual process and quick fixes only "paper over a hole in the wall," she added.
"It is not just something that is nice to have but it is something that shouldn't be an option anymore in today's world. It's a must," explained Caren.
From a business perspective it is beneficial too, as it can also boost the SEO of a website, she explained. "Google, and all the other search engines, love a website that is user friendly and accessibility produces user friendliness. 
"It grows your business if you make your website accessible to everyone. It is a no brainer," she added. 
Digitally inclusive UK by 2025 
Caren said the Leeds agency's ambition is to get more businesses on board with their mission to make the UK digitally inclusive by 2025.
They also offer free quick assessments of a website and basic training in a bid to spread awareness of the benefits of web accessibility.
As the pandemic has forced businesses to place more value on digital platforms, the same accessibility requirements disabled and those with impairments need face-to-face, should be replicated online, explained Callum.
"It is the same if you go into a physical high street store with accessibility adjustments. For example, people in a wheelchair needing to get in via a ramp, it is the same principle with online and digital," he said.
All public sector organisation websites now have a legal duty to abide by government accessibility regulations and must publish an accessibility statement. 
Public sector mobile apps will need to do this by 23 June, however the same does not apply to private businesses.
"It is becoming more and more apparent that accessibility becomes a part of everyday life," emphasised Caren.
She said while they have resources available on their website, the agency is planning to post snippets of their training sessions to help people improve their own website accessibility themselves.