18 June 2018
From Amazon to WPP, are these global tech, media and financial brands poised to invest in Manchester?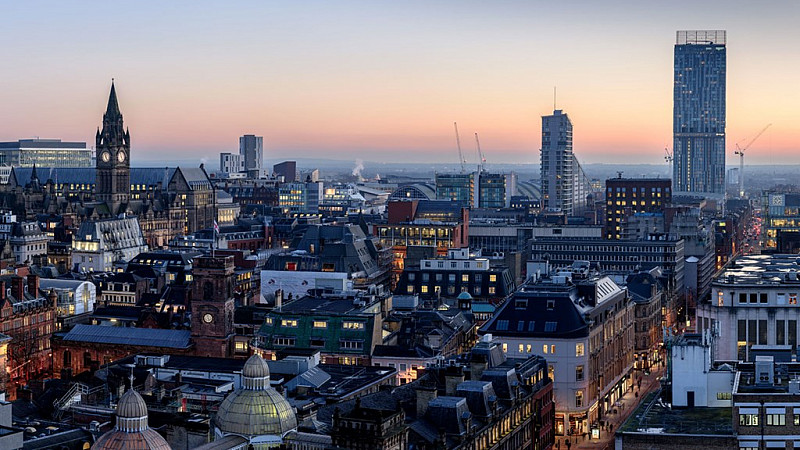 A number of global tech, media and financial brands are understood to be at different stages of investing in Manchester: some of these proposed investments are mega but all are indicative of the sea change sweeping through the North in this increasingly digital age with global and UK blue chip companies keen to establish significant bases outside London.
The brands currently understood to be either in active negotiations on specific space or are considering options with property agents include: Barclays Bank, Amazon, WPP, The Guardian and Sky Betting & Gaming while separately Channel 4 has more recently announced that Manchester, Leeds and Liverpool are among seven candidate cities vying to be the base for its proposed new 'National' HQ and 250 new jobs.
The only one of the above companies which has gone on record or is prepared to go on record is WPP plc which already owns a clutch of leading brands in Manchester and the North including MediaCom North, Kantar, Code Computerlove, CB JWT, Wavemaker and The Farm North.
The Farm Group has announced it will open a new 25,000 sq ft facility in central Manchester in September - the first major post house in the city since the departure of Sumners in 2014.
The Farm Manchester will be a full-service post-production house offering grading, sound studios, editing and VFX and according to The Farm co-founder Nicky Sargent: "The Farm Manchester is going to be a big space – double the size of our William facility in London."
WPP plc has already established a separate operating arm (The Farm North) at MediaCity where around 70 staff work on delivering bookings management, operational and creative staff for the edit suites and sports news studio galleries for the BBC. The Farm Manchester will have no direct link with The Farm North, which is a self-contained operation servicing only the BBC.
Elsewhere within WPP, MediaCom North is currently looking for a new 70,000 sq ft space to house its growing workforce (currently 373) in Manchester spread across MediaCom, Code Computerlove and CB JWT and enabling space to be used for future acquisitions.
Amazon is widely believed to have taken the entire office space element (91,000 sq ft) of the former Hanover House development in Manchester. The Grade 1 listed building has been renamed Hanover. Amazon, which recently announced expansion of its operations in London, Edinburgh and Cambridge, is understood to be setting up a new tech team in Manchester with AI a key part of the R&D mix. Suggested employment numbers vary between 400 to 1200 although the consensus figure seems to be around 800 jobs initially.
Tom Parker, a press spokesperson at Amazon declined to comment on this story but he did advise Prolific North that our information about the small Amazon Studios base (employing around 20 staff) co-located at the Etihad stadium (MCFC) was not necessarily a long-term fixture in Manchester.
Barclays Bank runs a number of globally centralised functions (tech, registrars and fiduciary services) out of its historic country estate Radbroke Hall in Knutsford in Cheshire. The base has clearly been a major success for Barclays as staff numbers employed at the Hall have grown steadily over the past few years. However, it recently decided it needed a new city base primarily to house and invest in its fast-growing tech operation and it has identified two sites for a huge new office space requirement to house up to 4,500 staff. The current favoured choice (widely commented upon in property media) is a new build 650,000 pre-let within the Mayfield development adjacent to Piccadilly station and home of the proposed new HS2 station.
The majority of the 4,500 posts in Manchester will be tech-related and although "It's a decline to comment from us" said Archana Achuthan, Vice President, Group Media Relations at Barclays in response to an enquiry from Prolific North, Barclays is now actively advertising for tech jobs in central Manchester at its Spinningfields base which hitherto has only housed corporate banking and a contact centre. The huge new development - when confirmed - will be a contender for the title of one of the UK's largest ever pre-let office developments outside London given that the RBS development of Gogarburn as its HQ close to Edinburgh Airport was to originally house 3,000 staff, but has since been expanded over the past few years to accommodate the 6,000 staff the RBS currently has at its vast Scottish campus.
Meanwhile The Guardian's position on the story broken by The Times last year - that the title was actively looking to move within two years a significant part of its 800 workforce out of its Kings Place base in London - was denied by a Guardian News & Media spokesperson who told Prolific North: "The situation hasn't changed, we have no plans to leave Kings Place at present." However, rumours and conjecture are still suggesting a move is still very much on on with up to 300 jobs spanning subbing, the Guardian/Observer website, marketing and admin proposed to move to Manchester with editorial heads of departments and their immediate teams remaining in London.
Savings gained from cost-cutting far outweigh the title's marginal rates of revenue growth.
In April this year the publisher revealed it had stripped out a further £20m from the group's cost base - from £252m to £235m - while revenues increased by 1% to £216m. "We are well on track with our three-year strategy to make the Guardian sustainable and break even at operating level by 2019," said editor-in-chief Katharine Viner and David Pemsel, the chief executive of GNM parent Guardian Media Group in a joint statement.
"We enter year three with the goal to break even, but we still face challenges and uncertainties. This unpredictability makes sensible financial and business planning more critical than ever, and so we are already beginning to look beyond the coming year and plan how we invest for the long-term future."
Sky Betting & Gaming, which employs over 1350 in the UK, the majority in Leeds, primarily in tech and development roles, is understood to have a current requirement out with property agents for a space in Manchester to house 100 people initially. Dale Tempest, PR director at Sky Betting, declined to respond to Prolific North, but it is believed that the roles would be tech related as Sky has decided it needs to broaden its tech base beyond Leeds where it employs over 700 people in software engineering at its Leeds Dock technology centre.
In April, Canadian gambling giant Stars Group agreed to the buy Leeds-headquartered company in a deal worth $4.7bn (£3.36bn), creating the largest publicly-listed online gaming company in the world.
And last but not least, Channel 4 has announced that seven cities have made it onto its shortlist of cities to house 250 staff in a new 'National' HQ complementing its London main base. Manchester, alongside Leeds and Liverpool, is on the shortlist and the other four cities are Bristol, Cardiff, Glasgow and the West Midlands. The 'Manchester' bid is being contested by both Manchester and Salford in a rerun of the BBC's earlier 2007 decision to move 1500 posts from London which saw Peel's MediaCityUK (Salford) bid beating Manchester Council's Oxford Road area proposal.
Channel4 already has around 25 staff in Manchester from where the broadcaster manages its out of London sales.
The rapid growth of the tech and media sectors in Manchester and the North is, if anything, accelerating.
Elsewhere in the North
In addition to the above proposed new developments, Leeds has built a leading national position in big data and medtech, the North East is developing a growing reputation in software and digital/tech while in Manchester, in addition to entirely new inward investments, the city is also enjoying an increasing number of regionally-based companies who are establishing Manchester bases to house their expanding and resource-hungry tech operations.
These include Chester-based Moneysupermarket.com which this April announced plans to further expand its 2016 established Manchester product engineering base, Stoke-based Bet365 which has recently increased its Manchester base from 65 to 150 and the Hut Group, which is relocating its HQ from Cheshire to Manchester Airport.
And the 'Magic Circle' law firm Freshfields now runs its global tech operation from Salford and again recently announced additional expansion plans for its Northern outpost.
Around half of the company's technology-focussed staff are already based in Salford, helping to service 27 Freshfields offices around the world. 
And original research commissioned by Prolific North from Technation and PitchBook in March showed that both the number and value of private equity deals in tech companies rose at a faster pace in the North than the rest of the EU between 2012 to 2017 and in fact Manchester was the European city – ahead of London, Berlin, Paris and Stockholm - with the fastest pace of growth in both volume and deal values over this five year period.
This interest and attention in the tech sector is reflected by the fact that there are now 31 PE (Private Equity) firms based in the Manchester conurbation with a further three PE firms rumoured to be opening bases in Manchester in 2018. This figure compares to historic levels of around a dozen PE firms (formerly known as Venture Capital firms) operating in Manchester in earlier years and half a dozen or so firms operating in Birmingham, Leeds and Edinburgh.
And much of this disruptive growth in the North has ironically been built upon the North's unusual mix of both innovation and traditional industries emanating from textiles and retailing, particularly mail order.
The UK's mail order companies were always regarded as the less glamorous side of retailing and largely shunned by London and London agencies but the sector's total focus on ROI (return on investment), knowing your customer and delivering as cost-effectively as possible has helped the North grab a leading position in eCommerce.
ShopDirect in Liverpool is the UK's second largest 'pure play' eCommerce retailer while several others including Boohoo, AO, MoneySupermarket and of course First Direct in Leeds, one of the very first major financial institutions into initially telebanking and then internet banking all commanding leading positions in their respective sectors. And this 'digital native' mindset crosses the whole spectrum of company size. Figures released by eBay in 2006 showed the Manchester region had the highest number of ecommerce start-ups in Europe as a proportion of population.
And to reinforce just how far the worm has turned, Dentsu Aegis in Manchester, with over 400 staff, is now the UK's second biggest digital media buying agency reflecting the original founders' vision in making the most of the opportunities that the digital revolution was offering. Before the rise of tech, to have a regional agency in the top 20 of any UK ranking of marketing services companies would have been hailed as a minor miracle – but no longer.