15 September 2021
What I've Learnt: Joe Savery, Head of Creative, Fishtank Agency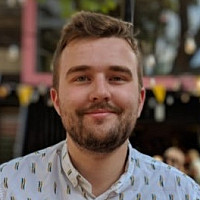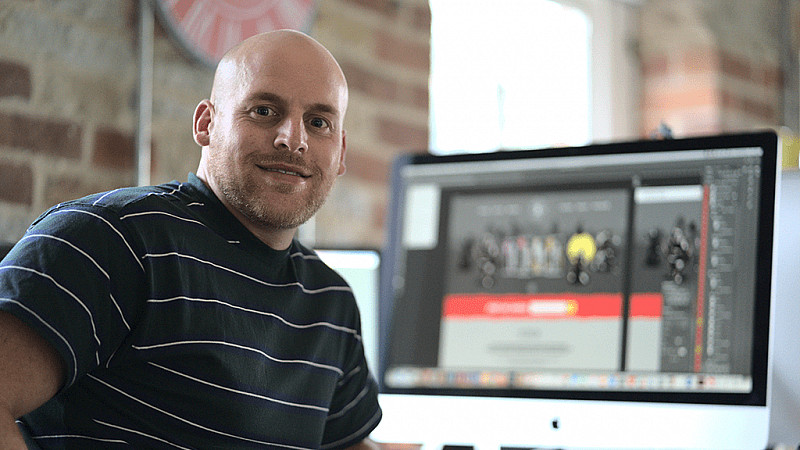 The Head of Creative at Mirfield-based Fishtank Agency has worked at the company from the beginning of his career, and is celebrating 10 years at the agency this year.
Joe manages every aspect of design there, developing project outcomes alongside the agency's team of strategic thinkers, developers and digital marketing specialists. In his time there, he's worked with brands like Britvic, Storm Internet, Wigan Warriors and more.
Fishtank creates brand identities, digital campaigns and online platforms for clients, and was a winner at the 2020 Prolific North Awards, taking home the award for B2C Marketing Campaign of the Year (Less than £50k), for its work with City Taxis.
As he hits his 10th year at Fishtank Agency, he shared what lessons he's learnt in his career.
Which single daily habit or practice could you not do without?
I've always felt much better about my day starting off being active, whether that's a 25-minute strength session, an early morning jog, or a walk around the block with my family. I think it's great for my mental wellbeing as well as physical.
What's been your luckiest break?
I would have to say starting my design career at Fishtank Agency during its infancy back in 2011. I joined the company straight out of university, joining Damien Fisher, Managing Director, and just one other member. 
Starting out as a junior designer under Damien's guidance, I've grown with the business and now sit as the Head of Creative, something I'm incredibly proud of. The company couldn't be in a better place; we have a great team full of talented people, a growing list of large and boutique clients, and a studio set in fabulous natural surroundings. For that, I'm lucky.
What's your best failure?
My best failure would have to be high school. Now I was in no way a bad lad, I just didn't have the drive academically. I recently read some old school reports, and there was a common theme: "Joe is a pleasant student, but must refrain from acting the goat, and must try harder."
As a result, my grades weren't great and I had no real plan other than a passion for art and design. I originally wanted to attend Leeds College of Art, but unfortunately I didn't have the grades.
I had two options - I had a place available at Leeds Building College, or I would have to undertake an extra year at Sixth Form before attending Art College; the chosen route that would set me on the right path to a career in the creative industry. 
What is the best investment you've ever made, either financial or time?
I would say our second house - we saw it on the off-chance, we weren't particularly looking to move at the time. It was an end-terrace that had fallen into disrepair.
The bathroom was outdated, the kitchen was practically non-existent, and the garden looked like the land of the lost. But we saw its potential, and we knew that we could turn what many saw as a daunting task into a project worth investing in with a bit of time, patience, and planning. 
Which book would you recommend others to read and why?
'Shoe Dog' by Phil Knight. I'm firmly set in my ways when it comes to sportswear, especially Nike trainers! So I had to read 'Shoe Dog', an inspiring story of the entrepreneurial Nike founder. I love Phil's honesty about his personal flaws and the arduous journey to building a billion-dollar company.
The fact that he jumped on a plane to Japan in 1962 and secured his first order with Japan's Onitsuka with no money or track record is incredible!
What one piece of advice would you give your 21-year-old self?
At 21, I would have been at university, spending four to six weeks on a project working on unrealistic student briefs for the likes of Ted Baker and Umbro.
On entering the creative industry, I quickly realised the working environment is so fast-paced. The luxury of time my generous tutors at university had afforded me quickly evaporated into a blind panic - until I found my feet, that is. 
So I would say worry less and create more, because I could have done that project four times over based on my industry knowledge.  
Who or what has had the single biggest influence on your working life?
At the beginning of my career, I would have to say my parents were a real influence. 
I come from a family of grafters; putting in the time and working above and beyond as part of the job description is something I pride myself on. I still have the same pride and passion, but as your career develops and your family grows, you have to be more resourceful with your time. 
Since my daughter Francesca came along, I have made a conscious effort to ensure work doesn't take away from family life. I now know when to switch off, and after working 12 months remotely, I can jump on and sort any high priority jobs once the daddy duties have finished.
Tell us something about you that would surprise people.
I've had a slight obsession with the caped crusader ever since the moment I saw Michael Keaton dawn the hooded cape in Tim Burton's 1989 'Batman', and the subsequent on-screen iterations since. 
I can't get enough from collectable figurines, Batmobiles, comics, even special edition video game releases. I have taken that fandom to the next level. I've even been working on a leg piece tattoo for the last four years, and have now added my homage to Batman.
I couldn't pick my favourite actor, nor did I want to depict the character. I decided to have a realistic flying bat on the back of my calf flying through smoke; an image synonymous with Bruce Wayne and his origin story. 
How will the COVID crisis change work for the better?
I believe it already has! We work more cohesively now with our customer base than ever before. For example, we now have regular video calls for all types of projects that have helped us create a more meaningful connection with our client base.
Having shared many stories about our experiences over the last 12 months, we have grown closer, and that's the key. Now more than ever, we see how essential employees are to their business who feel more engaged with the company and team members around them.
From a creative standpoint, having spent 12 months out of the studio, we've seen the value of a creative space that allows the team to collaborate daily. Especially with a rapidly growing team, we want our employees to be in a vibrant studio environment that fosters personal growth and development. 
What does success look like to you?
You can measure success in many ways. For me, success takes form in a series of small victories every day, rolling into weeks, even months, depending on the scope and scale of working with a group of diverse thinkers and creatives. 
Much like personal success, I believe this is crafted over time, and every action reacts. If you put in the time and effort with passion and compassion, you will reap the rewards.