07 March 2019
Where We Work: Sorted HQ, Manchester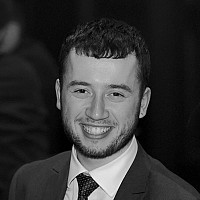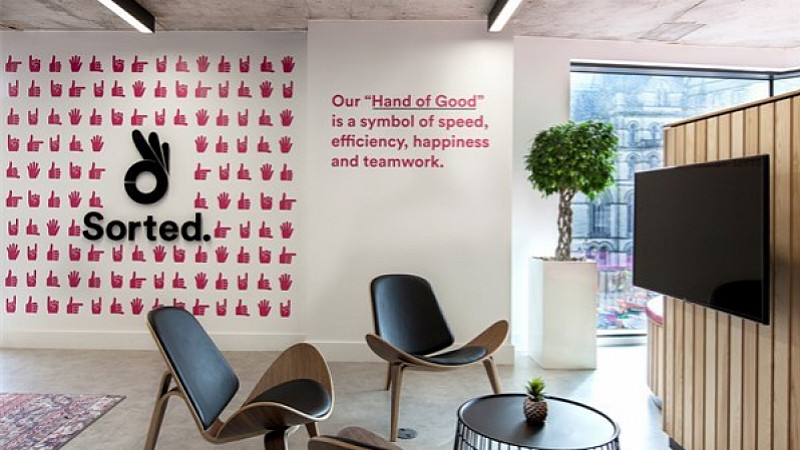 The workspace in the Where We Work spotlight this week is Manchester's Sorted, who create smart software that sits in online checkouts, warehouses, retailer supply chains and on your smartphone.
Sorted, who describe themselves as a 'delivery experience company', worked with James Scott at Cube 8 Studio on the design and delivery of the project - his first major solo project since starting his own company - and M4 assisted on the fit-out.
The space is part of the Bruntwood Works portfolio.
Vicky Pritchard, People Director at Sorted, told us what she thought of the workspace...
"Our environment embeds our personality, values, vision and mission right into the walls. Our team gave us the blueprint for the space and they have ownership over the whole office to collaborate, create and inspire each other. 
"Callum, Software Developer, feels comfortable enough to walk around in his socks, Simon, Technical Architect, brings his daughters in on Saturdays to see the breath-taking townhall views, Mike, Team Leader, holds team meetings over a game of pool, Martin, Offshore Development Manager, hosts his coding club meet-ups here and Paul, Director of Client Operations, stocks the coffee machine with different tasty beans. Inspiration comes from the atmosphere we've created by giving staff exactly what they wanted - a home from home."
Where is it?
The Union, Albert Square, Manchester M2 6LW
How big is it?
We currently have the whole of the third floor, which is where we have our desks and some meeting rooms, as well as half of the fourth floor to house our kitchen, breakout spaces and some other meeting rooms. Altogether, we have a spacious 15,778sq ft, which gives us room to grow also. 
We have stunning meeting rooms that seat any number of people - from the single-person private rooms 'Nook' and 'Cranny', to the 'Snug' and the 'Front Room' which comfortably seats 20. We've baked our gym facilities right into our office, meaning you can keep fit and healthy and energised before getting right back to working your brain. 
Each of our 14 meeting spaces are themed around rooms of the house, so you can discuss Kanban in the Lounge or plan marketing strategies in the Bedroom. This creates a real homely feel, as the decor and furniture in each room is individually tailored to create an uber cool, unique identity that feels both exciting and familiar.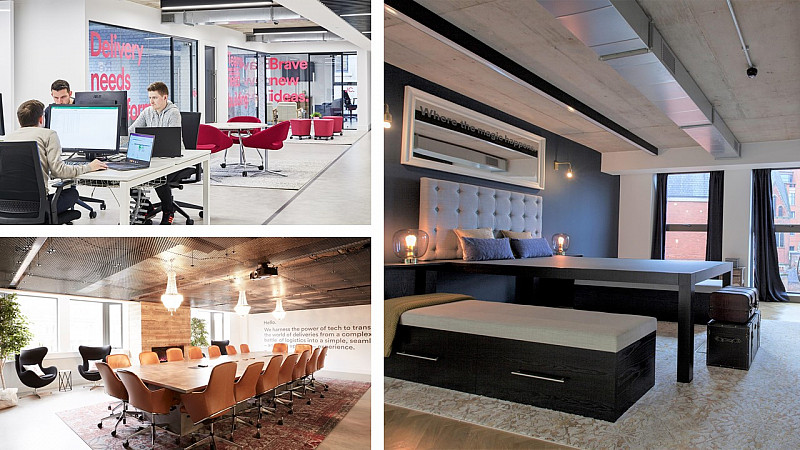 What happens there?
The space is the head office for Sorted Group so it's where the management sides of things take place. Scribbling on walls and sticky noting the glass is very much encouraged - most of our walls are in fact whiteboard walls, which transforms every inch of the office into team planning space for stand-ups and meetings. You won't catch us telling you off for leaving your brainstorm on the wall in the Ballroom - some call it clutter, we call it collaborative creativity. 
Who works there?
We currently have around 100 members of staff in our office, all on one floor to make sure we're all working together in the same space. So, our tech teams mix with Finance, Finance mix with Marketing, Marketing share desks with HR and our Execs eat lunch at the same table as our graduate developers. We've just announced that we're looking to almost double our workforce by recruiting around 100 new roles over the next 12 months. 
The Inspired Spaces North initiative
The Inspired Spaces North initiative is the annual search for the region's most inspiring workspaces, held in association with Active Profile and Prolific North.
A lengthy judging session considered numerous high quality entries from Manchester, Leeds, Liverpool, Knutsford, Newcastle, Blackburn, Wetherby, Salford and Wirral.
After the 22-long shortlist was drawn up, the competition was opened up to a public vote. You can see which workplaces ranked in the top 10 in the 2018 competition here.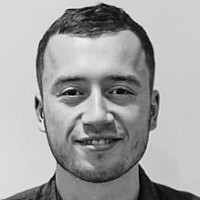 Want to be featured?
If you believe your eye-catching office or workspace is worth a feature, email Josh on josh@prolificnorth.co.uk