04 June 2014
The fresh Group completes management buyout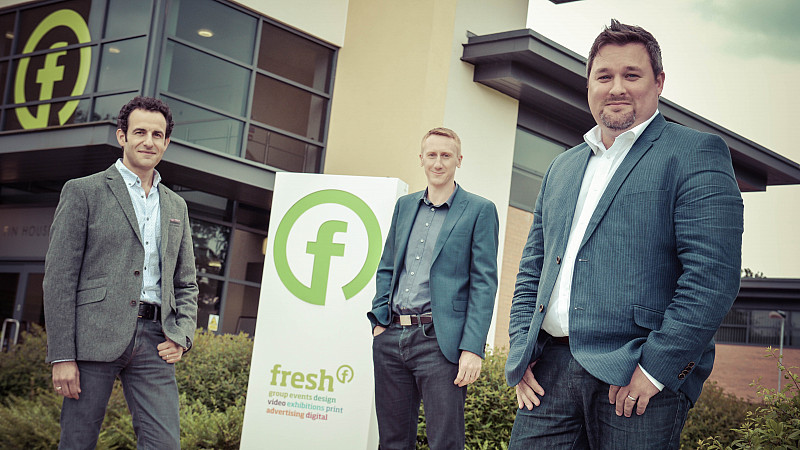 The fresh Group - Patrick Antony and Damian
Creative events agency The fresh Group has completed a management buyout from joint owners and founders Nick Porter and Julie Besbrode.
Manchester based NVM Private Equity has backed fresh's three-strong management team of Patrick Howells (managing director), Antony Wilson (financial director) and Damian Besbrode (operations director) in funding the MBO.
The fresh Group was founded in 2004 by business partners Julie Besbrode and Nick Porter and over the last 10 years they have continued to invest in and develop the business to achieve a turnover of £13.6m in 2013. The initial team of 4 has grown to a group of 85+  individuals.
The business says it's on track to deliver 30% year on year growth plan as it strengthens its position as a retail sector specialist whilst looking to secure new clients in untapped industry sectors.
Managing director, Patrick Howells said: "We are delighted to be given the opportunity to complete the management buyout, which is another positive step for the business and very fitting that we should achieve this in our 10th year. The whole team is focused on strengthening our position as a leading creative events agency. We look forward to building on the success of FY13, a record year, with another strong performance in FY14 having recently secured new relationships with the likes of Home Retail Group and Dixons Carphone amongst others, building towards new business sales of well over £3m.
"As for NVM we couldn't conceive of a better fit. There was a lot of interest in fresh from many different avenues but out of a multitude of options the team at NVM, headed up by Andy Leach couldn't be more suited to the fresh team."
Under the terms of the deal Porter and Besbrode will be departing the business and retain an investment in fresh as the MBO team, supported by their senior management team, take charge.
Exiting Chief Executive, Julie Besbrode commented, "When Nick and I founded fresh 10 years ago, we never dreamed that we would have achieved what we have today. We are immensely proud of everyone at fresh and the passion, creativity, ambition and commitment they put into every project they deliver."
The fresh management team has retained Julie Besbrode in an ongoing client consultancy role.