This week Andrew Brown, Executive Creative Director at Brass, runs us through a week in his working life. To suggest another senior media or creative figure for A Week In My Life, please email david@prolificnorth.co.uk.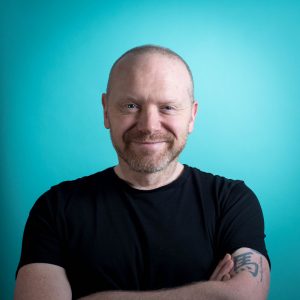 Monday 19th June
Every weekday starts with a walk. I've got two dogs and take them down to the local woods and spend half an hour waking up. A daily walk is good for the soul – especially on a warm, bright morning like today. My wife's a teacher and I've three kids at high school, so they all sort themselves out and are out of the house for 8 am. I arrive back with the dogs around then, grab my bike and take a 20-minute commute over to Headingley in Leeds.
I've not actually seen the news yet this morning (normally I listen to Radio 4 but got up straight away today), so it's not until I'm signing in a sixth former who's with us for a week of work experience, that I see the Finsbury Park attack news. A grim twist to an otherwise beautiful morning.
This week's main event is a creative day we're running for a client at our office on Thursday, so I'm straight into a meeting with our social media manager to see if we've got everything covered. The rest of my diary is new business and management meetings in the morning and some work for another client's social media strategy.
It's sooo hot and sunny today. Finishing on time to get back and barbecue as it's my eldest's last GCSE exam and the grandmas, are coming round to celebrate this evening.
Tuesday 20th June
Walked to work. Spent the morning bouncing around brainstorms. Got catch-ups on a tender proposal that's due in at the end of the week and a spot we're doing at a client's conference on the future of frozen food this afternoon.
Marginally more glamorous is a trip at the end of the day to a TV production company for a champagne reception/premiere viewing of their new production for CBBC. We've created all the animated sequences for the series – something that has occupied one of our animators almost exclusively since February – so we're guests of honour.
My daughter took part in a schools' enterprise competition today and at the end of the week last week her team came down to the agency to talk about advertising. At the weekend I helped them make an ad, complete with cute, gap-toothed little cousin in the starring role, so I'm keen to hear how they did and delighted to find out that they won! First prize, a trip to New York to present at Google in October. So impromptu celebration meal with the family at our local Italian restaurant.
Wednesday 21st June
Early start to get the 8.15 train to London. Got down to the station early so I could write a brief for a pitch our creative will be working on today and I didn't have time to talk to him yesterday. Met the account director and a train ride and a cab gets us to our client in West London for midday. The London train happens quite a lot and is pretty good – you can work on the train, so I managed to get plenty done.
A couple of hours with the client and I'm straight back to Leeds, leaving the account director in London for more meetings and a get together with the client and other agencies involved in our augmented reality Ribena app – Doodle Your World. The latest update is due this week and the campaign is kicking off – TV is live now, out of home starts in a week or so. I, however, need to get back to Leeds to meet a different set of clients who is up for a day's creative session tomorrow.
Leeds is sunshiney and it's not really worth going home as I'd have to come straight back again, so I go and do some drawing at the playhouse while I wait for my daughter to finish youth theatre. Once she's safely in a cab home, I go and meet work colleagues and the clients for dinner and drinks.
Get home just after midnight. Long day.
Thursday 22nd June
Another early start as I want to be prepared for today's session with clients, so the dogs just get a quick walk and I bike in, enjoying the early morning sunshine and get to work for about half seven. The clients are from a really interesting organisation and it's great to work through our creative process with them. We start by 3D scanning one of their heads, just for fun. The rest of the day is brainstorming and talking through their issues.
It's a long day though and when they leave there's just time to check over everything that's going on before we have a team meeting which starts in the meeting room and ends in the pub. Turned into quite a boozy week.
Friday 23rd June
Wake up around seven, shower, walk the dogs. Bike's at work, so I walk in which takes around 40mins. Today is a catch-up day. There are a couple or three meetings I need to have, but other than that I need to get on top of things due next week.
First up, brief a couple of designers to work up some graphics for a conference we're presenting at. Then going through where we're at with some pitch ideas.
After lunch, I need to do a final edit on a tender document.
Saturday 24th June
Saturday morning starts with a pilates class, breakfast and then a dog walk. After that we're off to an afternoon party we've been invited to with some delicious Mexican food. The rest of the weekend's outlook is lazy.