05 December 2014
Rippleffect kicks off new Everton FC website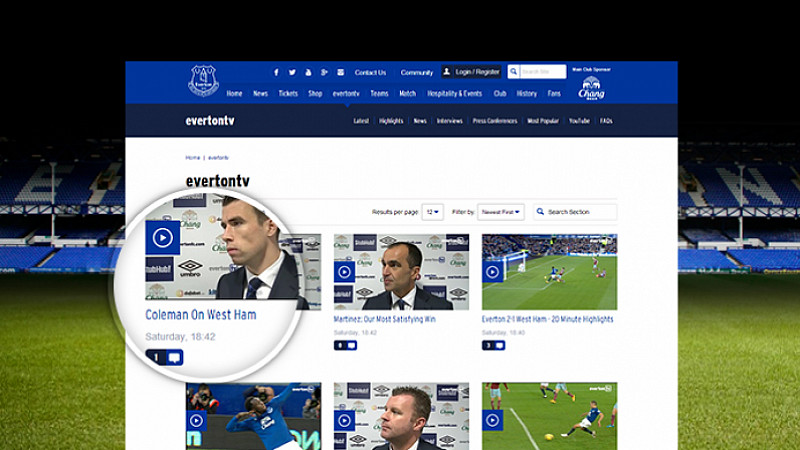 Rippleffect has announced the launch of Everton Football Club's new official website as part of a long-term digital strategy to drive fan engagement.
The Liverpool-based agency, which has been retained by the club since 2003, features a new design, enriched functionality, intuitive navigation and a host of interactive content features, including its rebuilt match centre and EvertonTV.
The project involved a comprehensive research phase with the club's fans and key stakeholders, whose feedback was used to inform key decisions about the site's technology, design, usability and content.
The site has departed from the traditional football club website model, with 'cluttered content and banner ads'. Instead, the platform features a horizontal slider and scrollable columns that has allow more of the club's content - including key commercial messages - to be visible during a user's visit.
"We have a great relationship with Everton, collaborating on some of football's most groundbreaking digital projects and marketing campaigns, " commented Ben Hatton, managing director of Rippleffect. "By combining our thorough understanding of the challenges and objectives of Everton's in-house team with genuine user and stakeholder feedback, we were able to create a website that will build deeper connections between the club and its fans."
Everton has worked with Rippleffect on a number of digital projects during its 11-year partnership - including its previous award-winning website and its mobile app, which was named Best Football App at the Football Business Awards earlier this month.
Interim head of media & communications, Scott McLeod, said: "Together with Rippleffect, we recognise the importance of never standing still in order to continue offering fans the most innovative, engaging and memorable online experiences within football. The new website harnesses best-in-class technologies and a distinctive new user-centric design to serve a rich array of relevant, up-to-the-minute content in the way that suits our fans."
Earlier this year, Rippleffect also completed a new online retail store for Liverpool FC and made it the first football club to have a "fully responsive e-commerce offering."