26 November 2014
Corporation Pop develops Course Finder app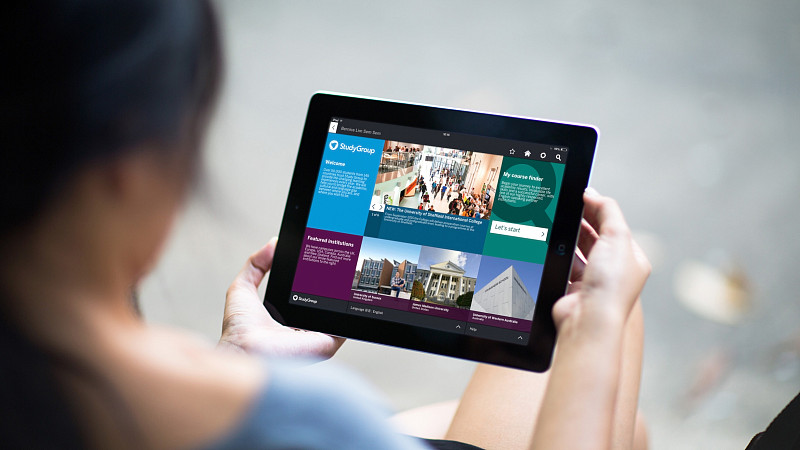 Manchester's Corporation Pop has developed apps and a website to help a group of universities across the world access the latest course information.
The design agency's Course Finder web, Apple and Android apps were created to help Study Group - an international network of agents which partner with universities worldwide to provide pathway programmes for international students wanting to study an undergraduate or postgraduate degree.
Agents will use Course Finder as part of the consultation process.
Corporation Pop MD Dom Raban said: "We were tasked with delivering an industry-changing Course Finder application that had to be easy to access, use and understand. As well as western markets, the solution had to appeal to users in China, so understanding the different design needs of the west and far east was crucial to providing a user experience suited to people all over the world.
"The result is a live and comprehensive information hub that is not only easy but also instinctive to use. This is the product of a superb working relationship between Study Group, Sutherland Innovation Labs, Terry Ma and ourselves. We're already working on some exciting new features and look forward to seeing the app develop further over the coming year."
Information about courses, fees, progression routes and entry requirements for over 80 programmes sits alongside details on locations, social life and accommodation. This can be localised for students and is accessed through a simple filtered, free-text or map search.
To ensure that data is current a script checks when the app last connected to the internet and prompts the agent to download an update if they have been offline for more than a month.
Course Finder has been developed as a native app for Android and Apple tablets and as a web app, ensuring availability on a wide range of platforms and devices. It works both online and offline to enable use in areas without internet connection, and is available in English and Chinese. Other language versions are planned for the future.
To ensure Course Finder worked for international markets Corporation Pop engaged user experience specialists, Sutherland Innovation Labs.