27 May 2014
Mark Rylance takes role in new CBeebies animation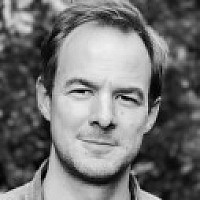 Mark Rylance is to take on his first ever children's role in a new CBeebies series announced today by the BBC.
The renowned actor, director and playwright, best known for his Shakespearean roles, will voice the character of Flop in an animation called Bing.
Bing will launch on CBeebies next month
The 78x7' series is an Acamar Films Production for CBeebies and is co-produced with both Brown Bag Films and Tandem Films. It's adapted from the Bing Bunny books, written and illustrated by Ted Dewan.
Rylance said: "I love the energy of young people, as well as the entirety of the team involved, who are very true and imaginative and kind, so working on Bing has been a wonderful experience. Voicing Flop gave me a second chance to be a good parent, the experience reminded me of many things and people I had forgot which was sad sometimes but ultimately very enriching."
CBeebies controller Kay Benbow added: "The stories reflect the real lives of our very youngest audience members and their parents and caregivers – it is animated reality TV for toddlers, but done with such care, authenticity, warmth and charm – it is simply captivating."
Bing will launch on CBeebies next month.