19 November 2013
Queer as Folk creator Russell T Davies to return to Manchester for Channel 4 series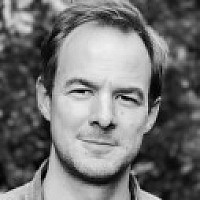 Russell T Davies is to return to Manchester for two drama series for Channel 4 and E4, 15 years after his groundbreaking Queer as Folk.
Davies is joining up with Red Production Company for Cucumber and Banana, which will both explore 21st century gay life. They'll be broadcast alongside Tofu, described as an "anarchic online guide to sex" inspired by the TV dramas.
Cucumber, an 8x60min series for Channel 4, will follow 46-year-old Henry and his long-suffering boyfriend Lance after "the most disastrous date in history" - involving a death, a threesome, two police cars and the Glee Christmas Album - while Banana, an 8x30min series for E4, follows the lives of characters involved in Cucumber, including a young lesbian called Scotty.
Russell T Davies
Davies said: "I once read about a scientific institute which had studied the male erection. It divided the hard-on into four categories, from soft to hard. One, tofu. Two, peeled banana. Three, banana. And four, cucumber. Right there and then, I knew I had my drama. And it's a joy to be back with Channel 4 and Red, to tell these stories."
The new series represent Davies' first work for Channel 4 since the landmark Queer as Folk, which portrayed late 1990s gay culture based around the nightlife of Canal Street in Manchester. He has gone on to achieve further acclaim as the writer of series including Doctor Who and Torchwood and has recently penned Wizards vs Aliens for CBBC.
Head of drama Piers Wenger said: "No one can look into the heart and soul of modern relationships quite like Russell and across Channel 4, E4 and online, he paints an unflinching and forensic portrait of how our sex lives affect us all. It might be 15 years since Queer As Folk, but he has made it more than worth the wait."
Red Production Company had produced Queer as Folk as well as ITV's The Second Coming, which starred Christopher Eccleston.
Its founder, Nicola Shindler, added: "The opportunity to work with Russell again is completely thrilling and the chance to make a drama for Channel 4 that once again takes such a glorious, funny and perceptive look at this word is incredibly exciting. We want to make this a huge, impactful production and are looking forward to starting."
Cucumber, Banana and Tofu were commissioned by Wenger and will be made by Red with executive producers Shindler and Davies. Tofu will be made by Benjamin Cook.
The series will begin filming in spring 2014 in Manchester for broadcast later in the year.