13 April 2017
Regional editor to step down after almost 25 years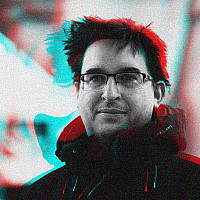 Perry Austin-Clarke, who's edited the Telegraph & Argus for almost a quarter of a century, is to step down.
He'll be leaving to set up his own media agency and he told the newspaper:
"When I was asked to apply for the T&A job I was told to expect to do it for five years. But that's the effect Bradford has on people; it's a fantastic city with wonderfully open and generous residents but it also has more than its fair share of problems.
"That makes every single day a challenge that sucks you in because you can always see the potential in Bradford even if those who gainsay it can't."
He added that editorship had been a "fascinating and all-consuming experience."
He first took up the role in 1992 and was the youngest newspaper editor ever employed by its then owners, Westminster Press.
Nine years later he was promoted to group editor of Newsquest (Bradford) and became responsible for 4 more West Yorkshire newspapers.
In 2014 he was named group editor of Newsquest Yorkshire and last year his newspapers took first and second at the Regional Press Awards - The Press won, followed by the T&A.
Despite setting up his own company, Perry will continue to write for the newspaper and work on some "special projects."