15 November 2019
The Prolific North Top 75 Tech and eCommerce Companies 2019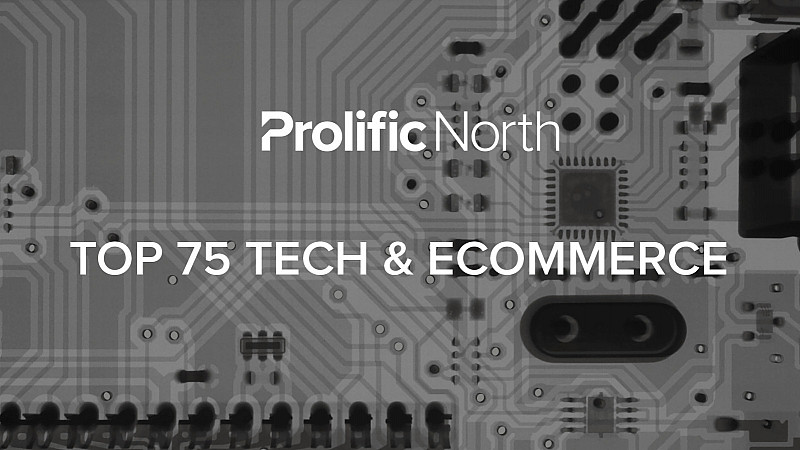 Welcome to the Prolific North Top 75 Tech and eCommerce Companies for 2019, the benchmark ranking of the North's top tech and eCommerce businesses.
This list follows the Top 50 Digital Agencies and the Top 50 PR Agencies list, which was revealed at the recent Prolific North PR Dinner.
As with many of our research-based initiatives, we are very pleased that the leading independent research company, Mustard, has once again rigorously managed and compiled the list on behalf of Prolific North.
The Top 75 list was revealed first at Prolific North's Tech Dinner at Manchester Hall last night. Thanks once again go to the sponsor for both the dinner last night and the list, HardSoft.
The ranking is anchored on financial information taken from Companies House, as well as financial reporting company fame BVD, and also draws upon data submitted and verified by the companies themselves including additional financials, headcount, client information and – where appropriate - confidential private background information.
After much calculation and evaluation of their work and accounts, the following 75 companies were ranked by turnover, as the best of the North. 
Key findings
Bet365 Group was ranked top with an impressive turnover of £2.86bn

The average turnover for the Top 75 companies was £315m, compared to an average of £1.6bn for the Top 10

Companies classified as Software or IT/IT services dominated the list, accounting for 13% each and combining for a total of 26% of Top 75

The following most common types of company in the list were eCommerce (9%), Telecommunications (7%) and Gaming (5%)
The Prolific North Top 75 Tech and eCommerce Companies 2019
Companies ranked by turnover
| Ranking | Company | Activity | Location | Employee count | Turnover (000s) |
| --- | --- | --- | --- | --- | --- |
| 1 | Bet365 Group | Gaming technology | Stoke-On-Trent | 4,236 | 2,857,259 |
| 2 | Radius Payment Solutions | Fleet services | Crewe | 1,200 | 2,488,800 |
| 3 | Shop Direct Holdings | eCommerce | Liverpool | 3,736 | 2,003,500 |
| 4 | The Sage Group | Software | Newcastle-Upon-Tyne | 13,660 | 1,846,000 |
| 5 | Arris Global | Telecommunications | Shipley | 324 | 1,679,859 |
| 6 | Talk Talk | Telecommunications | Salford | 2,187 | 1,658,000 |
| 7 | RentalCars | Comparison website  | Manchester | 1,526 | 1,056,014 |
| 8 | The Hut Group | eCommerce | Manchester | 4,239 | 915,758 |
| 9 | AO World | eCommerce | Bolton | 3,119 | 902,500 |
| 10 | Betfred Group (including The Tote) | Gaming technology and software development. | Warrington | 7,516 | 727,631 |
| 11 | Ebuyer.com | eCommerce | Barton-upon-Humber | 4,398 | 701,149 |
| 12 | Daisy Group Holdings | Telecommunications | Nelson | 3,783 | 684,293 |
| 13 | Plusnet | Telecommunications | Sheffield | 1,678 | 409,512 |
| 14 | Boohoo.com UK | eCommerce | Manchester | 1,941 | 374,114 |
| 15 | Moneysupermarket | Comparison website  | Chester | 721 | 355,600 |
| 16 | Communisis | Integrated business services | Leeds | 2,037 | 353,240 |
| 17 | Auto Trader Group | Automotive  | Manchester | 786 | 324,300 |
| 18 | Kcom Group | Telecommunications | Hull | 1,528 | 281,637 |
| 19 | NCC Group | Cyber security  | Manchester | 1,723 | 250,700 |
| 20 | Missguided | eCommerce | Manchester | 778 | 215,908 |
| 21 | BuyIT Direct | Online Retailer | Huddersfield | 396 | 188,190 |
| 22 | Pretty Little Thing | eCommerce | Manchester | 205 | 181,269 |
| 23 | Emis Group | Healthcare | Leeds | 2,024 | 170,070 |
| 24 | GB Group | Identity data | Chester | 884 | 143,504 |
| 25 | Hocomm | Software | York | 132 | 139,319 |
| 26 | Nycomm | Travel Retailer | Manchester | 389 | 130,393 |
| 27 | True Potential | Financial Services | Newcastle Upon Tyne | 157 | 121,172 |
| 28 | BJSS | Software | Leeds | 775 | 116,007 |
| 29 | Chess | Utilities | Alderley Edge | 562 | 111,525 |
| 30 | Evolution Funding | Financial Services | Chesterfield | 321 | 108,972 |
| 31 | On the Beach | Travel Retailer | Manchester | 504 | 104,100 |
| 32 | Beauty Bay | eCommerce | Salford | 114 | 99,149 |
| 33 | Redcentric | Hosting services | Harrogate | 479 | 93,260 |
| 34 | Tombola | Gaming technology | Sunderland | 421 | 90,297 |
| 35 | Entertainment Magpie | eCommerce | Stockport | 831 | 88,720 |
| 36 | SSP Topco | Software | Halifax | 773 | 85,273 |
| 37 | K3 Business Technology Group  | Supply chain solutions | Salford | 687 | 83,335 |
| 38 | P2G.com | Comparison website | Bolton | 209 | 82,706 |
| 39 | Paymentshield  | Insurance and Protection  | Southport | 240 | 76,699 |
| 40 | Ikonic Technology  | IT Distributor | Heywood | 68 | 67,441 |
| 41 | Celerity | IT | Preston | 43 | 63,176 |
| 42 | CDL Group  | Software | Stockport | 672 | 55,778 |
| 43 | Blue Prism Group | Robotic process automation | Newton-Le-Willows | 318 | 55,200 |
| 44 | PC Specialist | Computer Assembly  | Wakefield | 94 | 55,058 |
| 45 | UKFast | Server solutions  | Manchester | 365 | 53,943 |
| 46 | ANS Group  | IT | Manchester | 273 | 53,133 |
| 47 | Proactis Holdings | Software | Wetherby | 433 | 52,221 |
| 48 | Mobica Holdings | Software | Wilmslow | 945 | 51,629 |
| 49 | Helical Industries | Property rental  | Lytham St Annes | 348 | 50,658 |
| 50 | Proact IT UK  | IT | Chesterfield | 230 | 50,577 |
| 51 | Rockar 2016  | Consultancy and system development | York | 77 | 47,855 |
| 52 | Desk Top Publishing Micro Systems  | IT | Leeds | 96 | 47,045 |
| 53 | Ebecs  | IT | Chesterfield | 358 | 44,536 |
| 54 | Pharmacy2u Limited | Healthcare | Leeds | 218 | 43,168 |
| 55 | M247 | Cloud services | Manchester | 226 | 39,970 |
| 56 | Tracsis | Transport | Leeds | 667 | 39,834 |
| 57 | Atom Bank | Financial Services | Durham | 330 | 37,966 |
| 58 | Technology Services Group  | IT | Newcastle Upon Tyne | 348 | 33,505 |
| 59 | Team 17 Holdings  | Video game developer | Wakefield | 83 | 29,634 |
| 60 | Avecto | Software | Manchester | 153 | 29,464 |
| 61 | Pure Technology Group  | IT services | Pudsey | 88 | 27,789 |
| 62 | Payzone UK  | Payment services | Northwich | 373 | 26,228 |
| 63 | Love Energy Savings | Comparison website | Bolton | 249 | 25,756 |
| 64 | Giacom World Networks | Cloud Services | Hessle | 51 | 25,104 |
| 65 | Centriq Group  | IT | Blackpool  | 132 | 23,566 |
| 66 | MDS CEM | Software | Warrington | 220 | 23,056 |
| 67 | Zoo Digital Group  | Subtitling and dubbing provider | Sheffield | 201 | 22,110 |
| 68 | Godel Technologies  | Software | Manchester | 597 | 21,711 |
| 69 | Digital ID Group | ID printing  | Stockport | 56 | 21,600 |
| 70 | Aspire Technology Solutions  | Computer consultancy  | Gateshead | 139 | 20,239 |
| 71 | Itps (Holdings) | IT services | Gateshead | 124 | 19,203 |
| 72 | Performance Horizon | IT | Newcastle Upon Tyne | 194 | 18,568 |
| 73 | Cloud Technology Solutions | IT services / Software | Manchester | 76 | 18,440 |
| 74 | Hybrid Services | Printing services | Crewe | 38 | 18,001 |
| 75 | BTL Group | IT software | Shipley | 151 | 17,295 |