15 December 2021
How university networking app Umii is tackling student loneliness and its international plans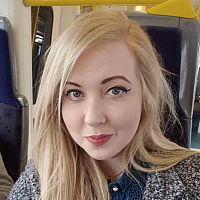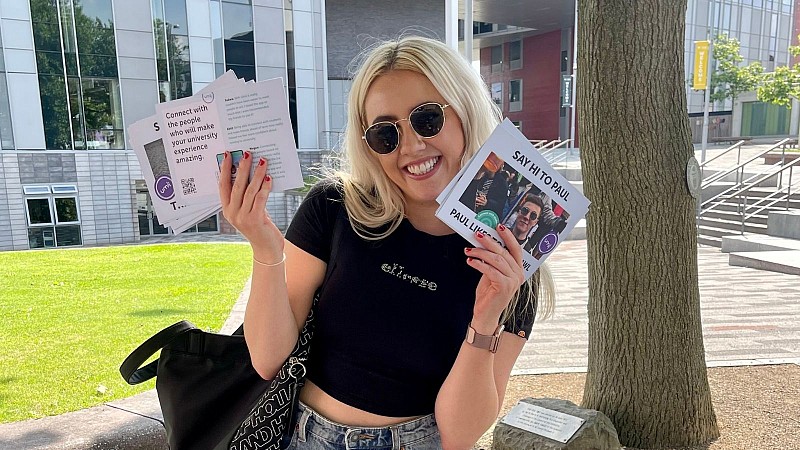 The founder of Manchester-based student networking app Umii on how her own experience of loneliness at university fuelled the launch of the app and her plans for international expansion.
Young graduate Georgia Wheadon took on a founder role of the Umii app in 2020, and officially launched the platform this year following a successful pilot. 
The university-based app helps students to build friendships and has partnered with universities across the UK, with the aim of improving retention rates and reducing mental health issues.
"A lot of university dropouts are due to social factors. People feeling lonely or feeling like they are not having a good social experience at university," she told Prolific North.
According to a recent study by student mental health charity Student Minds, 74% of students reported that the Covid-19 pandemic has negatively impacted their mental health and wellbeing at university.  
As the pandemic only exacerbated feelings of isolation and loneliness, it presented an opportunity for the platform to work on a solution to help students to forge lasting friendships. 
Propelled by her own struggles she encountered at university, she detailed the issues she personally faced to showcase the problems facing many students.
"I feel like I wouldn't have had the passion to push this forward, if I hadn't experienced the problem myself," she said.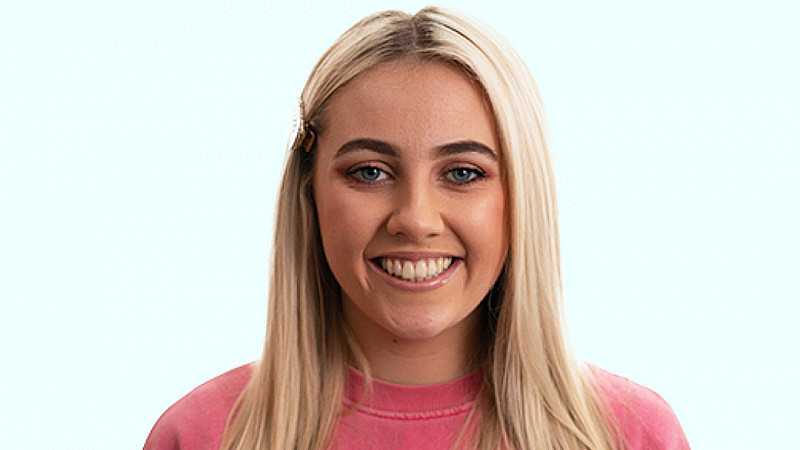 Prior to heading to the University of Leeds as a student, she was excited to embark on university life but soon realised it wasn't what she expected.
After moving into a shared flat with housemates she didn't gel with in an area tucked away from the city centre, she explained she felt "isolated from everybody and the hustle and bustle".
Scrolling through social media, she saw videos and photos of her twin sister enjoying herself at a different university which only cemented her feelings of isolation.
Frustrated that her situation didn't mirror that of her twin sister, "I think that made me feel a bit worse," she said.
Her confidence "dropped" after she later had a fall and broke her leg, which left her feeling even more alone as she was temporarily confined to a room.
After debating returning home, her parents inspired her to continue with her studies. She chose to immerse herself in her work instead and persisted through to complete her degree.
While at university she was offered the opportunity to do a placement year at Liverpool-based start-up building company Nova, where she first heard about the Umii idea. 
Swift transition from graduate to founder 
"So many people do have those experiences at university but they just don't speak up about it. If I found out other people were feeling that way, then I'd have felt a bit better," she said, on the necessity for platforms like Umii.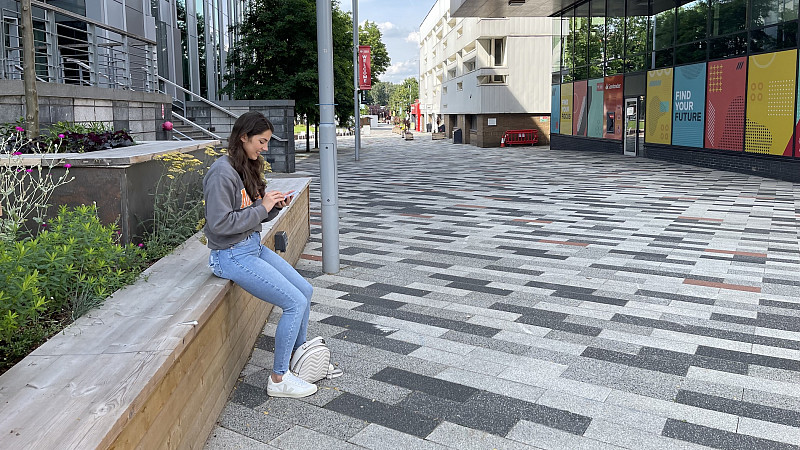 Following graduation, she returned to Nova as a product manager and discovered how the initial founding director behind Umii decided not to proceed further with the idea. 
"There's a clear problem there. I've experienced it, we need to continue with this," she explained on how she campaigned to keep working on building the platform.
Driven by ambition and using her experiences as a catalyst to take Umii forward, she was asked to take over as founder. 
"I was like, I can't do that - I've only just got out of university!" she exclaimed.
Embarking on her new role as founder, she discovered the Coronavirus pandemic presented new challenges. Feelings of isolation and loneliness only increased among students as a result of limitations imposed on face-to-face contact and remote lectures.
After trialling the app and assessing the needs of students from feedback, the University of Hull approached Umii in April 2020, seeking to trial the platform with its students. From there, it has been "a snowball effect" with universities across the UK partnering with the app, she explained
"I'm so happy that I've even got the opportunity to take this forward," she said. 
University partners and tackling student mental health issues
Based at Enterprise City in the heart of Manchester city centre, the platform has recently partnered with the University of Salford and its Students' Union.
When a university partners with the app "we lock it down to their university students only so it is just a little community of their students who can connect, to make sure it is as safe as possible," she explained.
When a student signs up to the app, they sign up with their university email address which is verified by the university.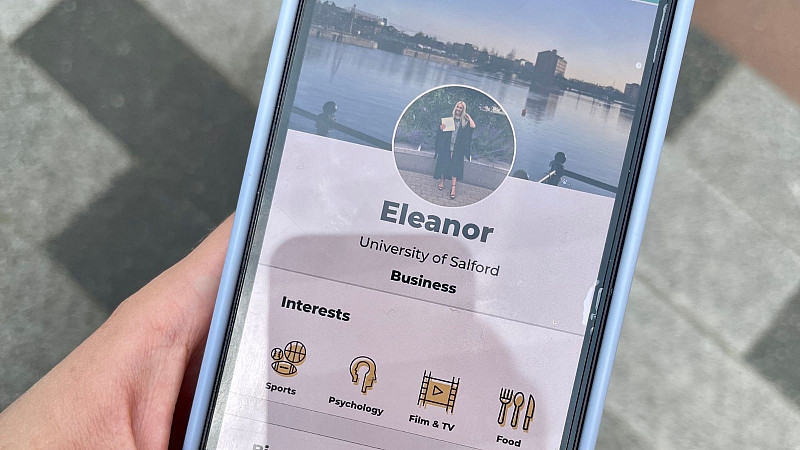 It "means less pressure on the mental health support at the university because [...] it allows them to have a good social experience and they are more likely to stay at university," she said.
She outlined how the app has a customisable mental health section which can be utilised by universities. At the University of Hull for instance, she said they have slotted in their own mental health and wellbeing support line.
"Loneliness and isolation is a mental health problem. We want to make sure if anyone is feeling that way that they know where the support is," she said.
"When I was at university, I didn't really know that there was that support or that I needed that support and maybe if it was more obvious I would've used it," she added.
Student matches and safeguarding
The Umii app enables students to build a profile within their own university network and match with other students to build friendships based on mutual interests, societies or the courses they select. 
The platform sends each user 3-5 matches per day, where they can opt to interact with other students similar to any other social messaging platform. 
"It has been really good for us to see those actual connections go into the real world and get case studies on them now," she said.
"Safeguarding is massive for us. With Facebook groups and WhatsApp chats, anyone can get into them. That leaves students open to promoters and catfishers to scammers trying to write their essays for them," she said.
To ensure the app prioritises the safety of its users, she said the app works alongside its university partners offering students 'Report and Support'. The university 'Report and Support' links provide students with the option of reporting any issues to the university, if they wish to do so directly. 
"We usually have someone at the university who is a wellbeing contact that we can have contact with too if anything does happen in that aspect," she said, on the number of safeguarding steps in place.
If there are any negative interactions through the app, a user can also report or block another student which "triggers" an action on the Umii system for the team to assess.
"We are also working on making a code of conduct as well that's visible when you first sign up. That's going to be worked on with our university and student union partners," she said.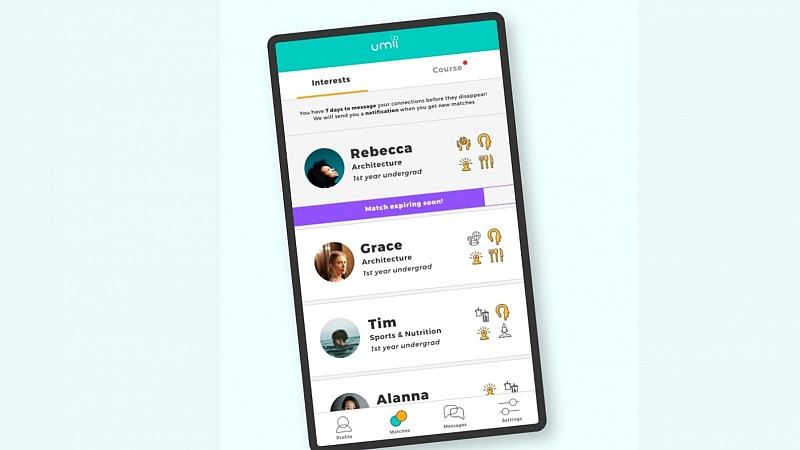 International plans and the future
"I definitely want to be the first app that students download as soon as they connect with university," she said, on her future plans for the app.
She hopes the app will become a "preventative measure" to help reduce the risk of student mental health issues and the impact it has on mental health support services at university.
To tie into this, the platform recently partnered with mental health charity Student Minds to release a series of resources to support students with feelings of isolation and loneliness. 
She is also keen to uncover the impact of student loneliness and isolation on university retention rates. While she recognises it is a "tough one to measure", the app is working with its university partners in an effort to understand the impact on retention by building a picture through surveys. 
Ambitious with the future plans for the app, she explained how at Umii, "we want to go international and we are already working on that expansion plan now".
She has her sights set on working with Australia and New Zealand next, as "they are currently in lockdown, so the problem there is probably a lot higher," she added.
"I really want to reduce the amount of people who have a poor experience at university and obviously a massive thing about university is the social aspect. 
"If we can make an impact, even a small one, then I'll be happy," she said.