09 March 2022
Bev Craig says "digital, creative & tech are jewels in Manchester's crown" as she addresses Digital City Leaders' Reception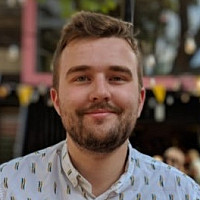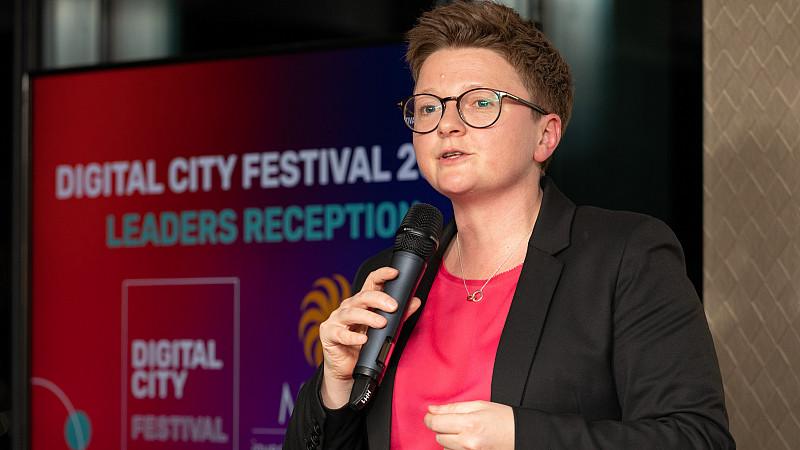 With views over the entirety of Greater Manchester where Digital City Festival is taking place this week, event supporters and guests came together last night to celebrate and hear from local leaders before the opening of Digital City Expo this morning.
Councillor Bev Craig was among the speakers at the Digital City Leaders' Reception, describing the city's digital and tech ecosystem as "vibrant, exciting and world-leading".
The Digital City Leaders' Reception was sponsored by MIDAS and hosted at Cloud 23 in the iconic Beetham Tower, and also featured Tim Newns of MIDAS; Alastair McGeoch, Director of Software at Roku; and Darren Mitchell, Country Manager at Zenjob.
Special guests at the event enjoyed canapes and drinks while networking with influential peers, after having heard from the line-up of speakers.
Andy Burnham, Mayor of Greater Manchester, spoke at the festival's official opening event on Monday morning in MediaCity, saying this year's festival is "about the new world we're coming into".
Martyn Collins, Festival Director, opened last night's Leaders' Reception with acknowledgement to the range of local, national and international business delegations gathered at the Leaders' Reception; followed by Councillor Bev Craig, who welcomed industry figures new to the city, and longer-standing ones.
Craig, Leader of the City Council as well as lead for Education Skills, Work & Apprenticeships and Digital, said: "What we have in Greater Manchester has been a concerted effort to create a vibrant, exciting and world-leading ecosystem around digital and tech - an ecosystem that contributes over £5 billion every year to the Greater Manchester economy."
The city region has led the way, she said, "from VC investment, through to building skills in our children and young people, to attracting world-leading businesses to make Manchester their home.
"Many of the faces I see in the room are people who invest in our city, work in our city, and do business in our city. To some of the faces I don't recognise, I'm sure you will in the future once we've won you over."
Talking about the success that businesses can have in the city, it all comes down to Manchester's "fantastic, diverse talent pool to draw from," she added.
Everyone is committed to making Manchester an attractive place to live and work, but more can always be done to make the benefits available to every resident, she said. It's about "talking about the whole of Greater Manchester, what we bring as a city region, and what we offer people. Not just vibrant city centres and towns, but cutting-edge places to live.
"Greater Manchester is built on simple principles - what we do for our people, how we grow our economy, and how we invest in our places.
"Digital, creative and tech is one of Greater Manchester's jewels in our crown."
Tim Newns, CEO of MIDAS, spoke next, introducing speakers from Berlin-based recruitment platform Zenjob and Roku, the streaming giant which in February revealed its intention to open a Manchester office.
Alastair McGeoch of Roku said that the organisation was looking at ways to serve more customers globally, which is what has brought the company to Manchester as they look to source the best talent.
"When it came to Manchester, considering the rich engineering history and the cultural impact that the city's had globally, it was an easy decision for us to make," he said, not to mention the network of digital innovators there.
To close, Darren Mitchell of Zenjob - which is in the process of setting itself up in the city - discussed their reasons for picking Manchester, citing its "thriving digital network" and community, as well as its student population as being the two motivating factors.
"We've got some pretty ambitious aims at the moment, but we know Manchester is the right place to be and the right place for us to make a mark in the UK," he concluded.
The Leaders' Reception preceded the beginning of Digital City Expo, which is taking place today and tomorrow (March 9th and 10th) at Manchester Central.
Cllr Bev Craig will also be appearing at the expo, with speakers also including figures from Microsoft, Google, Flight Story, UKBlackTech and New Look - see the full agenda. There's still time to register to attend, hear from speakers and meet leading digital businesses - click here to secure a spot.