17 May 2021
Foreman appointed as new Art Director at Chester's Clicky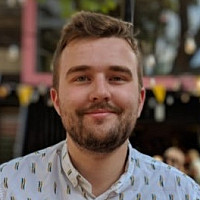 Digital agency Clicky Media has appointed Gregg Foreman as its new Art Director in order to support its plans for growth.
Foreman has more than 10 years' experience in marketing, and joins from Wirral brand design agency The Loft, where he was Design Director. He also held roles at Armstrong and ACC Liverpool.
He'll be responsible for driving creative strategy for Clicky's clients, whose clients include Pfizer, Raleigh and Huel. He'll also be focusing on Clicky's own branding to align with its five-year plan, enabling a brand repositioning including their recently relaunched website.
Laura Hothersall, Agency Director at Clicky, said: "We are thrilled to have Gregg join Clicky as Art Director. He will bring his creative philosophy, expanding our portfolio in line with our ambitious growth plans."
Gregg Foreman added: "I've joined Clicky at a really exciting time. I've been following them for a number of years but with their repositioning in the market it feels like the perfect time to join. I can't wait to get under the skin of the Clicky brand and get to know the team and all our clients."