09 December 2021
Where We Work: RecodeXR Studio, Manchester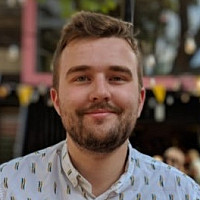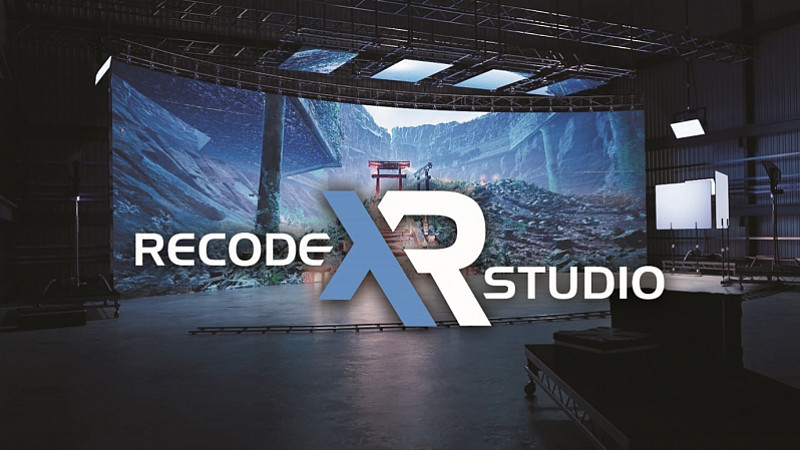 In June 2021, Manchester businesses SBS Audio Visual and Carbon Digital united to create RecodeXR, a new virtual production studio based in the Trafford Park area.
The studio opened its doors very recently, offering a new production pipeline intended to eliminate the need for travel or physical sets while being able to create scenes anywhere, both real-life and fantastical.
Event production specialists SBS and VFX agency Carbon Digital came together to offer a full-service facility, featuring a 16x4m, curved LED wall, along with further ceiling and front LED panels.
Sue McHugh, Production Manager, explained how the studio came about...
"It's a fantastic location. We moved to MediaCityUK back in 2012 and it's been amazing to see the area develop. I started my career back in 1996 working as an artist in the games industry, developing titles for Sony Computer Entertainment and Rage Software.
"I've always felt that the North West is the birthplace of games talent, there is just such a raw and passionate vibe here and it's been amazing to see the games-engine skills come full-circle and now being employed at the very highest level across film, broadcast and commercial work."
Gareth Turner, Managing Director of RecodeXR, also detailed the studio space's design...
"The space has evolved since we got together at the very start of the first lockdown. The entire studio has been remodelled twice to what you see today.
"Virtual Production is such unchartered territory we have had to remain flexible and be ready to upgrade panels, add lighting configurations and remodel the available space.
"The technical team here have been amazing; each project we work with brings new challenges to apply to this new pipeline and between us we have fine-tuned this to be a very comprehensive and effective space.
"We are well aware that we are persuading producers to cancel that trip to a Maldives beach and come shoot the same footage with us here at Trafford Park, so we knew we had to make the space comfortable and welcoming, as well as environmentally friendly."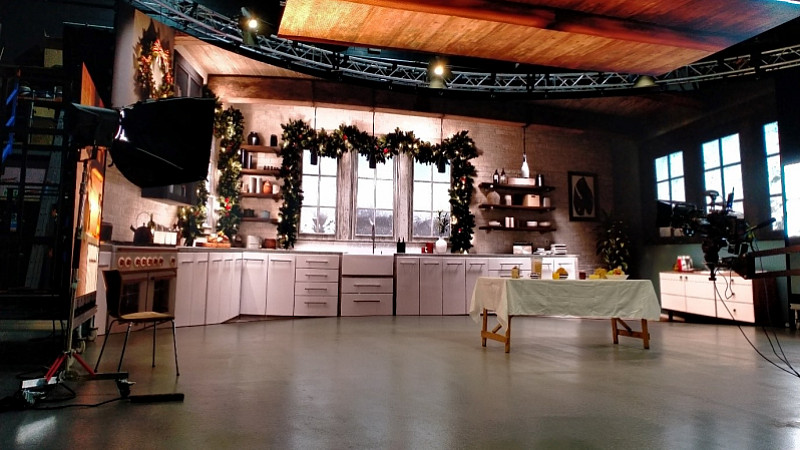 Where is it?
Unit 2, BEC Arena, Longbridge Road, Trafford Park, Manchester, M17 1SN
How big is it?
The studio space is around 5,000 square feet. The LED wall is 16x4m and 150-degree curved. Along with 8 square metres of moveable LED totems and ceiling panels, we offer 100 square metres of LED volume.
The all-important backstage facilities we offer include a large lounge area, seven multi-functional rooms for clients such as green rooms, dressing rooms and production offices, showers, and a large seated canteen. 
What happens there?
Magic! We produce content for a range of formats including commercials, film and broadcast via a sustainable new production pipeline.
Virtual production allows us to film almost anywhere you can imagine, right here in the studio. This offers incredible unrivalled carbon savings and big cost advantages too. As you can imagine, the creative possibilities we can now offer are pretty limitless.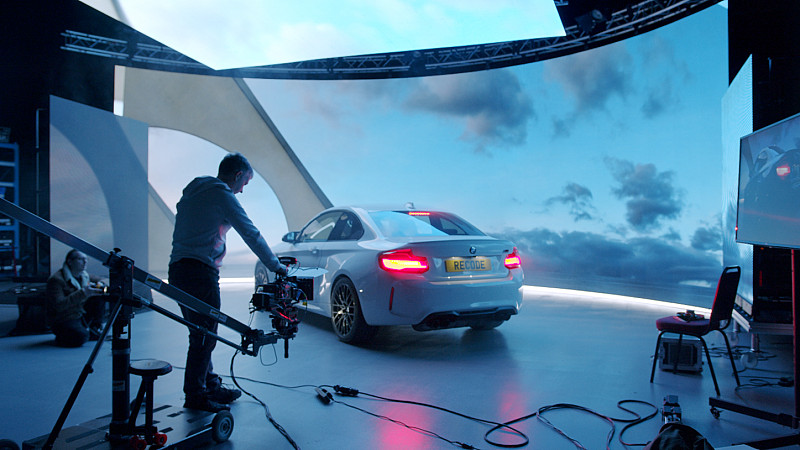 If you can imagine it, you can film it here. That in itself has been extremely exciting for us as a creative team and we have started to see how this is enabling our clients to win briefs based on exciting creative concepts.
Our production pipeline is carbon-costed at every step. We are affiliated with Adgreen and use their carbon calculator to measure everything from the food on our catered lunches to travelling crews, to sets and props. It's been extremely refreshing to save time, cash, carbon and sheer effort omitting physical sets on our shoots - no more destruction and disposal of scenery, and the next client can come straight in and start the next shoot.
What sort of work goes on?
We are learning every day just what is possible with virtual production. We tend to deliver projects to clients who have a commitment to a sustainability target or who want to produce exciting content without the huge travel budget.
This can be television commercials looking for outstanding creative, drama shots requiring a very specific backdrop to their scene, product demo videos requiring multiple versions of environment for several territories, or games trailers looking to push the boundaries of what they can bring to their latest release.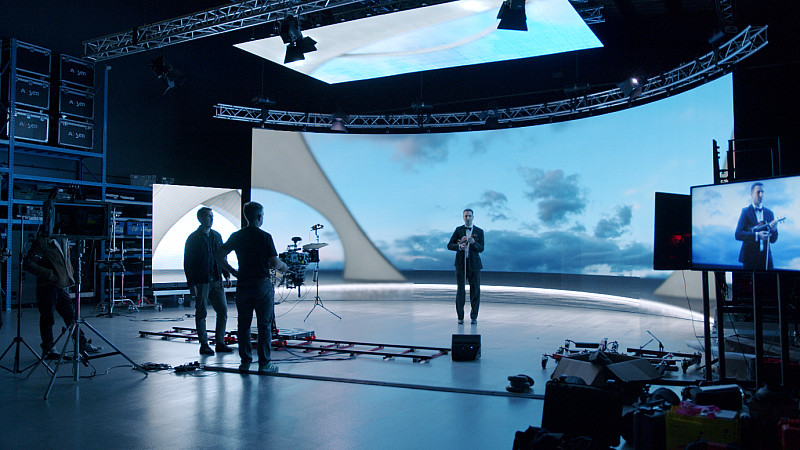 Why is the workplace appropriate?
Space and location have been really key. Everyone knows where we are and it's so easy to get to. We've obviously needed a fair amount of studio space which we have, but the addition of the backstage facilities has proved important to our clients.
We love the new green rooms and the catering space has meant that productions run really smoothly. It's been the first time in many years we've finished shooting early and had time to check and double-check shots with time to spare. The production pipeline means most of the work is done up-front before we roll any cameras on shoot day, so it's been a lot less stressful and easier to manage.
On the flipside, the physical location is also becoming less important, with some of our clients never visiting us! Productions can be remotely accessed from anywhere in the world.
We also have a client who has disabled all staff travel to shoots, so we were able to offer remote access to live shoots - which has been amazing.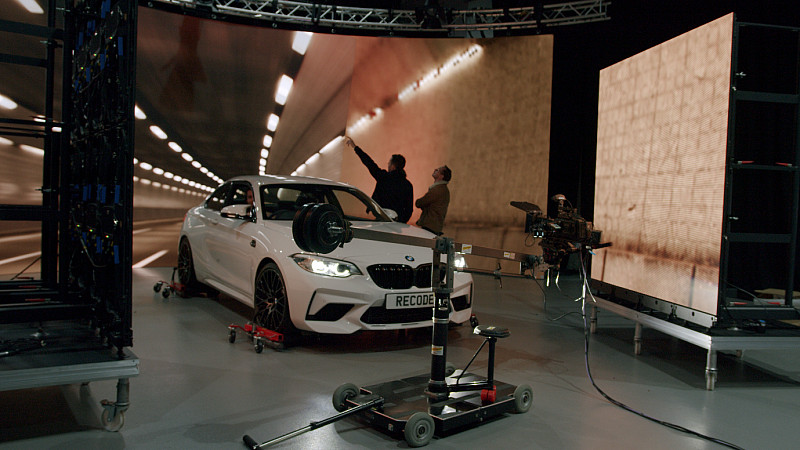 Who works there?
Our RecodeXR team is currently 10 permanent staff. We now work almost entirely from the studio space but our artists also spend time at home developing the visual content for shoots.
The management team consists of co-directors Gareth Turner and Paul McHugh, alongside Sue McHugh who oversees productions and the team. Our team are highly talented technical artists whose skills encompass the full studio pipeline and content creation.
We don't feel we have a big hierarchy within the team with each member really getting involved at every level on each project - we really do appreciate each and every one of them.
We do have a little fun, it's just been so exciting to open up this new creative toolkit. We always work within the boundaries of what is possible within any given budget and even the laws of physics, but using virtual production really has bust those limitations and restrictions wide open for us!