07 January 2021
Where I WFH: Simon Owen, Managing Director, Standby Productions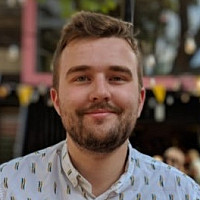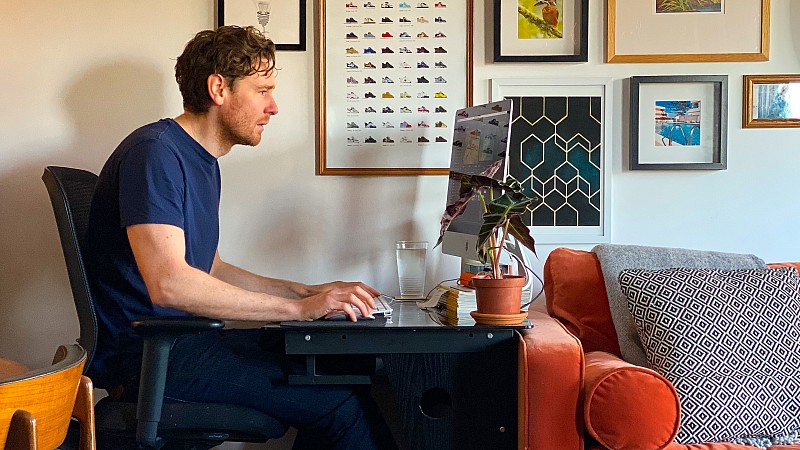 Standby Productions is a well-known video production company in Manchester which works with leading names like British Cycling, Land Rover, and Apple.
It creates striking and polished commercial, corporate and social content, including TV ads, high-end showreels, and online event coverage.
The company grew out of Simon Owen's hobby, having founded it originally in his spare bedroom. It's been nearly 10 years, and now things have come somewhat full circle. We asked Simon what his current home-working setup looks like now the majority of the creative industry has moved to remote work.
Where in the house do you work?
I mostly work from a little desk I brought back from our office, which is in my open-plan living room. I also brought my office chair back, so I'm sat 'properly' - being tall I have a tendency to get a bad back. However, the view from my iMac's webcam looks into my kitchen, so I move to my sofa for the many, many, many Zoom meetings I have for better light and a cleaner background, in every sense of the word!
Paint a picture for us of the view from your window.
I've gone a bit bird-mad and set up bird feeders at my window to encourage them to hang out there. It's great watching them flit about and gives me something interesting to look at. I'm into wildlife filmmaking and photography so have been getting my camera out a lot at home this year, just from my desk - I even managed to spot bullfinches (above) and a woodpecker here in West Didsbury.
Talk us through your home-working daily routine.
I've got it nailed, having worked from home since the end of March. I get up at about 7am and workout using the PUMATRAC app (which I was recommended by ex-personal trainer Rich, New Business Manager at Standby). It's like a personal trainer on your phone with tonnes of different video workouts to try. 
A quick shower, then I'm at my desk or onto meetings to crack on with the day by about 9am. I'll wander down to Another Heart to Feed in West Didsbury for a decent coffee at 11am to take away and continue my day. In the evenings, I'll play tennis (when we've been allowed), but to be honest some of my best work happens in the evening, especially editing and creativity - I don't know why, it's just how I operate - so I'll work some evenings too.
Which tools and technology do you rely on when working from home?
I think WhatsApp has been a big change when communicating with clients and the crew. I've always used it personally, but not so much for work.
I've been part of so many helpful groups (shout out to our accountants, Paul Barnes at My Accountancy Place, for a brilliant one!) with people in a similar boat or business coaching groups. I feel that people have become more personable during the pandemic, as it's brought us together and everyone seems to share more either about their situation or their business.
Other than that, it's been quite cool seeing what's possible from home - the early part saw me delivering TV content from home for Cotton Traders' sponsored idents on Downton Abbey. It was cracking watching them and thinking what we'd achieved.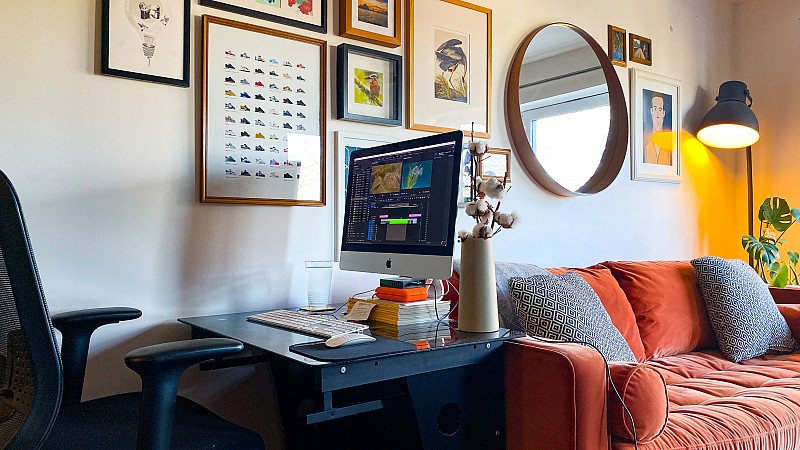 What do you miss most about working from an office?
The crew, 100%. Having them around and feeling part of a team is something I thrive on, so it's been tricky to navigate such a demanding and difficult time when feeling so isolated, despite Zoom, Whatsapp, etc. It's just not the same.
We've got such a positive culture that it's more like a group of friends getting together to work than it is anything else. I also love Ancoats where our office is. We moved there over five years ago and the developments we've seen on our doorstep have been unbelievable.
To not have them nearby is quite sad really and I've got to admit, I do really miss the coffee shops - Ancoats Coffee and Trove used to support my working days for sustenance or meetings - and the bars and restaurants. 
What tips do you have for increasing productivity while working from home?
This is actually quite a tricky one for me, as I've genuinely struggled with this at times. Establishing a routine and starting my day as it used to with exercise is vital to my working day, I've learnt. I've massively enjoyed the flexibility and being able to work how and when I want to. 
I think, and hope, that the nine-to-five is a thing of the past, as I've always thought it was archaic and isn't something I've ever instilled at Standby, but it just kind of happened naturally.
I've tried to stick to how I work from the office really - which is to set myself three main tasks for the day. Any more than that can seem daunting or demoralising if I don't get through everything. If I manage more than that, then it's a bonus and helps with keeping positive and motivated! 
Will you look to work from home more in the future?
I honestly can't see us ever going back to the old way of working from the office all the time. We'll definitely keep it, but I've come to realise that previously I started my day with a feeling of hurry and stress - always rushing to the gym or the office and battling through traffic to get there. 
Taking that initial stress out of my day has made my mornings and days far more relaxed and enjoyable… it's fair to say I'm not a morning person! Working a few days or mornings at home and then a few in the office strikes a good balance. 
How do you think the workplace will change in the future?
I think workplaces will still be required, as a place to galvanise and work creatively with teams and clients. The whole concept will be far more flexible to suit people's personal needs and requirements, rather than the other way around. 
I'd love to think that we won't go back to old habits of working like bots, where work is the number-one priority in life. A return to business as usual shouldn't be a return to the past. 
To give one example, there's been a 65% reduction in road traffic since the world stopped in March, which is great news for the climate crisis. It's given us an opportunity to pause and re-establish what's important, with more people enjoying being outdoors. I've decided to build this greater appreciation into our business model, donating £10 from every production to The Wildlife Trusts Manchester, Lancashire and North Merseyside.
It would be very sad if we didn't collectively take this opportunity to change bad habits and come back better, whether that's as a greater sense of community, helping the environment, or being healthier. I've seen so many people get fit during the pandemic.
Even Peter, the FD at Standby, who's 70 years old, decided that if he got fit, he'd have a better chance surviving COVID-19 should he get it. So he started running and now he's done his first 10km in just over an hour - not bad for an old guy (he won't thank me for saying that)!