02 November 2020
A Week in My Life: Kieran Edwards, Creative Director, Dead Pixel Films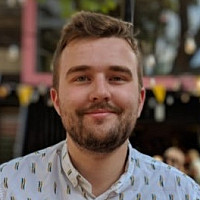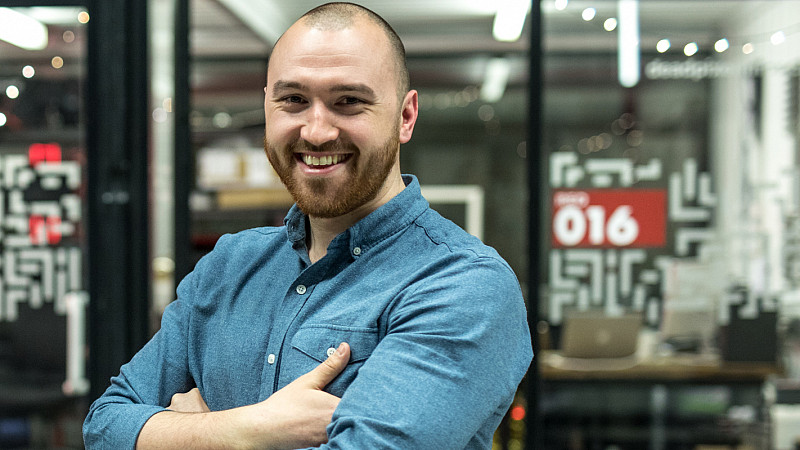 Kieran leads the creative side of things at Dead Pixel Films, the video production company which works with high-profile brands like ASDA, Heck Sausages, Yo! and Superdry.
Based in Manchester, Dead Pixel Films produces solely visual content for agencies and brands, creating content in-studio, on location and outdoors to make striking and unforgettable content. Mainly working with sports, food and lifestyle brands, their videos appear across social, OOH, and point of sale.
The company was founded in 2017 and is owned and run by Kieran and Cal, two experienced filmmakers who have taken the production house from strength to strength.
Here's what a week in Creative Director Kieran's working life looks like - it's a busy one...
Monday
This week, Monday morning starts with a 7:45am alarm (snoozed for 10 minutes), followed by a bagel and coffee in the kitchen - I work better on more sleep and am often up much earlier when on set, so I won't pretend that I get up at the crack of dawn when I don't have to.
I try to avoid the traffic by heading into the office really early or arriving between 9:30am and 10am (we're big on being flexible when we can, and I prefer to work later). Today is the latter - so I jump on my laptop with breakfast and take the time to go over my schedule for the week and send a few emails. I like to group quick tasks together and get them out of the way in small sprints; it stops me procrastinating later on.
I arrive at the office with the best greeting you can imagine. My business partner Cal's labrador, Freddie, is always happy to see you walk through the door and never forgets to let you know it. It's the best way to start the day (and we get it every day!). 
The rest of morning is spent joining two new business calls and working on a creative treatment, followed by a quick run-through of Wednesday's shot list and script with the team.
After lunch, Cal and I run through our pipeline and cashflow (extremely important with the way the world is at the moment) before debriefing on Friday's foodie shoot that we did near Surrey. It was a late finish, so it's good to sleep on it over the weekend and then form a plan for the post-production today.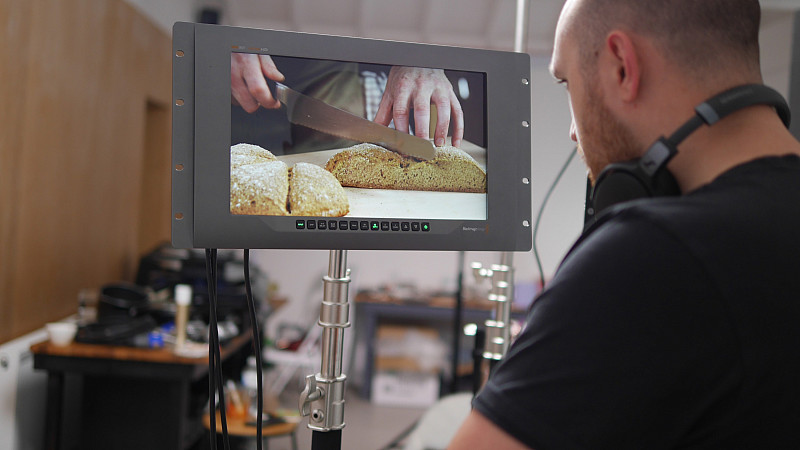 Things finish with a drive around the city to film some pickups. We need a few establishing shots of Manchester for a project we're working on and had to be flexible with the weather forecast this week. Today's perfect, so we drive around the city at golden hour and head to a few of our secret spots that have the best skyline views. 
Tuesday
Today was a prime example of me wearing my two main hats - Director and Producer. Aside from the business operations, I'm still very hands-on and those roles are where I like to be busy. 
First up, it's pre-production for a shoot we're doing in a few weeks' time. I spend an hour and a half going over the logistics, booking hotels, and organising timings for the additional crew that we're bringing in (stylist and make-up artist).
Cal is our in-house Director of Photography, so cameras and lighting is where he takes the lead, but it's very much a collaborative effort when it comes to the creative process. The majority of the day is then spent running through my vision for a production that we've just had costs signed off on, talking through storyboards and figuring out the best way of capturing it.
Wednesday
A full day on set today with a new client to shoot a home interiors brand film. The concept is something that I've been working on for weeks and combines both stop-motion and live-action footage to showcase over 25 products in 30 seconds. 
Apart from some questionable Spotify playlists, it was a very good day. We had a small crew consisting of DOP, stylist, model and director (me). Due to the stop-motion elements, it was vital that the lighting stayed consistent throughout the day and not a single product moved (1mm of movement and we'd have to start again!) but all seems to have gone smoothly. 
I was very excited to work on this one and am now even more excited to see the edits - the plural being key here as most of our work is based on delivering multiple assets at different aspect ratios, as opposed to just one main video.
Thursday
Feel very lucky to have another busy day in the office. We're based in The Sharp Project and it's a great space to fuel creativity (plus all of the studio spaces we have access to). 
My morning consists of finalising and sending out two very different quotes. One is a simple product shoot and edit, all fulfilled by our in-house team. The second is slightly more complex and involves casting, a set build and props styling - so that involves a couple more phone calls with our specialist partners to run through the brief in more detail.
It's then a quick trip to see a client and do a site recce. This gives us a better sense of what we have to work with on an upcoming shoot. 
Back to the office and it's straight onto reviewing the first draft of our latest complete project that Millie - our editor - has been working through this week. We make a few tweaks to the grade in order to fit the brand guidelines then send over for feedback. Our team has a very collaborative approach to the post-production stage and I really enjoy getting together, dimming the lights and cranking the speakers for that first viewing.
I also receive the news that a new client has approved a quote and given us the go-ahead. Cal is out filming today on another project we have going on, so Freddie and I do a little dance and he gets a treat. We're lucky enough to focus on shooting content that we're passionate about, so we still get very excited when a shoot gets booked in. I think it's important to keep that enthusiasm.
Friday
Another day on set, this time filming sports content. 
We arrive earlier to rig up, prep the kit and get a planning meeting in that we've struggled to diarise this week. We try to keep on top of our own development and we're looking at ways to streamline our workflow for in-house marketing teams that need quick-turnaround assets for Instagram stories, in-store screens and reactive paid ads, etc.
Cal has a thing for buying new toys, so today we're putting our underwater camera housing to use for a few frames needed in the swimming pool. We often get asked things like "can you stick a GoPro in there?" We can, but we'd rather go one step further and use our 'big' cameras. It allows us to get more creative with the shots, have more control over the lighting, and keep a degree of continuity between the quality of image on the underwater shots and the rest of the video. In to the pool we go (by we I mean Cal).
There's a lot to get through, but the models we casted for this are great and made our jobs a lot easier. We capture everything we need on the shoot, wrap it up and head back to the office to drop the kit off.
The week then finishes with a game of table tennis and debrief on the week, before driving back home to open a bottle of wine and spend the evening looking at puppies on the Pets4Homes app - it's happening!