03 October 2019
The pressure is rising for UK retailers - and here's why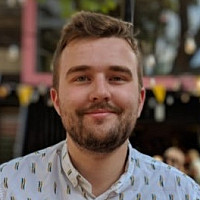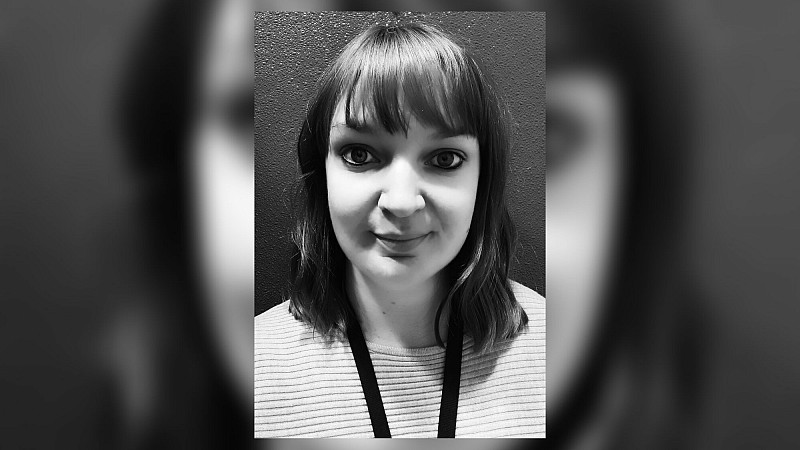 Isabel Hughes, Marketing Manager at SalesOptimize, presents recent research on the state of eCommerce in the UK. With Brexit on its way, and the possibility of no-deal credible, retailers are at risk across the board.
There are 17,500,000 websites registered in the UK; however, only 1,800,000 (10%) of these sites are active and just 28% of those (509,000) are eCommerce enabled (taking payments online).
This might seem surprising, considering that the UK remains the third-largest eCommerce market in the world (China and the US taking first and second place respectively). Despite this, the UK is considered a 'technologically savvy' nation, with 91% of adults using the Internet so far in 2019, and nearly half of the 75-plus population being recent Internet users also. In 2015, the UK was also deemed the fourth most technologically advanced country in the world.
The UK eCommerce market is currently valued at £74 billion, and of the 509,000 websites that accept payments online, 268,000 (53%) are also shipping physical products. SalesOptimize has analysed these 268,000 websites based on shipping terms, and uncovered the following information.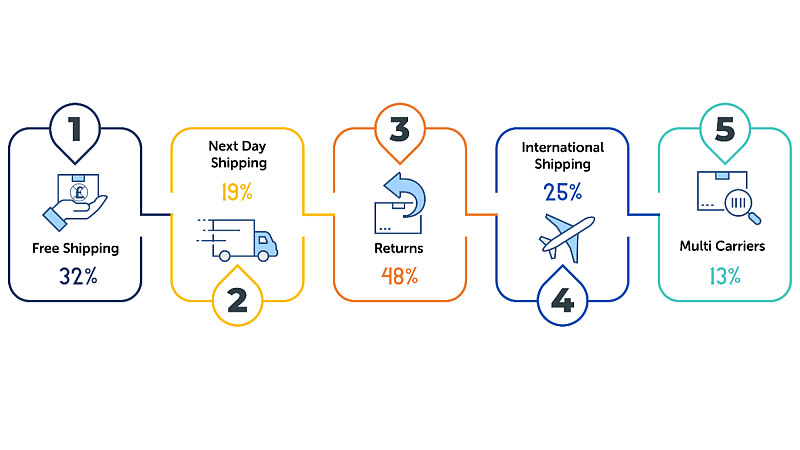 Only 19% of UK retailers offer Same or Next Day Shipping
Just one-third of UK eCommerce merchants offer free shipping to customers, and only 19% offer next-day delivery. This causes speculation over their ability to compete with online marketplace giant Amazon, which offers both free shipping and next-day delivery options to its Prime customers.
Amazon has also more than doubled its market share of the UK delivery market since 2013. This puts huge pressure on retailers to improve their service offering, particularly as 86% of the UK population uses Amazon to purchase products online, and high shipping costs are often deemed the number one reason for cart abandonment.
Based on an analysis of the 268,000 UK eCommerce merchants that both ship products and declare who their shipping provider is on their website, the top 10 companies that are currently winning in the parcel shipping market looks like this: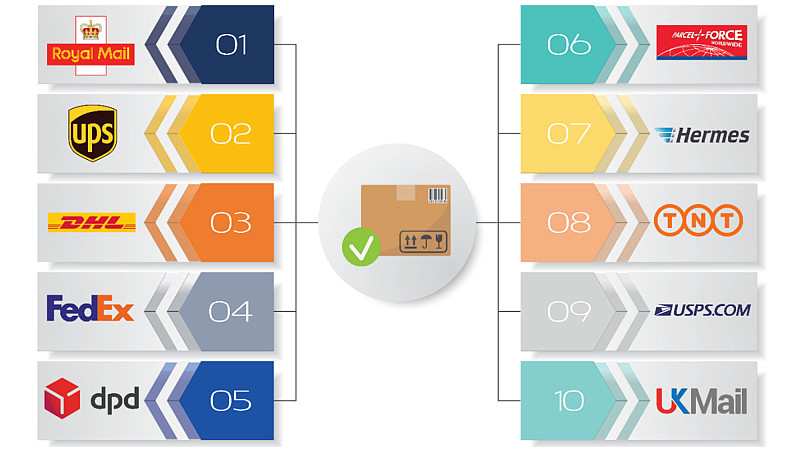 Many eCommerce merchants don't declare who its shipping provider is, and more than 50% of the 268,000 websites shipping products have an unspecified shipping carrier. Royal Mail accounts for 22% of this market, while the share is spread quite evenly among the rest.
PayPal is dominating the payment market 
The same can't be said for the payments industry however, as PayPal controls almost 87% of the entire market (based on an analysis of 287,000 websites where a merchant has declared who they process payments with).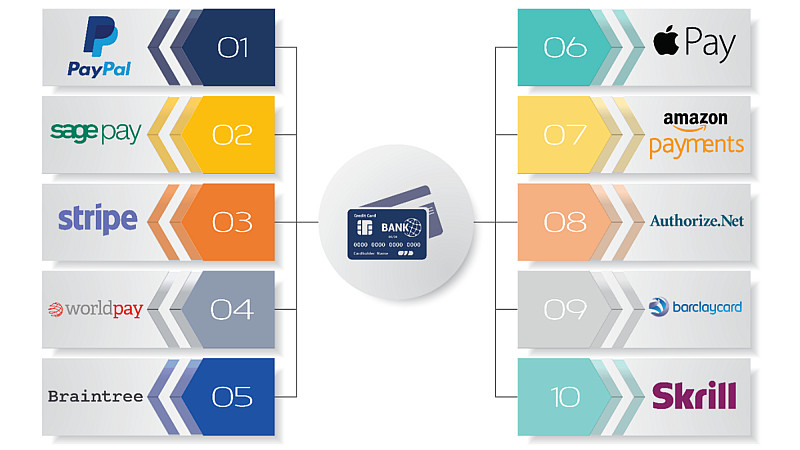 According to a recent WorldPay report, eWallet is set to overtake credit and debit cards as the most popular eCommerce payment method by 2022, by at least 10% - this is unsurprising, as eWallet usage is increasing by an average of 140 million users year-on-year.
The UK is the world's third-largest mobile commerce/eWallet market, with 5% of all point-of-sale transactions coming from a digital wallet. This means that eCommerce merchants must consider eWallet as a payment method in their business strategy for success. 
Fashion was the biggest eCommerce segment in 2018, worth £17 billion - this is expected to grow 41% by 2023.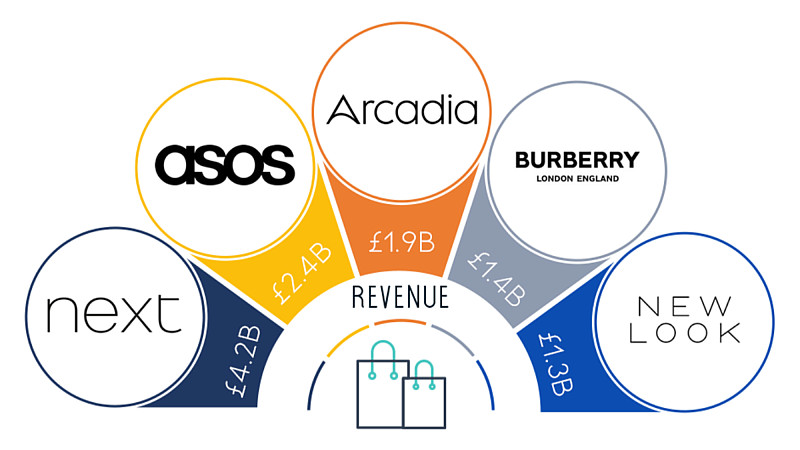 Fashion is Thriving
Retailers invariably don't declare a breakdown between their online and instore revenue, making it difficult to precisely determine the biggest players in terms of eCommerce sales.
However, as ASOS has no physical presence, we know that its £2 billion online turnover is accurate - it's likely that it is in fact the biggest player in eCommerce fashion within the UK. The pressure is certainly on for retailers to improve their online presence; in 2018 Next experienced an 8% slump in sales, but it also saw a 4.7% increase in the number of shoppers going online (which accounted for more than half of its turnover).
Similarly, Arcadia suffered a loss of £505 million in 2018, and is now focusing its efforts to expand online - the company has recently partnered with eCommerce retailer Shop Direct to list Topshop and Topman brands for the first time to help compete with ASOS, Next and others.
The Pressure is on for Retailers
2020 will certainly be a challenging year for retailers. Already, there's been a decrease in consumer confidence, according to market intelligence company GFK. Since the Brexit referendum we have witnessed a long succession of negative confidence scores with the overall trend downwards.  
Confidence is an important indicator which typically increases as the economy expands and decreases when the economy contracts. The UK certainly has a long way to go to match the record low Index score of -39 witnessed during the early days of the last recession. If a hard Brexit happens, which is looking more and more likely, then the UK may well enter into a protracted and long recession.
Major chains including Karen Millen, Jack Wills, Bathstore, Patisserie Valerie and Debenhams have gone into administration this year after the collapse of House of Fraser, Evans Cycles, Maplin and Poundworld in 2018. Some of those chains are still in business, taken over by new operators after their collapse, but have closed physical stores.
Many other retailers, including Topshop owner Arcadia, Monsoon, New Look, Carpetright and Homebase have been forced to seek legal agreements with their landlords to shut stores and slash their rent bills to stave off insolvency. 
The biggest threat to the UK eCommerce market in 2020 is Brexit, with European and worldwide buyers moving their purchases to other markets. With only a few weeks to go, it is still uncertain whether the UK will exit with a deal or not, and potentially another extension.