The Covid pandemic hit the live music industry hard. Gigs were cancelled and music lovers were no longer able to connect with like-minded strangers over their favourite bands.
It was an isolating experience for many music fans, especially for the founder of new Liverpool start-up app GigMate.
"I'm quite open and honest, it hit me hard. I was diagnosed with severe depression and anxiety through that period and I know that it was really tough for a lot of people," Rob March tells Prolific North.
"Looking back, not having that personal release at live events or having that connective community experience was a contributing factor to how I was feeling. I can see that now."
According to research by the British Red Cross, around nine million people in the UK say they feel lonely. After founding GigMate in 2022, March is on a mission to tackle this through his new app by pairing music fans together so they can attend live events.
"Loneliness is a huge societal issue. But it could be as simple as your gig mate at the moment is your partner, they don't really want to go but they end up being your plus one because you haven't got anyone else.
"After Covid, so many gigs were rescheduled and moved around. We were on our toes all the time. When gigs came back, all the tickets had been swapped around so many times I would end up going with groups of strangers.
"This was a time when I was still recovering from those mental health challenges but I could go to the pub, spend a few hours with these people that I didn't know, but we had that connection through music.
"I thought there is definitely something here to be able to offer people the opportunity to connect. Music is such a passion point – the music you're into is just the ultimate icebreaker."
Although it's still early days, the app has already been nominated for a number of accolades including the Tech for Good Award at Prolific North's Tech Awards.
"I'm trying to create a one-stop shop with GigMate. It's a gig-listing service, we're building a community that you can engage with like-minded music fans, and it's a platonic matching service to find new people to go to gigs with."
"I brought Iggy Pop to Chester": The switch from marketing to tech and how the app works
Now a self-professed "mature entrepreneur", March has previously held a number of senior roles across marketing and events.
Starting out in direct mail working at Empire Stores, a former major home shopping catalogue in Yorkshire, he is now proudly an "adopted Scouser" after making the move 20 years ago to Liverpool to work for Iceland. On the marketing team there, he worked on the first online delivery service before other major supermarkets: "We were a massive pioneer for that switch over to online ordering."
He moved onto Liverpool City Council, when the city was named European Capital of Culture in 2008, and then Chester Racecourse, where he was able to blend his passion for live events with marketing.
"My biggest claim to fame is I led the first two-day festival at the racehorse site called Chester Rocks and I brought Iggy Pop to Chester," he laughs.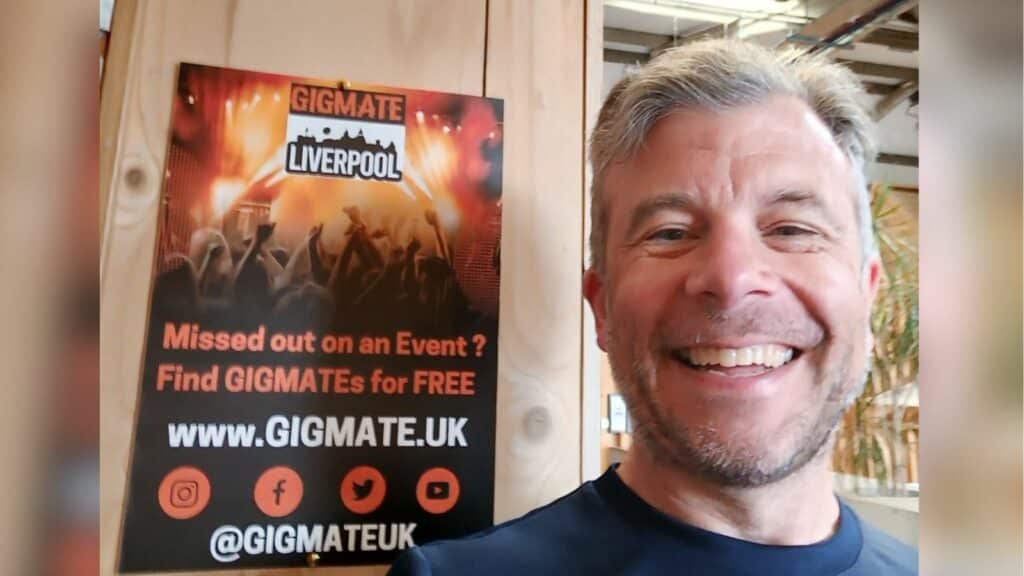 "Saturday was a pop day and Sunday was more of an indie rock day. I don't quite remember what happened but they left it to me to programme the Sunday. Iggy Pop closed with Leftfield, which was phenomenal!"
After a number of other roles, including stints at the likes of ACC Liverpool which was a "dream job", he was headhunted once again by Chester Racecourse for a commercial director role. But within three weeks of starting, Covid hit.
"Obviously that was a crushing blow for the whole events and hospitality industry and still continues to be. It hasn't gone back to pre-Covid levels. From a personal view, I realised quite quickly how important live events were to me and how cathartic they were.
"Whether it was The Prodigy or Leftfield, getting a couple of hours to myself is kind of my yoga. My chill out opportunity was just taken away."
When he came to developing the idea for GigMate, a few of his friends and former colleagues helped him to push out surveys so he could figure out if there was appetite for an app.
He says 85 to 90% of people reported they missing out on events because they didn't have anyone to go with, 95% were interested in a matching service with fellow fans, and 60% willing to pay a subscription fee.
But his breakthrough moment came when he was able to pitch GigMate during Lauren Laverne's Social Recall show on BBC Radio 6 last year, where fans pick songs that match important times in their lives.
"That was the biggest opportunity. Alongside picking my five songs live on the radio, it became a half an hour plug for GigMate," he explains. "I certainly didn't have a website at the time so I quickly built a holding page."
With lots of positive feedback from both Laverne and listeners, he soon had over 600 email subscriptions.
But as a solo founder bootstrapping the platform himself, over Christmas he realised he couldn't manage a UK-wide service alone.
He decided to set GigMate up in Liverpool to test the matching process, which he has run for six months with a number of events. After supportive testimonials from fans using the service, it soon evolved into an app.
But how does it work? "It's a really simple sign up process," he explains. "You select your age, gender, the music you're into and that sets your profile and you can then select your preference of age, gender, plus the group size. Then the algorithm will match you to that person or group of people."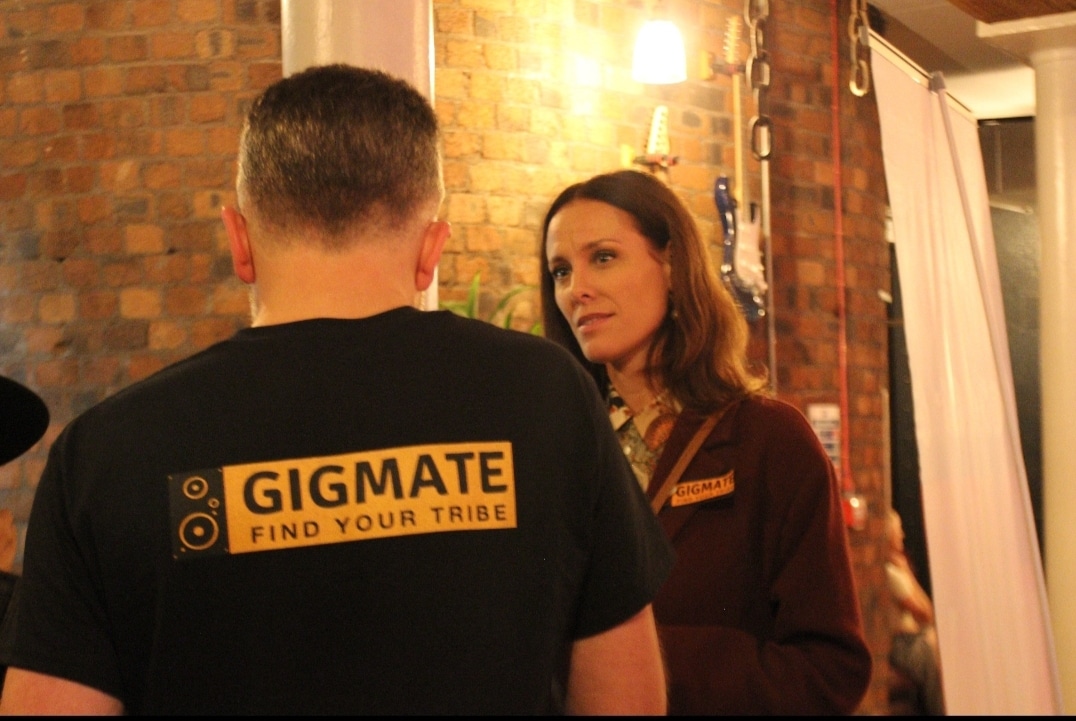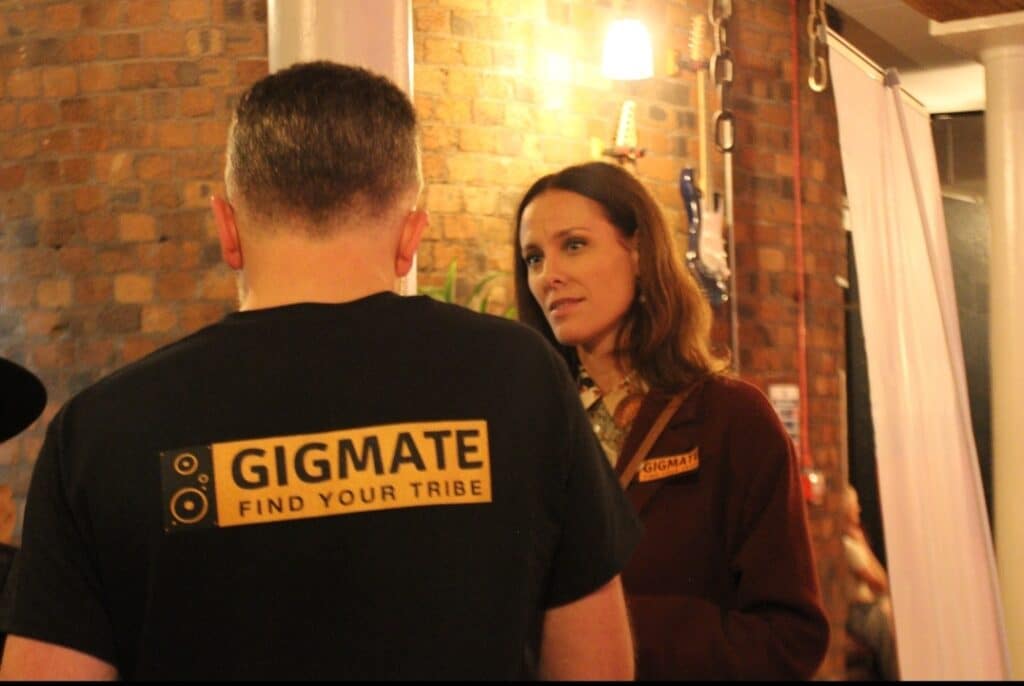 Users can then "find their tribe", where members can select their favourite genres of music anywhere from rock to folk, and build connections there.
Safeguarding fans through the app is a key priority too, as any concerns users may have with other users or messages can be flagged which will be picked up "straightaway".
"We want to make it as transparent as possible. We have online guidelines for users pre meeting up, such as arranging a FaceTime call, and in-person meeting guidelines with things such as making sure you meet in a public place and that people know where you are."
But he recognises there are still some issues: "It's not perfect but I keep going back to the fact that it still is an MVP. The massive step forward is that the app has a community at the heart of it."
"It's a big learning curve": The future for GigMate
Launching the app initially as a free service earlier this month, which is available across five cities including Brighton, Liverpool, Leeds, London and Manchester, he says there have already been hundreds of sign-ups.
"It has scaled up dramatically and there's been a hell of a lot of time put into it over the last three months. GigMate has gone from a website with some emails to an app."
He recently joined a NatWest Accelerator programme based in Manchester along with a cohort of 120 entrepreneurs and in May, the company won the What's Your Problem funding competition. But to continue scaling the app nationally, he says more investment is needed to develop more features and hire key staff to continue adding events and content.
"I'm quite new to this," he says. "It's a big learning curve."
"I'd like to see GigMate across the UK next year but that will need quite a lot of investment. That's what I'm bidding for. I'm probably putting about 30 hours a week of my own time into this completely unfunded so I recognise that's what's needed.
"There's around 100 gigs over five areas so I'm keen to up the volume of gigs and extend into more places. There's clearly demand but it just needs marketing fuel to drive that awareness and ultimately, that needs cash."
He's now taking "small steps" and hopes the app will not only tackle loneliness by bringing fans together over their love of music, but will also boost revenues for venues and musicians.
"I think there is a massive opportunity trying to engage with those people, even just for them to support the service. My first port of call for that is venues. If you can support GigMate as it grows, GigMate can generate more ticket sales and that, for me, is quite a simple commercial opportunity."