27 July 2021
Filming begins on Hollyoaks special for Channel 4's Black to Front day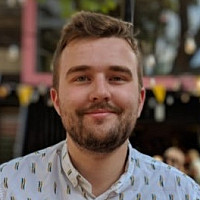 Filming has begun on an hour-long Hollyoaks special episode for Channel 4's Black to Front project, a day of programming showcasing Black talent in front of and behind the camera.
Broadcasting on September 10th, the episode is being directed by Patrick Robinson (pictured) and has been written by core team writer Thabo Mhlatshwa, with a storyline focused on the Deveraux family. It will feature Black and Black heritage characters from past, present and future.
A number of costumes for the episode have been sourced from Black retailers, with an original score by acclaimed London-based composer Bankey Ojo.
Five new cast members will also be joining the series as regulars following their appearance in the Black to Front special episode, while two Black guest stars have joined for the one-off event.
That day, Channel 4 will be airing programmes fronted and featuring Black talent and contributors to champion their voices and stories. Black to Front has been planned over the course of a year and is part of the channel's ongoing commitment to improving Black representation across the board.
The preceding episodes up to the broadcast on September 10th will be directed by Paulette Randall, the first Black woman to direct in the West End.
Patrick Robinson, who is also known for portraying Martin 'Ash' Ashford in Casualty, said: "I'm very excited to be directing this hour long special of Hollyoaks, featuring characters who share my background and heritage.
"Overstanding other people's cultures, I believe is one giant step towards an inclusive society and Drama is one of the best tools to do that. Music, Dance and Art also play a vital part in giving greater insight basically because we feel it…Heart, body and soul.
"Love is the theme of the episode, which I hope we can all relate to."
Kelle Bryan (pictured below), who plays Martine Deveraux in the drama, said: "This Black to Front episode is a celebration of family traditions, which have historically held Black families and Black communities together since migration. Our purpose is to make a meaningful contribution to the Black to Front tapestry aptly curated by Channel 4."