25 October 2021
£1.5m investment for ethical data pioneer to grow North East data science team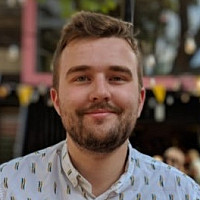 An ethical data platform focused on providing an alternative to tech giants' ad tracking techniques has raised £1.5 million in funding to build its global presence and expand its Newcastle team of data scientists.
CitizenMe, which is based in London, has recently opened a Newcastle office to enable it to tap into the city's digital talent and build a team of data scientists. It lets customers agree to share their data in exchange for payment or other incentives, with all information held securely on individuals' devices.
It has secured the funding from the North East Venture Fund (NEVF), supported by the European Regional Development Fund and managed by Mercia, alongside support from 1818 Capital and private investors.
CitizenMe intends to create around six new jobs in Newcastle in the coming year, and use the funding to develop its AI capabilities as well as growing its presence in the USA.
StJohn Deakins (pictured, right), Founder of CitizenMe, said: "CitizenMe enables people and brands to co-create better digital products and services. We are delighted that Mercia and 1818 share our belief in a sustainable digital future and our lead in the new Zero Data category."
Thea Tebble (pictured, centre) of Mercia added: "Growing concern about the use of personal data is creating demand for a new type of customer data technology.
"CitizenME offers a solution, enabling consumers to retain ownership of their personal data and companies to access it in an ethical way. The company is already ahead of the field and has huge potential for growth."