07 September 2021
Austrian AI specialist opens UK office at Sci-Tech Daresbury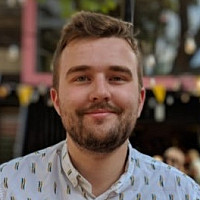 MymAInd, an Austrian healthtech firm utilising AI and algorithms to develop mental health support products and services, has chosen Sci-Tech Daresbury for its UK base.
The start-up, which was founded in Austria in 2017 under the name mindcoa.ch, will open its office in the innovation centre as it enters the process of developing a consumer-facing app, having completed a successful B2B web-based pilot project.
MymAInd is focused on using cutting-edge tech, including AI, to develop solutions supporting those with mental health problems -  working closely with public institutions, scientists, and private organisations to integrate the latest scientific findings and innovations into all its services.
Its app works by asking questions of users, before a second stage of clinical tests. If conclusions are urgently concerning, the app shares an emergency contact's details - otherwise, it offers a chat service for further support.
Mike Beer, founder of mymAInd, said: "We believe our app will go some way to addressing these issues in a way that is both anonymous and available 24 hours a day, 365 days a year.
"This is especially important given how the pandemic has further increased mental health problems for many and made access to help much more difficult. We truly believe our product can make a really big difference and will generate sustainable, positive benefits for society.
"We're confident the Innovation Centre at Sci-Tech Daresbury is the right home for us to develop our product further. In this dynamic environment, we have found the perfect infrastructure and the right network combined with a campus wide commitment to innovation that will help us scale up internationally."
John Downes, Chairman of Sci-Tech Daresbury, added: "We're confident that within our HealthTec Cluster and campus, mymAInd will be able to fulfill the potential of its ground-breaking proposition and improve that statistic. That success will have a hugely beneficial impact on society, and we look forward to supporting Mike and his team every step of the way."
Lord Grimstone, Minister for Investment, also said: "The UK is a world leader in tech, and this is driving innovation in key sectors like healthcare. The past year has shown the need for HealthTec solutions like mymAInd's and their decision to launch their UK base at Sci-Tech Daresbury shows the UK's strength in cutting edge HealthTec.
"I warmly welcome this Austrian firm to the Liverpool City Region and look forward to seeing its growth in the UK."