03 February 2021
New Yorkshire: Hull wearable tech firm Moodbeam on plans for a global 'happiness score'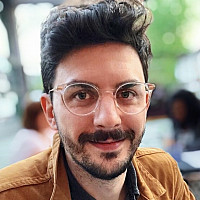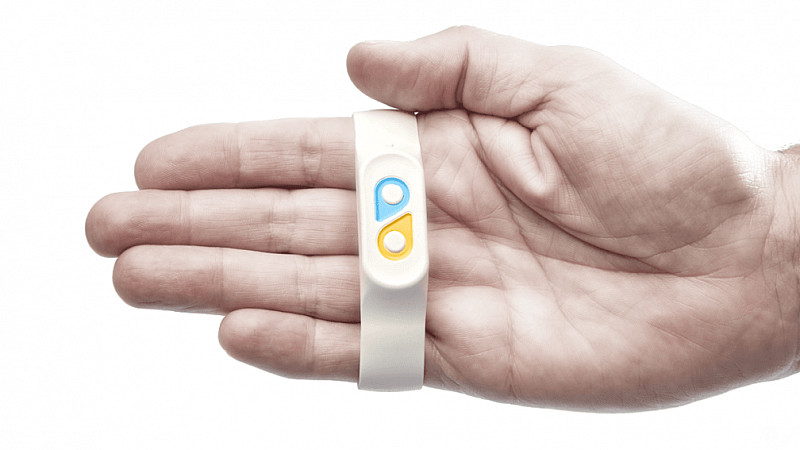 The Hull-based inventor of a wearable emotion tracker has revealed how the device, which began as a solution for her daughter, is set to become a new metric for happiness around the world. 
Inspired by her seven-year-old's struggle in school, Christina Colmer McHugh came up with the idea for the Moodbeam bracelet as a way to see her daughter's wellbeing 'live'. 
The former PR and journalist, originally from County Down, found that device had wider appeal with fellow parents, providing an easy way for children to log their emotions without the need for a smartphone or a complex emotional vocabulary. 
Originally featuring five buttons for a range of emotions, early tests with school children soon revealed that only two were needed. It was that initial test group of young students who picked yellow for happy, and blue for sad. 
Launched in 2016, the promise of the device has since found a wide range of new potential users, including adults, and the data collected from these devices is forming an increasingly important metric for people's emotional state.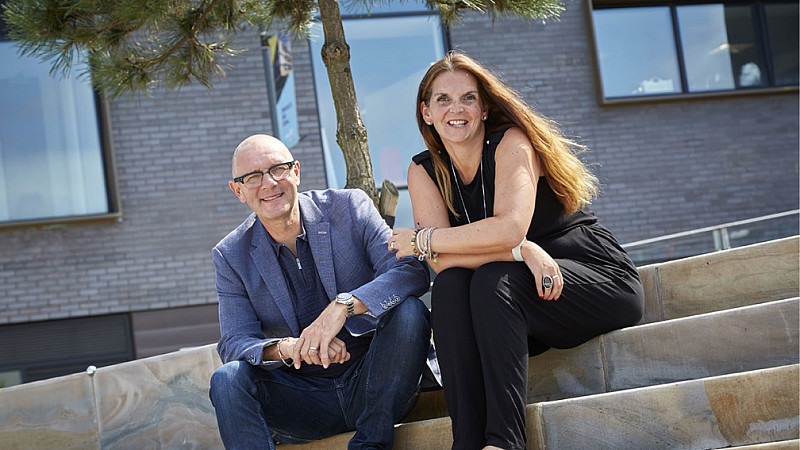 A business pivot
It was a year ago when the company took its then consumer-focussed wearable to world-renowned tech show CES, just weeks before COVID-19 struck. 
Soon after, with the monumental shift to home-working, the start-up began receiving interest from companies who were now left in the dark about their workforce's state of mind. 
The demand was such that the firm has now created a B2B arm, and is in the process of hiring new salespeople, accelerating app development and increasing manufacture of the wearable. 
"Instead of taking a year to do this we're going to have to do it in three months to meet the demand" she said. 
Its workplace offering sees the same two-buttoned wearable given to employees who opt-in, and a custom-built dashboard which collates the data for employers to track workplace motivation.  
Asked about the potential push-back for employees who felt they couldn't be honest with their employers, McHugh said the tech wasn't a "band-aid" for company culture. 
"It won't be for everybody, and we don't necessarily want to work with everybody. We want to work with organisations who know where this would be useful," McHugh, who is also co-founder and Director, told Prolific North. 
"This isn't Big Brother surveillance, it is the employee's Moodbeam, to be used as they see fit, and when they want to speak up." 
With a Data Protection Officer on the team, and a data sharing agreement issued before employees get hold of the device, McHugh stressed that the product has been designed to help employers find and fix potential issues, rather than adding unnecessary surveillance. 
"If you're generally of a certain demeanour, it's when that suddenly changes that you need to put a pin in it", she said. A diary option within the accompanying app allows users to explain a button press to add more context.  
The data aggregated from these companies also provides a near real-time look at overall employee wellbeing. 
It is with this data, and the increased adoption by businesses, that McHugh said the company now hopes to create an industry standard "happiness score".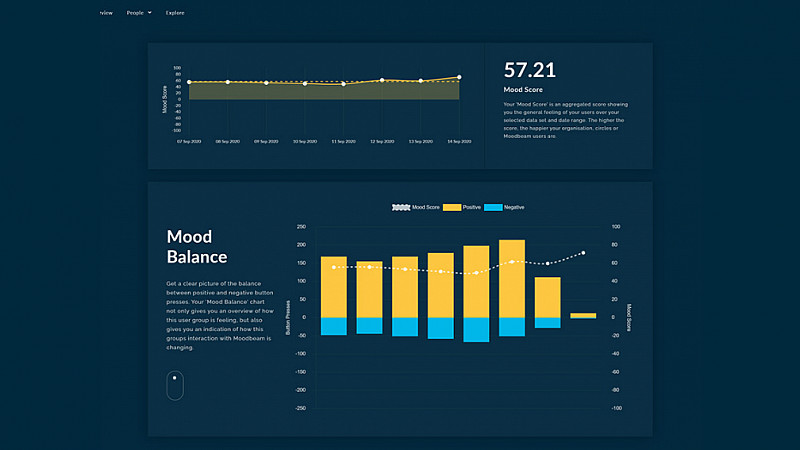 The Happiness Score
"Being able to tap a button and get on with whatever you are doing is a powerful thing," she said of the firm's wearable, which can now be worn on a lanyard for those who prefer. 
Uses of the tech now also include the construction industry, research into student happiness in lockdown, and even for the tracking of pain.
"We have had some really rich insight into people who have purchased one for pain logging," said McHugh.  
The company is in conversation with the NHS and private healthcare to assist with logging outside of the consultant's room. 
And while a physical product is ideal because it avoids smartphone distractions, with expansion into bigger businesses the logistics of a device for every employee isn't always possible. 
This is why the company is working on an in-app feature capable of acting as a virtual Moodbeam bracelet, allowing hundreds of employees to download and instantly start logging their mood. 
It is the data, rather than the device, which McHugh believes will power the next stage of acceleration.  
"For the next 12 to 18 months we are going to embed ourselves in work happiness," she said. 
Having recently featured on ITV's Loose Women and across 120 US news stations, international interest is booming, with firms from across the globe in contact about partnerships and re-selling. 
As part of the goal for a wider happiness index, the firm has also had discussions with UK county councils and those interested in tracking happiness outside of work. 
With enough users, predicts McHugh, "you could use Moodbeam as an API against the weather, a news story, a major incident, and collate the highs and lows". 
"Being able to say where, when and why you are happiest would be a very powerful thing," she said.