Taylors of Harrogate has unveiled a new visual identity and packaging across its tea and coffee range.
The new identity, created by global creative agency Pearlfisher, is based around the concept of "The Home of Extraordinary Flavour".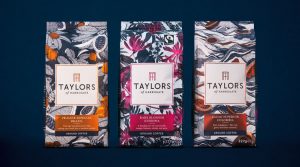 Part of the newly rebranded coffee range
The Yorkshire-based company's new identity mark – a lockup of the 'T' and 'H' to form a window – is inspired by the idea of "opening up a beautiful world of flavour, or peering into a space of revered expertise", the agency said.
And to emphasise the company's focus on "craftsmanship", Pearlfisher commissioned three different designers from all over to world to create hand-drawn illustrations for all of its packaging.
Dom Dwight, marketing director at Taylors of Harrogate, said: "The tea and coffee market is fast-moving and ever-changing – it's more important than ever for us to be bolder and brighter, demonstrating our creativity and craftsmanship through new taste experiences and beautiful, eye-catching packaging."
Its premium coffee range launched in March with the green teas and fruit and herbal infusions range following in July. The main coffee range will roll out from mid-August.
Taylors of Harrogate is part of the family-owned Bettys & Taylors Group which last year grew sales to over £160m.