18 May 2021
BBC Radio Manchester launches podcast on Arena bombing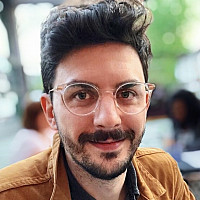 Survivors of the Manchester Arena bombing are the subject of a new podcast by BBC Radio Manchester.
Manchester Arena Bomb - Stories of Hope is a four-part series presented by Radio 1 presenter Katie Thistleton, which will be released on BBC Sounds today, ahead of the fourth anniversary of the bombing.
Twenty two lost their lives when a bomb exploded in the arena foyer moments after an Ariana Grande concert on 22 May 2017, but hundreds more were left injured and psychologically affected.
The podcast will hear from those affected, and tell the story of how they are forging new lives for themselves as part of their recovery.
The first episode will hear from Usman Ahmed, who was working his final shift as a steward when the bomb exploded. He shares the on-going impact on his mental health and the importance of his faith. 
As part of the podcast, Martin Hibbert, who suffered 22 shrapnel wounds which left him paralysed from the waist down, promises to help Ahmed. 
Since the attack, Hibbert has set up a survivors unit and is climbing Mount Kilimanjaro later this year with hopes of raising £1m for the Spinal Injuries Association.
BBC Radio Manchester was given exclusive access to the Arena for the second episode, which features Annette McNeil and her daughters Erin and Caitlin, who return there to read letters they have written to themselves describing their mental and emotional journey. 
The third episode centres around Millie Tomlinson who suffered shrapnel wounds and endures on-going struggles with her mental health. She meets Louise Murray, the sister of Martyn Hett, who was killed in the blast. 
Murray reveals how she became consumed with grief but is now moving forward and has found a new direction for her life by starting a business. 
Kate Squire, editor of BBC Radio Manchester, says: "This series is about bringing people together by sharing life-changing conversations that are powerful, honest and raw.
Katie Thistleton, presenter at Radio 1, added: "This podcast is one of the best things I've ever done, but also one of the hardest. It was difficult to hear about the victims' experiences, but also incredibly inspiring to see the strength and resilience of these wonderful people."