24 January 2020
Newsquest launches two new editions in Salford and Teesside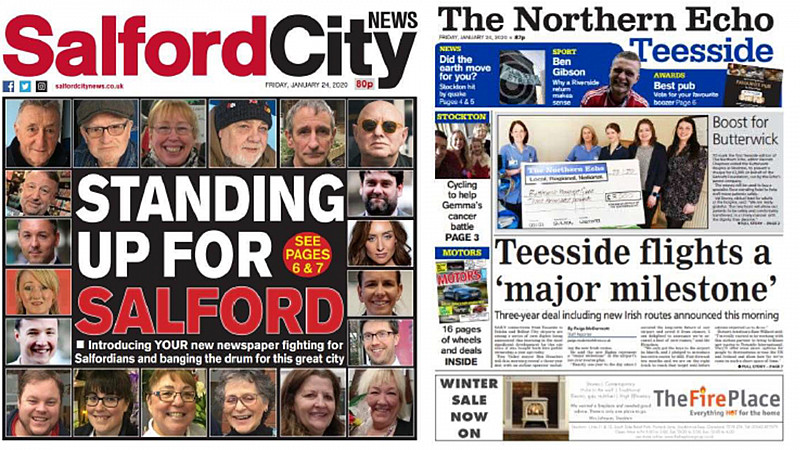 Newsquest has printed the first editions of new titles in Teesside and Salford, with a donation to a local hospice and promises to "stand up" for the local community.
In Greater Manchester, Salford City News features the splash: Standing up for Salford" promising to "fight for Salfordians" and "bang the drum for this great city."
Priced at 80p, the newspaper is edited by Karl Holbrook:
"It's been an absolute delight to launch this title. We've heard so much from people that they feel let down and ignored, so we thought it was right that we got in there to stand up for this great city," he said.
"Salford is a really vibrant place and it is undergoing rapid change. We want to be there to both mark that change but also stand up for the heritage, culture and people that already thrive in Salford."
He said that they "won't shy away from the hard, breaking news:"
"This week we've got all the breaking news you'd expect from a quality newspaper, including three big court cases, a tragic inquest and, by popular demand, our before-the-bench feature casts an eye on those who've been dealt with in courts."
The paper has also employed Adam Lord as Sports Editor and Simone Okane as Community Content Manager. Hannah Bargery will manage its online news, with Gus Sivyer in charge of photography.
The Northern Echo Teesside will focus on the boroughs of Stockton, Middlesbrough, Red Car and Cleveland and Hartlepool. It marked the first edition with the donation of £3k to a local hospice.
"We are really excited to launch the new edition," said Editor, Hannah Chapman.
"This is such an exciting time for Teesside, with a series of major projects in the pipeline which could bring massive economic boosts to the area. I regularly get asked by readers for more Teesside content, so taking the two things together, it seemed like a natural step to increase our coverage with this new edition. We're also boosting our online offering, so readers can find out all the latest news and information.
"There is so much potential in the area, with Middlesbrough as the unofficial capital of Teesside, but also in the towns of Stockton, Yarm, Redcar and Saltburn, that we're really looking forward to getting to the heart of the issues that matter in those communities."