Prolific North can today reveal a brand new Independent Agencies to Watch list, showcasing 15 fast-growing and rising agencies emerging from across the North's burgeoning agency ecosystem.
Sponsored by Verlingue and compiled by Prolific North's editorial team, the list was exclusively revealed at an event last night at Colony One Silk Street in Manchester to a room of talented leaders.
Although not definitive or a ranking, this list follows the success of Prolific North's inaugural Tech Companies event last year. The Independent Agencies to Watch list reveals just some of the incredible independent agencies doing phenomenal things whether it's a big focus on sustainability, soaring growth with revenue, staff or clients in just a year or two, or making waves with diversity.
At the evening event on the 14 September, attendees united to take a first look at the list, network and socialise, as well as hearing essential insights from industry leaders who've seen success with their own agencies.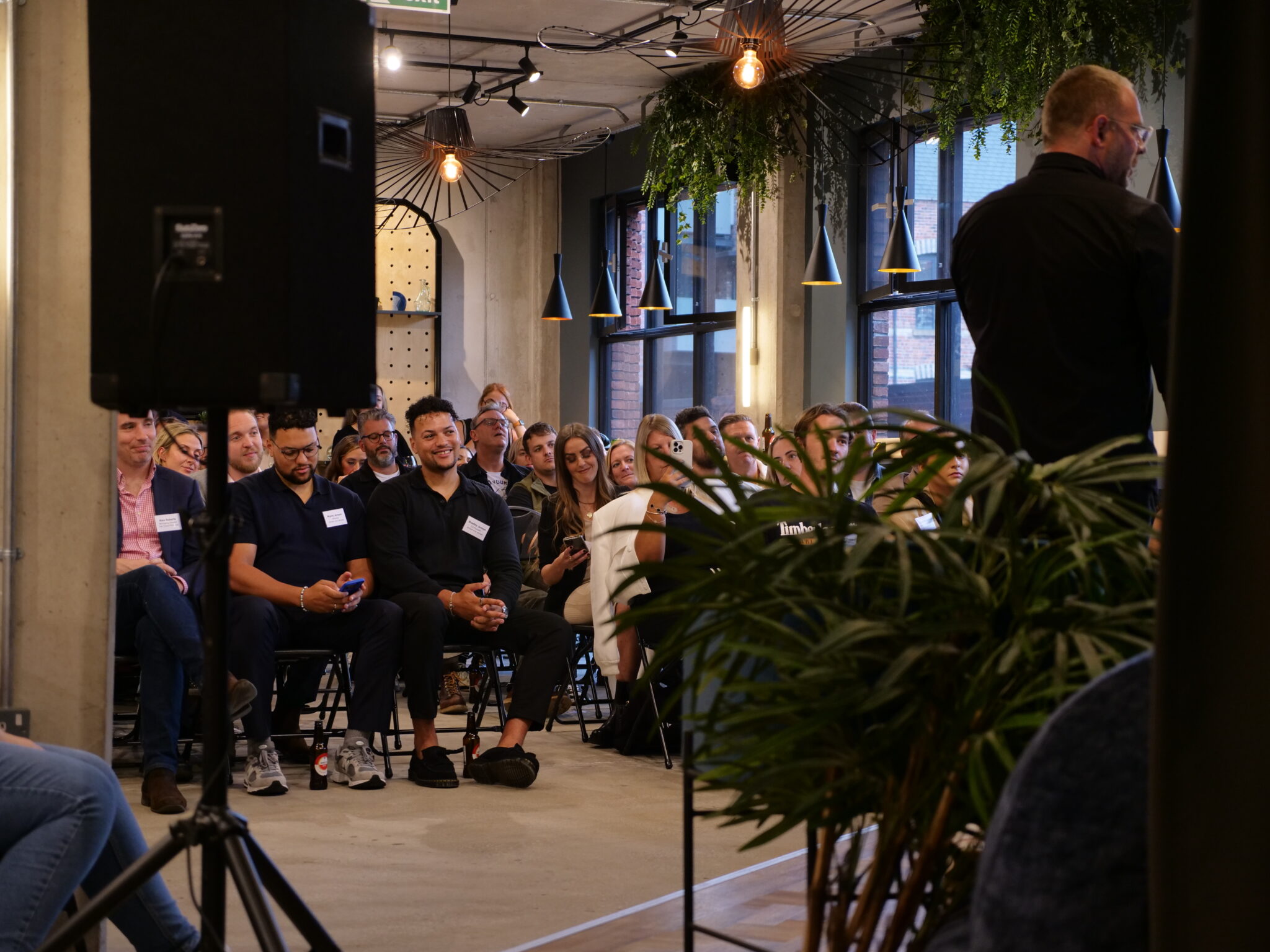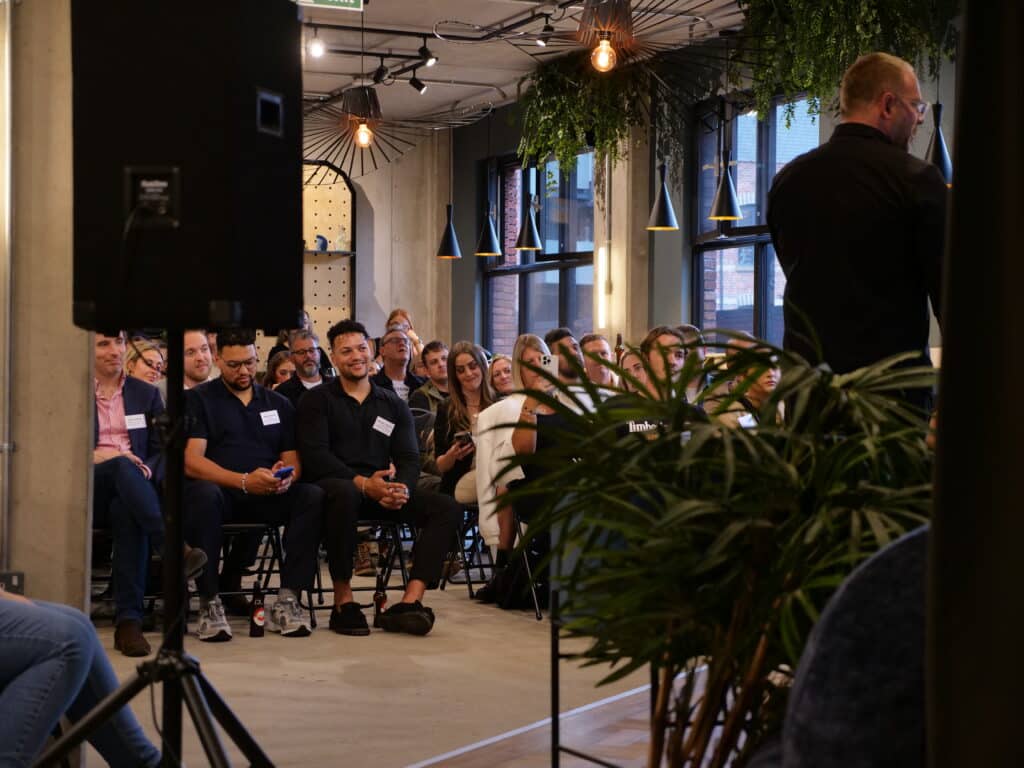 Guests heard from keynote speaker Dan Appleby, MD of Drummond Central and later, a panel of Independent Agencies, featuring Nick Howe, founder and CEO of Uniform Group; Mark Beaumont, founder and creative director at Dinosaur; and Rachel Taylor, client services director at tigerbond.
The event
The event kicked off with a welcome from Prolific North's editor David Prior followed by Michael Treasure, client director at insurance broker Verlingue. Earlier this year, Verlingue established a dedicated media practice to expand its presence in the independent media sector, headed up by Maia Olesen and Michael Treasure.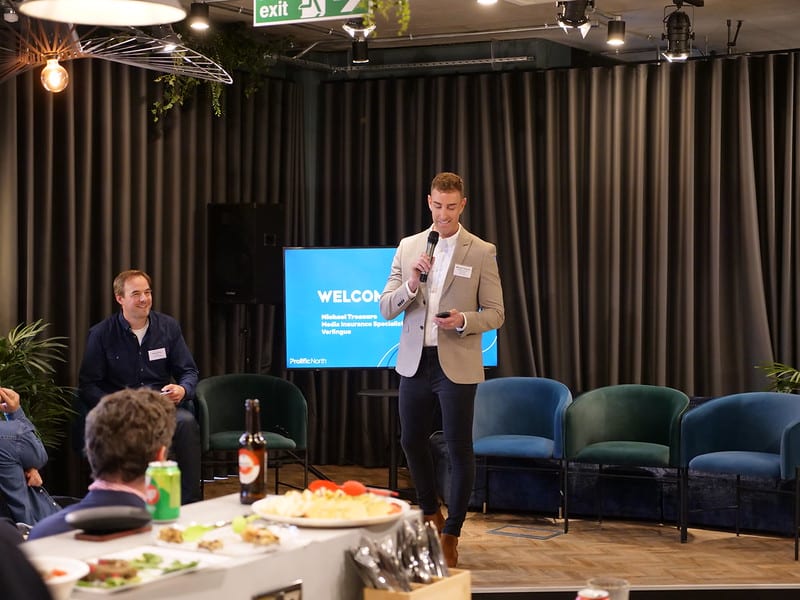 Dan Appleby then took to the stage, detailing how when he left London's agency scene 15 years ago, a senior leader once told him he would be committing "career suicide" by moving North. Now at the helm of Newcastle-based Drummond Central as managing director, he leads a team of around 60 staff with the team picking up plenty of awards along the way.
"I firmly believe there has never been a better time to be an independent agency," he added. "It's a brilliant space to be in. We get to work with some really exciting brands such as Greggs. To us, as an independent agency based in the North East, winning awards has been really helpful to showcase talent and work from the team."
Award schemes have become really important to help get the agency's work out there – especially outside of the North East. But despite the awards and successes, he reflected on the importance of addressing the agency's challenges along the way too.
"We have made loads of mistakes and continue to get things wrong," he said. "In the past, we have spent way more time on a client than we realised with a lot of time and money. We've tried to do stuff that we had no business doing and lost more pitches than we won."
Despite any initial challenges, independent agencies can "choose what we do with our business and how we run it". Five years ago, when he became MD, he put a plan in place to not only provide better work for clients, but to protect and develop talent through initiatives like workshops and one-to-ones. He firmly believes the key to winning clients is through creative work: "Creative gets them in the door, then it's the people that keep clients".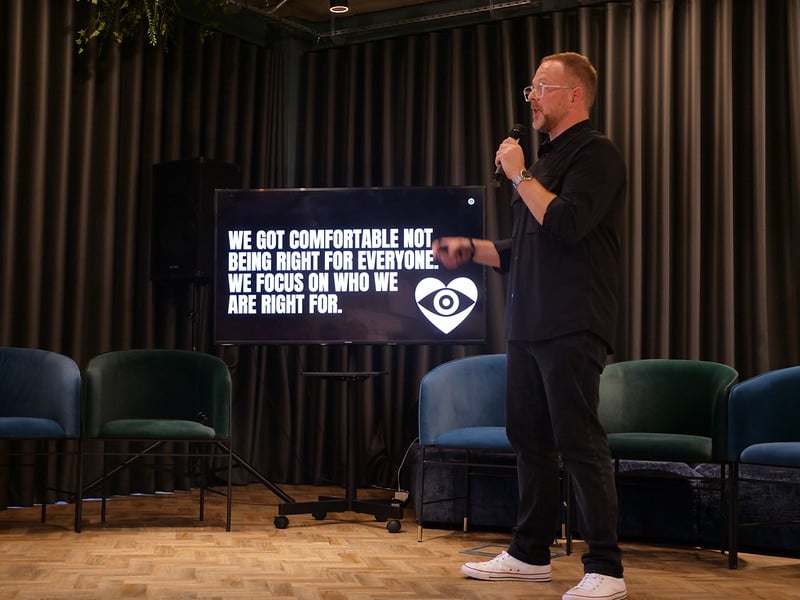 He added: "Creatives are rock stars. Its what we produce and helps to transform business. We spend a lot of time and effort on nurturing staff, supporting development, and ensuring they feel motivated and inspired."
Recognising that the agency isn't right for every client is appreciated by the team, so they don't "burn the midnight oil" as is being clear about its proposition.
"We are laser focused on this. We have a talented bunch of people, we don't have to differentiate or specialise in a certain sector. Lots of us in the North are guilty of not shouting about how amazing we are, there's so much talent up here."
Following the list reveal, Myles and Bradley Jensen from Jensen & Jensen took to the stage to talk about their agency: "We founded the agency in Leeds and didn't see many people that looked like us or that were black-owned. Culture influences everything that we do."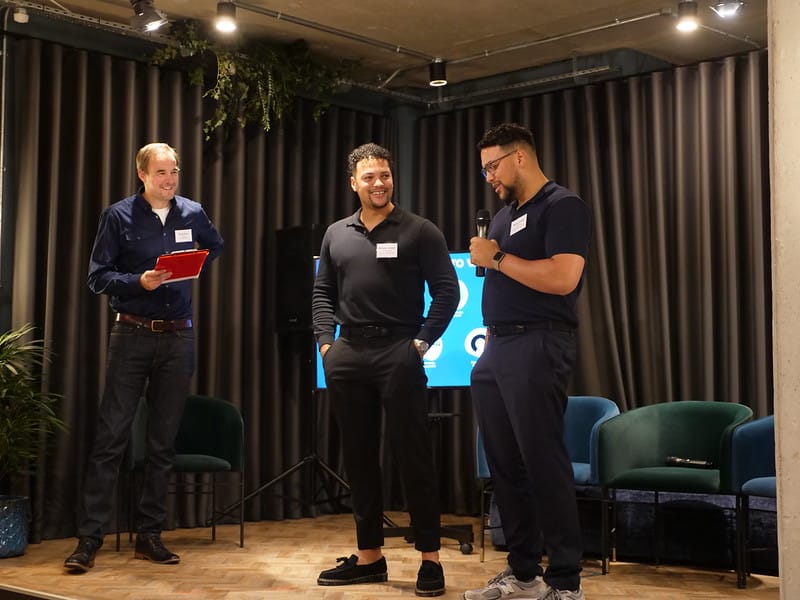 One of their highlights of their career so far has been working with high-end jeweller David Morris on a campaign. "This year we've found our feet and found our purpose," the duo added. "We want to work with minority talent."
Next up was a panel session with Nick Howe, founder and CEO at Uniform Group; Mark Beaumont, founder and creative director at Dinosaur; and Rachel Taylor, client services director at tigerbond.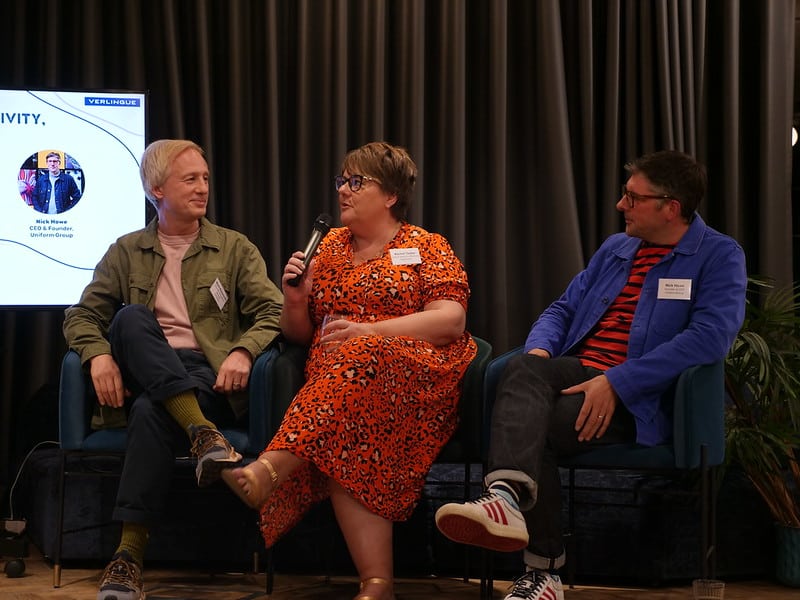 At Dinosaur, Beaumont said the agency is now in its 25th year and works with a mix of well-known and lesser known brands. The benefits of being in an independent agency is that you can stay "really close to things" in comparison with network agencies and forge a connection with clients to fuel creativity. "You can be a force to be reckoned with".
"Any independent agency can make their own decisions and drive forward from that. You can laser focus on what makes creative really good."
For Taylor, tigerbond has a number of Northern offices including in Manchester and Leeds and works with diverse clients from Vue cinemas, Specsavers to property clients. Being in an independent agency offers more "freedom to be who you are", especially with neurodiversity. Previously working at global agencies, she found things to be "a bit slower" whereas at independent agencies you can "flourish".
Two years ago, Uniform Group moved into a group structure and is approaching its 25th anniversary. Howe added that the group was founded at university and now has more than 50 staff. Creativity and clients sit at the top of the foundation of the business, which he explains is "doing highly creative work for the right type of clients".
"Independent agencies have agility and speed. Staff have more autonomy and can push creativity more. Ten years ago we made the decision to invest in innovation, play and experiment with work we do through technologies but in a network you probably don't have the autonomy to do that."
On creativity, Taylor said it's all about giving staff "permission to be creative" by "turning the computer off, absorbing culture around them and not being stuck at their desk".
Offering more autonomy and being more agile with policies as an indie can, to a certain extent, become a "secret weapon against networks" added Howe. However, it can be a "struggle" to compete with those larger networks when it comes to remuneration and resources.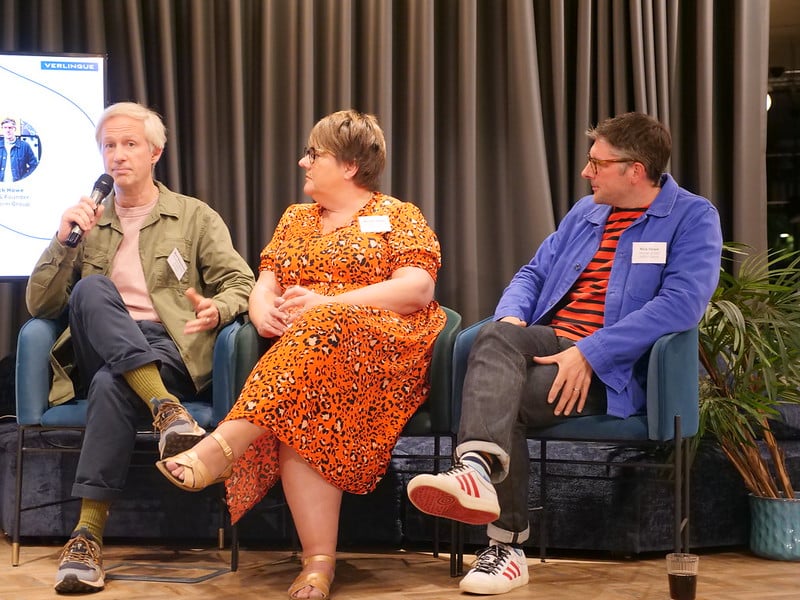 Taylor believes "everyone looks after each other" at an indie. At a personal level and as a mum, she's able to work flexible hours and at a professional level, roles can be shaped around the individual.
"Larger network agencies are really good at the beginning of your career, a lot of that learning has stuck with me now and they have the resources and time to invest in those things."
Despite a turbulent backdrop over the past few years through the Covid, the cost of living crisis and war, the trio recognise challenges facing the independent sector while remaining optimistic.
Howe said the last three to four years have been "all over the place" and hasn't spoken to many people in the agency world that aren't downsizing.
"It's tough but equally for networks who might be juggernauts, it takes longer to turn around. Autonomy and agility are a big strength for indies. Being brutally honest, it is tough at the moment but if we believe in what we do, with strong culture, values and creativity, businesses will get through that."
Reflecting on the credit crunch, Taylor said economic downturns can drive tenacity and entrepreneurial spirit. Beaumont agreed, adding, "If you're going to compete and survive downturns, make sure processes and financials are looked at. Once you put in the infrastructure, it can help propel you forward."
Prolific North's Independent Agencies to Watch 2023
Northern Artillery
Founded: 2022 / Key clients: The Inkey List, Moda Living, GPE, Hermes, Imagesound, Livve, Carol Bikes, Jimmy Coco / Location: Leeds
Northern Artillery has quickly made its mark in the independent agency world since launching last year, with recent annual revenues of around £1.5m. Set up by three former senior members of the IMA management team, this small but rapidly growing team has developed a reputation for innovation through creative production, working directly with Tesla and continuing long-term retained partnerships with brands such as Moda Living and The Inkey List.
Green Ginger Digital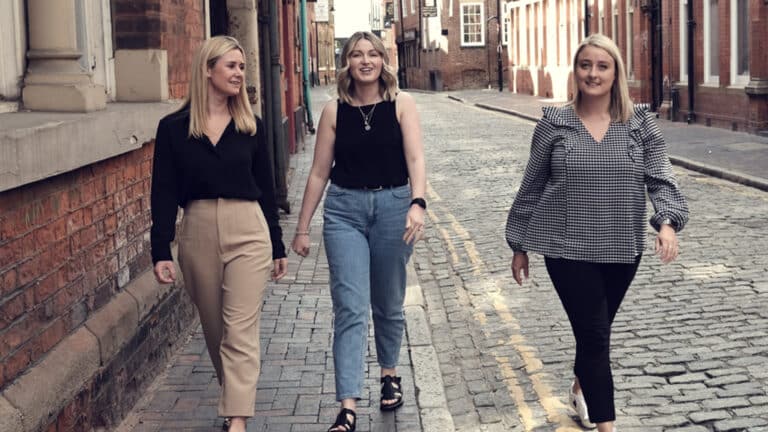 Founded: 2020 / Key Clients: MKM, Modern Milkman, Warpaint Cosmetics, Face the Future / Location: Hull
Founded in 2020 before the pandemic with no clients and just £500 in the bank, this Hull-based performance marketing agency has established itself as a key player over the past three years. With an annual turnover approaching seven-figures, Green Ginger Digital works with the likes of Modern Milkman, MKM and Face the Future to deliver profitable online growth. One of the agency's most significant achievements for 2023 is being announced as a Google Premier Partner and creating a positive working environment for its team of nine to grow and develop through investment in training and development.
We are Syn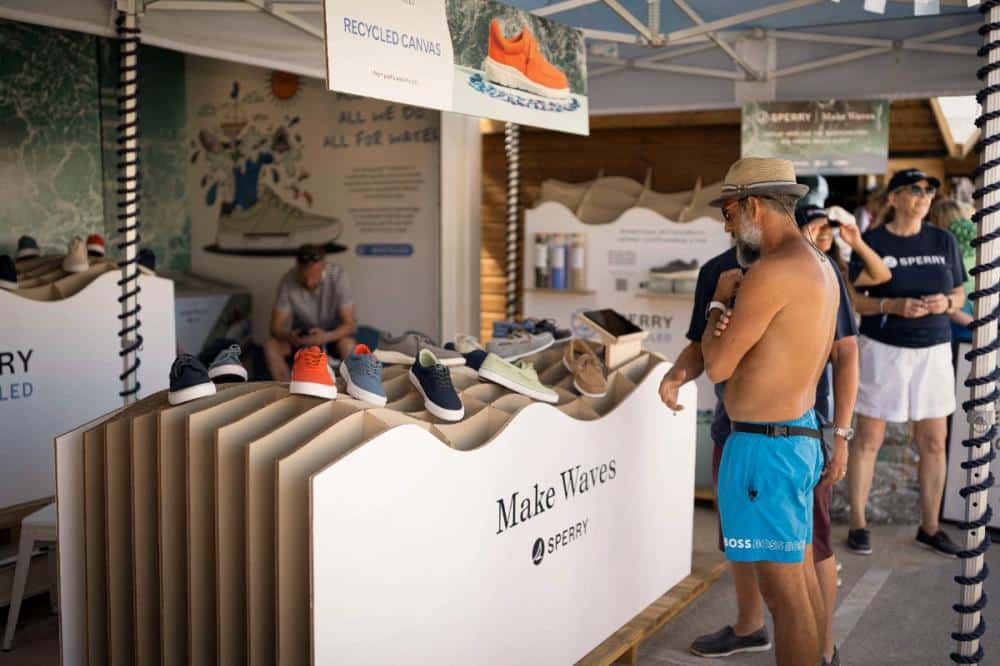 Founded: 2019 /Key Clients: Dr Martens, Under Armour, adidas / Agency location: Leeds
Creative agency We are Syn is a rising star on the independent agency scene, growing 50% over the last 12 months. From working with global brands like Dr Martens, Adidas and New Balance to campaign product launches for Life Fitness, the agency hasn't forgotten its roots in Leeds, continuing to work with local brands such as Boost Drinks and Cloud9. With a mantra of 'give a sh*t and do good sh*t', We are Syn credits its talented team as its biggest achievement.
Brazil Street
Founded: 2015 / Key Clients: Icelloly.com, Coop Midcounties, Scenic Cruises, Optegra / Agency location: Manchester
In the last 12 months, Brazil Street has grown its revenues by 47% following year-on-year growth to £10m and has just moved into new offices in Cheadle Hulme following a raft of new business wins. Launched by Chris Brown and Peter Greenhalgh, the founders are proud of the agency's 100% client retention rate, continuing its commitment to growing the team through hiring senior talent at the top of their game.
Aubergine
Founded: 2018 / Key Clients: Filippo Berio, Vitamin Angels, Hope For The Future / Location: Leeds
Driven by two former journalists Emma Gardner and Verity Clarke, this sustainability-focused creative PR agency develops campaigns across food, health and tech sectors. Over the past 12 months, the company has achieved a 50% increase in turnover to a six-figure profit and is on track to achieve turnover of £1m by the end of 2023. With a 'modern' approach to working, the team embraces remote working with freelance talent and earlier this year, hired its first full-time employee.
Six & Flow
Founded: 2015 / Key Clients: Red Cross, Smeg, HubSpot / Location: Manchester
Flying the flag as a 'Manchester born and bred agency', Six & Flow reports healthy year-on-year revenue growth despite the impact of Covid. With a "team-first" ethos, the agency credits its greatest win as bringing a diverse team together across multiple regions after expanding to London, Ireland, Canada, Japan and Mexico. The growth marketing agency has been HubSpot's independent global partner of the year for the past two years and has recent annual revenues of £2.6m.
Bottled Imagination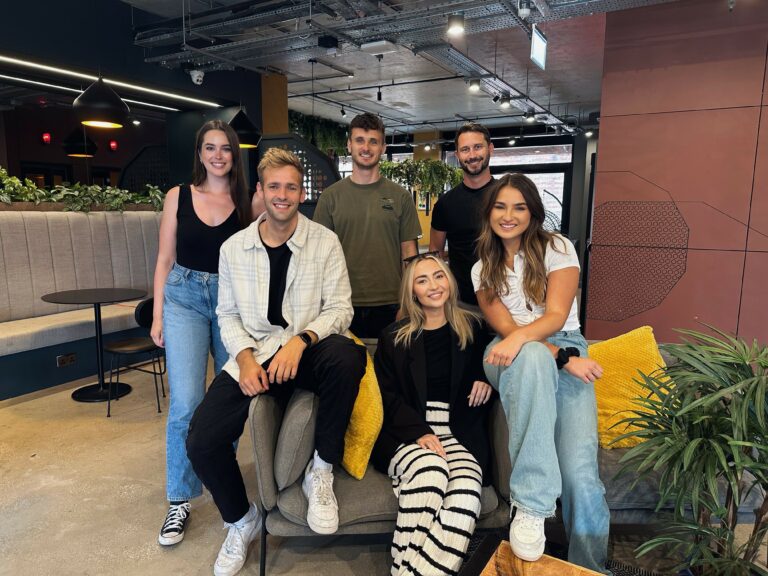 Founded: 2022 / Key Clients: Bynder, Fenwick, Protein Works, Victoria Plumbing / Location: Manchester
Founded just over 12 months ago by a trio of former Rise at Seven employees, this digital PR agency is already making waves on the independent agency scene with a turnover of £500,000 in year one. Standout achievements include winning a project with Puma in the agency's first year and 100% staff retention. After winning top contracts with big brands and competing with bigger, more established agencies, Bottled Imagination's future growth plans include investing its profits into a new office space, social events and staff training.
Serotonin
Founded: 2019 / Key clients: ASSOS of Switzerland, Grainger PLC, NQ64 / Location: Manchester
Clair Heaviside and Dom Carter teamed up to launch the agency, formerly called The Light, in 2019 before rebranding to Serotonin in August 2020. In year three, without receiving investment, the digital marketing agency reached a turnover of £2.7m. The team has grown to 18, attracting top talent from big agencies, and has produced award-winning work for a range of international clients. Co-founder Heaviside was also recognised as one of the top ten female entrepreneurs to watch by The Telegraph and Natwest.
One Day Agency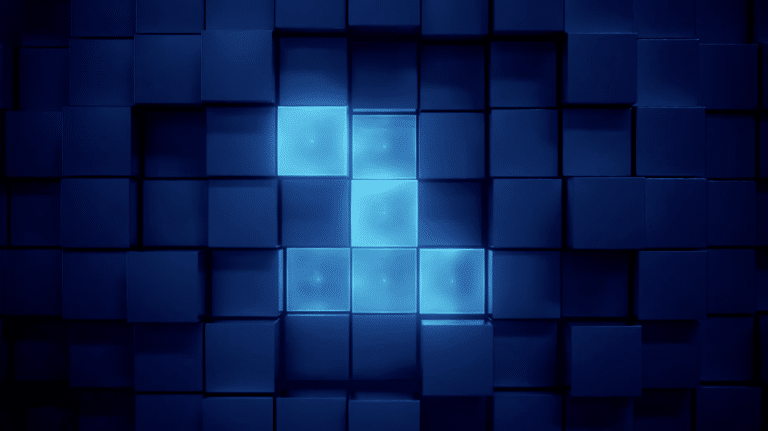 Founded: 2019 / Key clients: Raventos Codorniu, Jordan Tourism Board, Unidays / Location: Manchester
Founded by CEO Ricardo Seixas, this advertising and marketing agency has significantly expanded over the past three years adding further offices in London and Philadelphia. The agency won a large-scale multinational pitch with Jordan Tourism board at the end of last year, to activate Jordan's new "Kingdom of Time" out-of-home campaign across 10 European countries including the UK. In 2022, One Day Agency announced £3.5m turnover and moved into a new 2,000 sq ft HQ in Manchester City Centre.
Ride Shotgun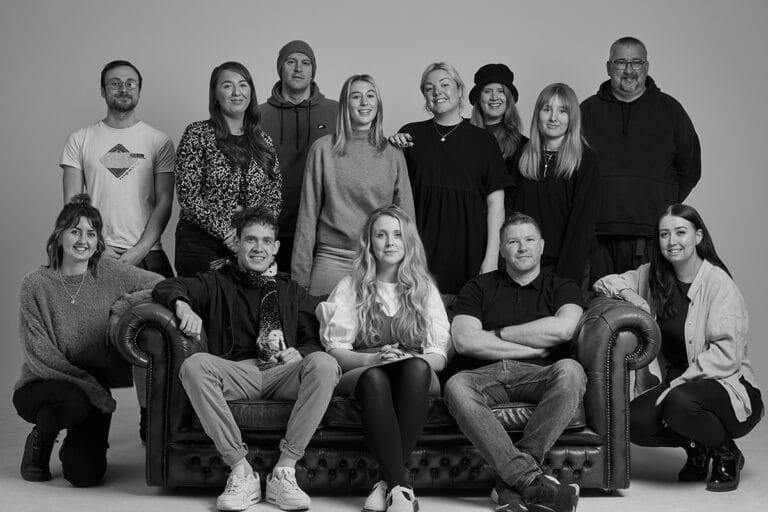 Founded: 2022 / Key clients: HSBC, ASDA, Studio Retail / Location: Leeds
Following the merger of two independent agencies, Cry Havoc and Born + Raised, this agency is already riding the waves of success and has doubled in size since launching in January 2022.
In a strategic move, Ride Shotgun's recent acquisition of tech-driven CGI content production specialists Creative Content Works (CCW), brings the team to over 160 people, with offices in Sheffield, Leeds and Manchester in the UK, as well as Sofia, Bulgaria and Portugal. Now with a combined annual turnover of around £12m, over the last 12 months Ride Shotgun has already expanded its services with an in-house CGI team and has a number of specialisms including brand strategy, animation, digital and social, to name a few. The agency was recently appointed by Studio Retail, part of the Fraser Group, to handle its home and leisure content production in a multi-year deal.
Edison Media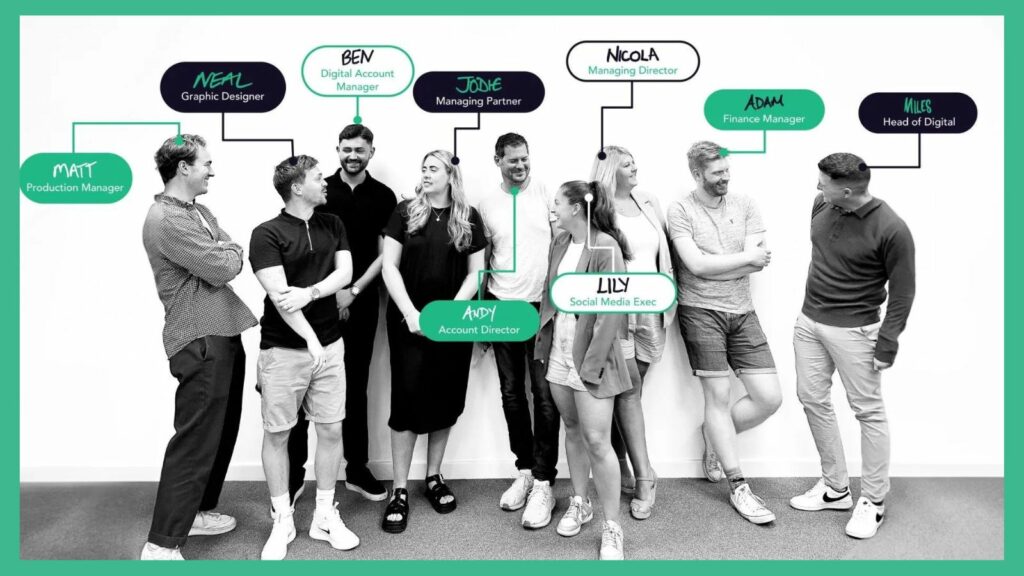 Founded: 2019 / Key clients: JD Sports, 3rd party brands including Nike, Adidas and Regatta / Location: Salford
Inspired by Thomas Edison's philosophy, this female-led agency co-founded by Nicola Orrell and Jodie Howe has seen remarkable growth over the past four years with its vision to make media work better for clients. In the last six months, the agency's digital department has doubled in size while working with global brands to deliver media and digital campaigns including the Nike Jordan takeover of 30 stores across six countries. The agency also advocates for supporting, inspiring and guiding women in similar roles to tackle challenges women face in the business world.
Jensen & Jensen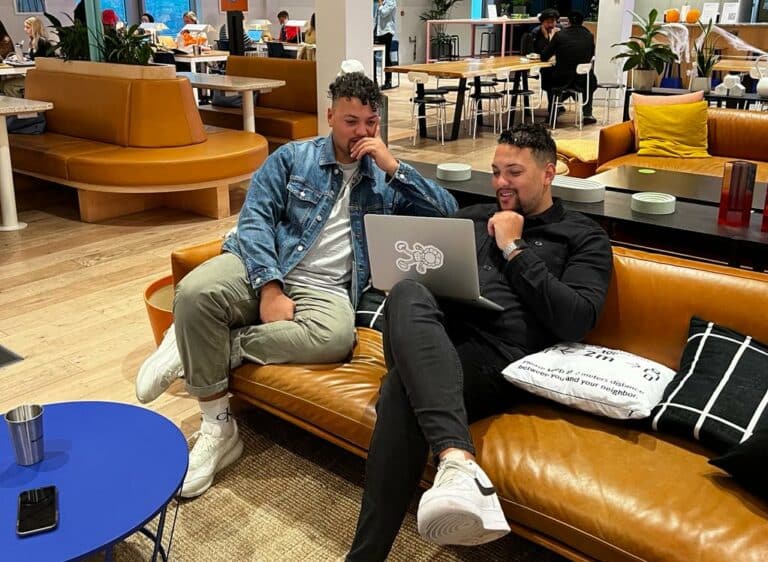 Founded: 2018 / Key clients: David Morris, MSDUK, MEFA, Artemis, Tyron Ash Real Estate International, Site Visibility / Location: Leeds
Set up by brothers Bradley and Myles Jensen, the duo are proud to have established a black-owned agency with a diverse team of at least 50% in Leeds. Jensen & Jensen's journey of growth, from a bootstrapped start-up to an influential player in the creative industry within just a few years, has led to the team working with clients such as Manchester City Football Club, Burberry and CBRE. A standout achievement over the past 12 months is the agency's successful collaboration with high-end jeweller David Morris with the Paris launch of its 2023 bridal campaign.
The Big Bamboo Agency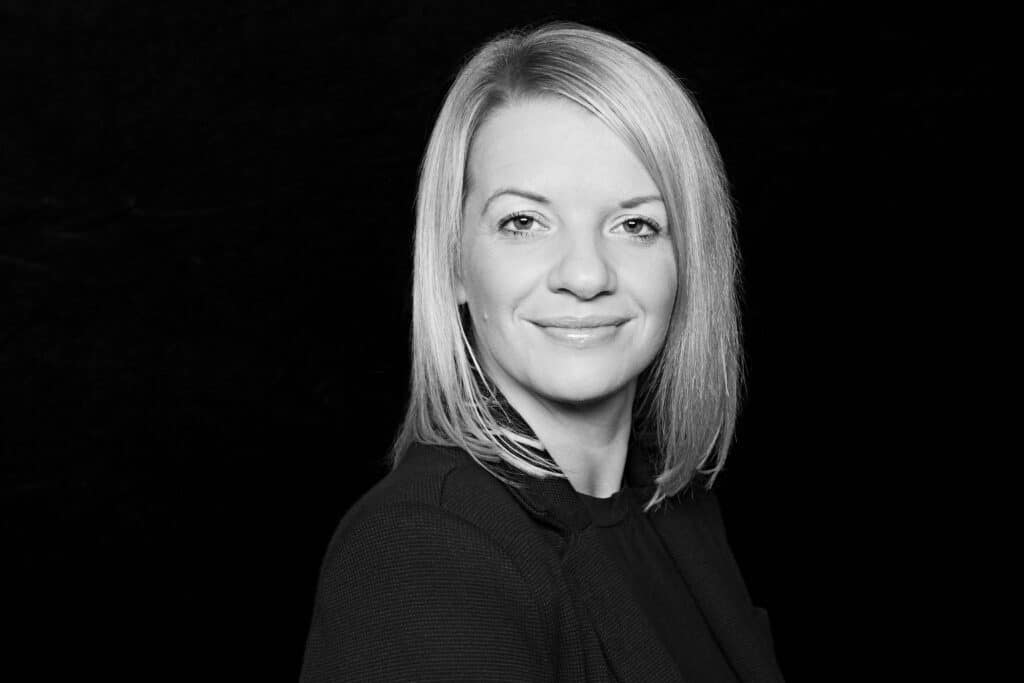 Founded: 2019 / Key clients: Greif, HE Simm Group, Cloud Nine, Safety Shield Global, Pandrol / Location: Harrogate
This marketing and communications agency was launched by Nicola Stamford, starting out with just two employees during the pandemic. The agency has since rapidly expanded to a team of 15 now working with global clients across a range of industries including rail, engineering and packaging. The Big Bamboo Agency came in at number 26 in Prolific North's Top 50 PR Agencies for 2022 and ranked second in Prolific North's Top 20 fastest growing PR agencies.
Soar with Us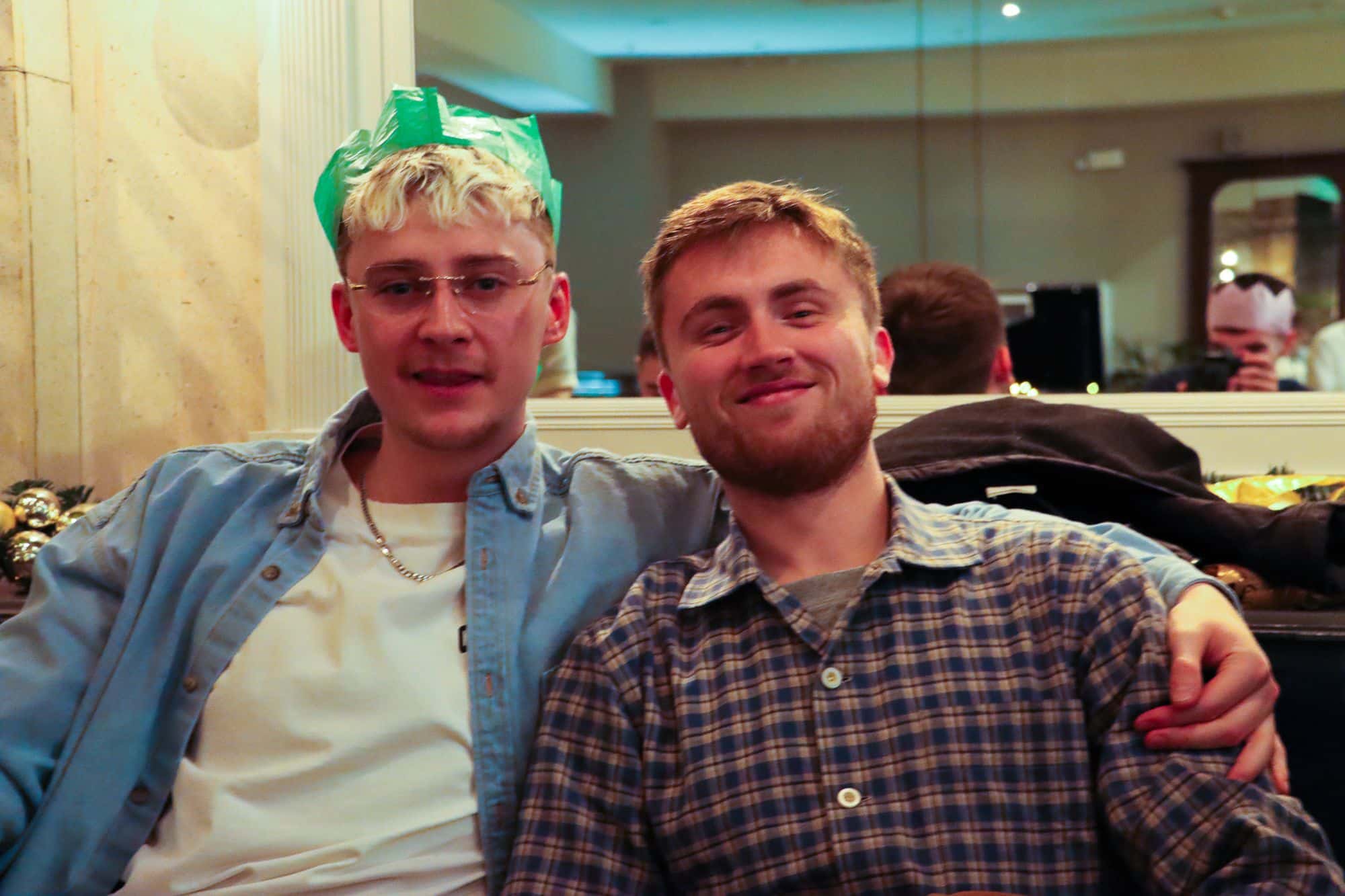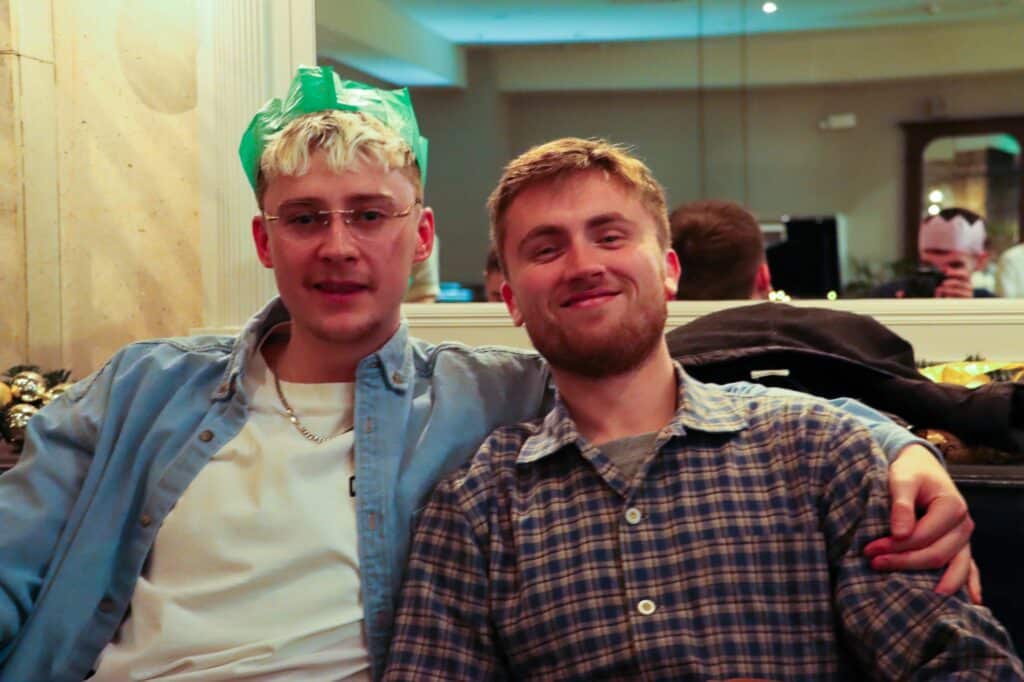 Founded: 2019 / Key clients: The Essence Vault, Bee Inspired Clothing, Art of Football / Location: Leeds
Starting out while co-founders Joe Marston and Olly Hudson were still at university, this ecommerce growth agency is already flying high on the independent agency scene. As both co-founders recently celebrated their 26th birthdays, within three years the duo have scaled their company from £0 to £2m in annual recurring revenues. With over £30m spent on ads and nine figures in sales generated, Soar with Us has also become TikTok official partners and has helped to train the global social platform's own internal team to do ads.
Bonded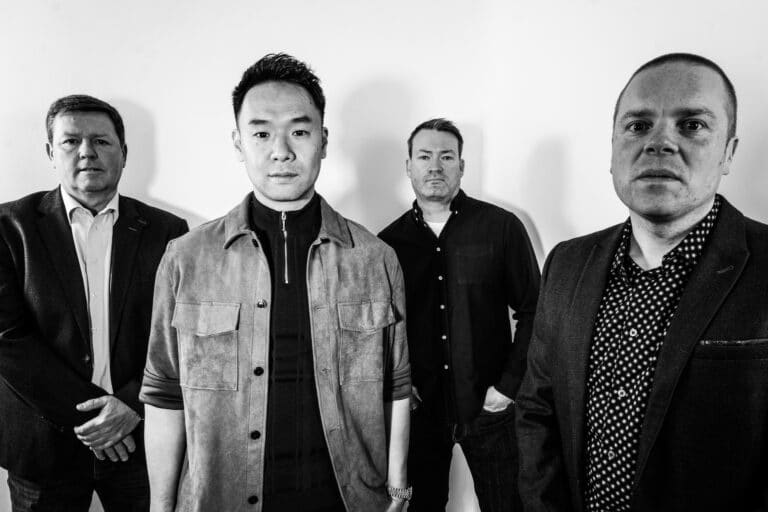 Founded: 2021 / Key Clients: One Utility Bill, Regital, OddsMonkey / Location: Newcastle
Launched in Newcastle by four ex-network agency figures each with more than 15 years experience in big network agencies such as Dentsu, Carat and WPP, this digital and media agency has gone from strength to strength in a short period of time. Picking up a trio of trophies at 2022's Prolific North's Champions Awards including Small Independent Agency of the Year, Bonded moved into new headquarters on Grainger Street in May to house a growing team currently at 18 staff. With a big emphasis on company culture and inclusivity, Bonded has ambitions to become one of the best places to work in the UK.